Todd has prolific day for Humboldt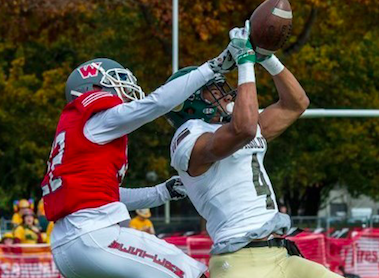 Humboldt State's JOHN TODD goes up for a pass against Western Oregon on Saturday.
2016 EAST COUNTY FOUR-YEAR COLLEGE FOOTBALL STANDOUTS
By Bill Dickens
© East County Sports.com
EL CAJON (10-25-16) — It was another heyday for college football players around the country who hail from the East County.
One of the top key performers was wide receiver JOHN TODD (Valhalla), of Humboldt State.
The redshirt sophomore turned in a career game so far in a wild game against Western Oregon University, in Monmouth, Ore., on Saturday.
Todd had 12 receptions for 143 yards and one touchdown, which he scored in a wild 35-point quarter for the Lumberjacks, in a 42-37 victory over WOU.
Humboldt State also got a defensive lift from SEFA TAUANU'U (Helix), who forced a fumble and made 3 tackles in the Lumberjacks win.
–
Pioneer Football League co-offensive Player of the Week ANTHONY LAWRENCE (Grossmont High) delivered 5 touchdown passes on 22 of 32 passing for 301 yards in a little over three quarters of play in a 49-10 victory over Valparaiso.
"Our whole goal is 8-0 (in the PFL) and we're 5-0 so the goal is still intact," Lawrence said. "Our defense is clicking and our offense is clicking so I'm really excited for the rest of the conference.
"The coaches are putting together a great game plan every week so I just go out there and do what they tell me which makes it easy. And the tight ends and receivers are making plays."
On his offensive line, Lawrence said, "They're incredible. They're a young group of guys but we're all very close friends so it makes it fun and they make my job a lot easier."
–
Wide receiver LAWRENCE DICKENS (Steele Canyon/Marist College) had 2 receptions for 31 yards and one kickoff return for 18 yards in a 31-10 victory over Davidson for their fourth straight win. The Red Foxes will face the University of San Diego this coming Saturday in Poughkeepsie, N.Y., in a battle of undefeated teams in Pioneer League play.
–
MEKHI STEVENSON (Helix/UNLV) grabbed a 51-yard pass and run for his 2nd TD of the year against Colorado State.
Meanwhile, former Highlander KENDALL KEYS had 10 tackles and two pass breakups in the 42-23 home loss.
Mekhi Stevenson (@EmChuuBee) grabs 51-yard pass from @daltonsneed for his 2nd TD of the year! @UNLVFootball trails @CSUFootball 42-23 #mwfb pic.twitter.com/kpdSPTFwwV

— Mountain West (@MountainWest) October 23, 2016
–
Eastern Michigan's wide receiver SERGIO BAILEY (Olympian/Grossmont College) hauled in 6 receptions for 91 yards and a touchdown in a loss to powerful Western Michigan, 45-31.
–
Defensive back KEITH RODGERS (Valhalla/Jamestown) had an interception, which he returned for 53 yards, along with 3 tackles in a win over Mayville State, 40-13. Rogers' pick snuffed out Mayville's last chance at a game-tying drive.
–
Wide receiver JORDAN JOHNSON (Steele Canyon/Hastings) had 3 receptions for 37 yards in a 44-43 loss vs. Dordt.
–
Dixie State men LB ALEX LILLIARD (Grossmont) had 4 tackles and 1 pass break-up, while defensive back MIKE JONES (Mount Miguel/Dixie State) had 9 tackles and 1 pass break-up, but the Trailblazers lost to Colorado Mines.
–
Defensive back MAURICE PAYNE (Monte Vista/Tabor) had 6 tackles in a 32-27 win over Friends University.
–
Defensive end GARY THOMPSON (Helix/Marshall) has rustled up career stats of 137 tackles, 17.5 sacks, 7 forced fumbles and 5 fumble recoveries in three years with the Thundering Herd.
–
Quarterback DOMINICK ANDERSON (Steele Canyon) has picked up an offer from Iowa State. Currently playing tight end at Arizona Western CC, he has five receptions this season for 112 yards and a touchdown.