Collins scores first receiving TD for Beavers
Updated: November 1, 2016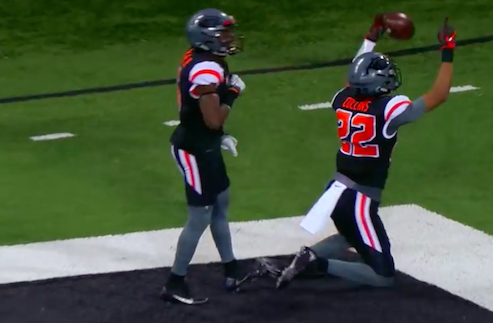 SETH COLLINS celebrates after scoring a touchdown on Saturday against Washington State.
2016 EAST COUNTY 4-YEAR FOOTBALL STANDOUTS
By Bill Dickens
© East County Sports.com
CORVALLIS, Ore. (11-1-16) — Oregon State sophomore wide receiver SETH COLLINS (Granite Hills) made an ESPN top-plays caliber effort in the Beavers' 35-31 loss to Washington State.
The 6-foot-3, 188-pound sophomore had 6 receptions for 83 yards in the game.
He thrilled the home crown on Saturday when he scored on a 46-yard gadget play in which he lined up as the quarterback, took the snap before tossing a lateral to receiver Marcus McMaryion, who threw it back to Collins a few yards up the field on the left side.
Collins outran the defense down the sideline to the endzone, which at the time, lifted the Beavers to a 21-0 lead in the second quarter. It was the first TD catch of Collins' career for the converted wide out.
46 yard TD reception for WR Seth Collins (Granite Hills HS/Oregon State). pic.twitter.com/yM3KemhEyY

— Bodie DeSilva (@SDPreps) October 30, 2016
–
Azusa Pacific won the GNAC championship thanks to a couple of former East County standouts, linebacker JABRION BURNSIDE (Helix), who turned in 2 tackles – one for loss and a sack, in a 44-7 win over Central Washington. Linebacker WILLIE FAIR (Steele Canyon) also had 4 tackles in the victory.Wide receiver SERGIO BAILEY (Grossmont College/Eastern Michigan) pulled down 3 passes in a 28-15 loss to Miami of Ohio. The 6-foot-1, 186-pound junior has caught 43 career receptions for 614 yards and 3 touchdowns.
–
USD quarterback ANTHONY LAWRENCE (Grossmont HS) completed 21 of 35 passes for 195 yards and one touchdown as the Toreros went 6-0 in mashing Marist College 27-3 to capture the Pioneer Conference championship. The 6-foot-1, 195 pound redshirt sophomore has completed 153 career passes of 227 attempts, producing 17 touchdowns.
–
Defensive lineman GARY THOMPSON (Helix), a 6-foot-2, 260-pound senior had 5 tackles and a sack for the Marshall Thundering Herd in a loss to Southern Mississippi 24-14.
–
UNLV's KENNY KEYS (Helix) notched 5 tackles and 2 pass breakups, plus an interception against San Jose State in a losing effort.
–
Wide receiver ANTHONY JACKSON (El Cajon Valley/Bethany) had 2 receptions for 23 yards and a touchdown in a 30-7 loss to the Thomas More Saints.
–
Defensive back MAURICE PAYNE (Monte Vista/Tabor) had 5 tackles and one sack in a 47-19 win over McPherson.
–
Defensive back MIKE JONES (Mount Miguel/Dixie State) had 4 tackles and one fumble recovery in a 24-21 victory over Adams State, while Grossmont High alums ALEX LILLIARD and KHALEED DAVIS of Dixie State, both had key tackles in the win.
–
Six-foot-3, 192-pound wide receiver JOHN TODD (Valhalla/Humboldt State) pierced Simon Fraser with 6 receptions and 2 touchdowns for 90 yards.
–