Rarified Air: Eagles back-to-back champs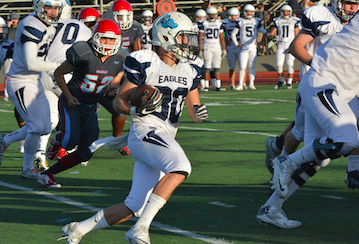 SHANE SWICKER carries for Granite Hills on Friday against El Cajon Valley. / photo by Ramon Scott
2016 EAST COUNTY PREP FOOTBALL
GRANITE HILLS 49, EL CAJON VALLEY 8
By Bill Dickens
© East County Sports.com
EL CAJON (11-5-16) — Granite Hills ran wild against El Cajon Valley in the Battle for the Madison Cup Friday night (Nov. 4), and dominated the Braves' Senior Night with a 49-8 rout of the hosts.
Granite Hills, which rushed for 407 yards on 43 carries, buried the Braves 29-8 by halftime and continued the onslaught in the second half.
Granite Hills, which had clinched at least share of the title last week, has now won back-to-back league championships for the first time since the mid-1970s.
JAKE SIEGFRIED collected 113 yards and 2 touchdowns on 10 carries for the Eagles.
Eight other Eagles contributed to the battering of the Braves, including SHANE SWECKER who churned 6 carries into 52 yards and 3 touchdowns.
"This is the first time I've ever scored a touchdown, let alone three in a game," Swecker said. "We were just running jet plays. Once we got one that we saw would work, we just kept running it."
Swecker scored on runs of 1, 5 and 8 yards for the Eagles (6-4, 4-0 GVL), who posted their fourth straight win.
Swecker scored the first's first TD at 8:45 of the first.
DYLAN ALLISTER contributed two scoring bursts with 55 yards on 2 carries for Granite Hills resulting in a pair of touchdowns.
"We ran a lot of Zone Right, and just kept going after that side of the ball with success," Allister said.
Granite Hills won its second straight Grossmont Valley League title.
Eagles coach KELLAN COBBS noted, "Our kids were focused on what the stakes were. They were aggressive in going after them – they did a great job doing that."
El Cajon Valley scored in the first quarter as MAQUEL GARNER charged into the endzone on a 7 yard run. Versatile quarterback TYSON SMITH ran the conversion points in.
That briefly gave the Braves the lead with 4:45 left in the first quarter.
Siegfried ran in a TD with 2:31 left in the first for a 12-6 advantage.
Swecker's second TD sweep made it 19-8 with 5:53 to go before halftime.
Granite Hills' TYLER GONZALEZ had a fumble recovery in the first half to set up Swecker's third score of the half, which came with 1:22 left in the second and bolstered the lead to 26-8.
ZACH STORER had an interception for Granite Hills, while BRYCE STRICKLAND converted a 25-yard field goal as time expired in the second.
Siegfried made his third TD midway through the third quarter.
Granite Hills (4-0, Grossmont Valley League, 6-4) was likely set to face San Pasqual (6-4) in a Eagle battle in the opening round of the playoffs next Friday in Division 2.
Granite won the season-opener between the two teams, 14-12, at Valley Stadium. The winner this time will face Olympian in round two.
Meanwhile, it appeared as if El Cajon Valley (0-4 GVL, 5-5), on a five-game losing streak, would host Serra (4-6) in a first-round D4 matchup here next Friday.