Dickens has near record-setting effort for Marist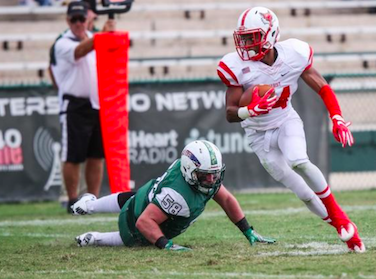 Marist's Lawrence Dickens runs following a reception Saturday against Stetson.
2016 EAST COUNTY FOUR-YEAR FOOTBALL STANDOUTS
By Bill Dickens
© East County Sports.com
POUGHKEEPSIE, NY (11-8-16) — Steele Canyon graduate LAWRENCE DICKENS put on a show catching footballs on Saturday in a Pioneer Football League  game.
Dickens reeled in 11 passes for 139 yards for the Marist College Red Foxes who defeated the Stetson Hatters 45-38.
Dickens' total receptions are tied for second highest on the Marist books for a single game. He also returned a kickoff for 18 yards.
–
TAJ BROOMFIELD (West Hills/Dixie State) caught the first touchdown of his collegiate career as the Trailblazers lost to Colorado State-Pueblo 24-13.
MIKE JONES (Mount Miguel/Dixie State) was a defensive terror in the game as he collected 9 tackles, including one interception and a pass break-up.
ALEX LILLIARD (Grossmont HS/Dixie State) chipped in with 4 tackles for Dixie State.
–
Grossmont College alum SERGIO BAILEY has caught 43 passes for 614 yards and 3 touchdowns for the Eastern Michigan Eagles, who will meet Ball State in a televised game tonight (Nov. 8) at 4 p.m. PST time on CBS Sports Network, which is shown on Cox Cable channel 1321.
–
Six-foot-6, 215-pound wide receiver NICK KURTZ (Valhalla/Grossmont College) reeled in 4 passes for 33 yards as BYU defeated Cincinnati 20-3.
–
Mr. Do-It-All NOAH YLAGAN (West Hills/Briar Cliff University) collected 93 total yards including 2 touchdowns as the Chargers lost to Dakota Wesleyan, 54-24. Ylagan scored on a 3-yard TD pass and a 2-yard TD run. He also returned a kickoff 16 yards, handled the kickoff chores, and as a punter he averaged 39.3 on 6 boots.
–
Sophomore JORDAN JOHNSON (Steele Canyon/Hastings College) had 72 yards on 2 reception as the Broncos were defeated by Morningside 62-3.
–
Linebacker JABRION BURNSIDE (Helix/Azusa Pacific) had one tackle as the Cougars crushed Western Oregon 33-8. For the season Burnside has made 22 tackles. Linebacker WILLIE FAIR (Steele Canyon/Azusa Pacific) has 35 tackles, one sack and an interception for the season.
–
The 6-foot-3, 188-pound versatile SETH COLLINS (Granite Hills/Oregon State) caught 2 passes for 5 yards and rushed for one yard as the Beavers lost to the Stanford Cardinal 26-15.
–
GARY THOMPSON (Helix/Marshall) logged 3 tackles as the Thundering Herd lost to the Old Dominion Monarchs 38-14.
–
Wide receiver JOHN TODD (Valhalla/Humboldt State) caught 4 passes for 34 yards as the Lumberjacks defeated Western State Colorado 28-14.
SEFA TAUANU'U (Helix/Humboldt State) had 3 tackles – one for a loss – and one sack for the Lumberjacks.
–
Quarterback ANTHONY LAWRENCE (Grossmont HS/USD) clicked on 16 of 20 passes for 171 yards and 3 touchdowns as the Toreros defeated Universidad de las Américas Puebla Aztecas in an exhibition game, 49-29.