Kurtz will play final game with BYU here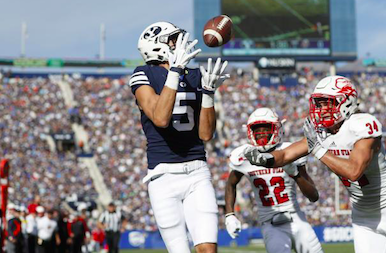 NICK KURTZ HAULS IN A TOUCHDOWN PASS AGAINST SOUTHERN UTAH ON SATURDAY IN PROVO.
2016 EAST COUNTY FOUR-YEAR FOOTBALL STANDOUTS
By Bill Dickens
© East County Sports.com
EL CAJON (11-15-16) — BYU's NICK KURTZ, a product of Valhalla High, will play his final collegiate game at Qualcomm Stadium next month.
In his latest outing on Saturday, the 6-foot-6, 215-pound Kurtz caught 5 passes for 69 yards and a 31-yard touchdown against Southern Utah, as the Cougars became bowl eligible with a 37-7 win.
Brigham Young later committed to playing in the Poinsettia Bowl here on Dec. 17, meaning the El Cajon native will come home to play his last game as a Cougar.
Earlier this month, the senior was named to the 2016 College Sports Information Directors of America (CoSIDA) Academic All-District First Team.
The wide receiver is a business major, earning a 3.43 GPA. A transfer from Grossmont College, Kurtz has led the BYU receiving core in 2016 in receptions (39) and yards (412).
–
Oregon State just lost one of its most versatile players as 6-foot-3, 188-pound wide receiver SETH COLLINS (Granite Hills) has been sidelined with meningitis.
Just less than 24 hours after catching a pair of passes for 44 yards against UCLA, Collins was listed in serious condition Sunday night with the illness. His status had been upgraded to fair by Monday afternoon.
Oregon State head coach Gary Andersen said. "My thoughts and prayers are with him just like the team. They're definitely in support mode and care mode. There's no doubt about it. But are their minds thinking about Seth? Absolutely. He's a teammate and it's not just a normal, 'Hey, I hit my knee today at practice.' Concern is definitely out there."
On the season, Collins has totaled 36 catches for 418 yards and one touchdown, along with 15 carries for 30 yards. During the offseason, Collins initially announced he intended to transfer to Northern Illinois to continue playing quarterback, which he did for the Beavers last season, before opting to return to OSU to play receiver. He did not participate in spring practice but was back with the team for fall camp.
–
Humboldt State's JOHN TODD, a product of Valhalla, reeled in 10 passes for 100 yards against Central Washington, a game which the Lumberjacks lost, 37-30 to finish 6-5. For the season, Todd has caught 44 passes for 610 yards and 4 touchdowns. He was a member of last year's GNAC championship team.
–
USD quarterback ANTHONY LAWRENCE (Grossmont HS) completed 24 of 31 passes for 314 yards and 4 touchdowns to guide the Toreros past Stetson, 42-12, and into the FCS playoffs after the team clinched at least a share of the Pioneer Football League title.
–
DARRIEN OLIVER, an offensive lineman for Chadron State out of Helix High, has been selected to play in the Dream Bowl, an MLK-week game made up of Division I-AA (FCS) and Division 2 and 3 all-stars to be held in Virginia Beach, Va., on Jan. 16.
–
JABRION BURNSIDE (Helix/Azusa Pacific) had 10 tackles as the Cougars (9-2) lost to Colorado Mesa 33-24. Despite the loss, APU, after going 9-2 in the regular season and winning their third Great Northwest Athletic Conference title during the past four seasons, earned the program's first trip to the NCAA Division II playoffs.
APU received the No. 7 seed in Super Region Three and will face region No. 2 Sioux Falls (11-0), of South Dakota. The first-round game will be played this Saturday at 10 a.m. PST.
–
JORDAN JOHNSON (Steele Canyon) hauled in 6 passes for 59 yards to spark Hastings is a 31-28 defeat against Concordia, Neb.
–
LAWRENCE DICKENS (Steele Canyon) had 4 catches for 51 yards as the Marist College Red Foxes lost to Dayton 59-31. He also had three kick returns for 62 yards.
–
SERGIO BAILEY (Grossmont College/Eastern Michigan) caught 3 passes including one touchdown for Eastern Michigan as the Eagles toppled the Ball State Cardinals 48-41. Bailey caught 3 passes for 41 yards and a touchdown.
–
Dixie State lineman ALEX LILLIARD (Mount Miguel) recorded 3 tackles for the Trailblazers as they defeated Fort Lewis 16-14, while MIKE JONES, a product of Mount Miguel, chalked up 3 tackles for Dixie State.
–
Utah product TIM PATRICK (Grossmont College) collected 3 passes for 47 yards as the Utes upended Arizona State 49-26.
–
Helix graduate KENNY KEYS notched a half a tackle for loss and 6 tackles as the UNLV Rebels whipped Wyoming 69-66 in three overtime periods.
–
RAYVON OWENS (Christian) logged 3 tackles and one pass breakup for the Willamette Bearcats in a 21-7 loss to George Scott.
–
Offensive lineman JAYLON KUYKENDELL, from Helix, has helped Southwest Baptist to a 9-2 record this season.
–
GARY THOMPSON, a defensive lineman out of Helix, had 2 tckls and 2 QB hurries in Marshall's 42-17 win over Middle Tennessee.
–
KEITH ROGERS, a DB from Valhalla now at Jamestown University, had 3 tackles in a loss to 15th-ranked Dickenson St., leaving the Jimmies with a 4-7 finish.
–
The Briar Cliff Chargers would've been up a creek without a paddle this season if not for West Hills' NOAH YLAGAN. The sophomore led the Chargers on Saturday with 20 carries for 42 yards and three receptions for 26 yards in a 62-0 loss to Doane University. Despite finishing 1-10, Briar Cliff's Mr. Do-It-All led the team in rushing and receptions, as well as, performed the place-kicking, punting and kickoff duties.
–
Junior TYREE HUNTER, a running back for Minot St, out of Helix High, had 8 carries for 34 yds in a 21-20 win over rival University Of Mary in the Battle for the Big Lake Trophy. He has 22 carries for 71 yards on the season, as well as, four receptions for 20 yards.