Eagles' flight falls short at Olympian
Updated: November 19, 2016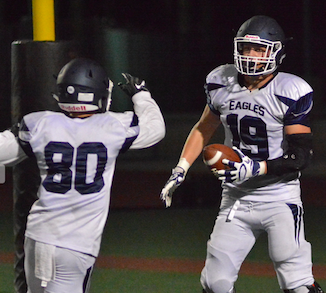 GRANITE HILLS' WILLIAM BURTON CELEBRATES A TOUCHDOWN DURING THE FIRST QUARTER FRIDAY NIGHT. / photo by RAMON SCOTT
2016 EAST COUNTY PREP FOOTBALL – SAN DIEGO CIF DIVISION 2 QUARTERFINALS
OLYMPIAN 40, GRANITE HILLS 26
By Ramon Scott
© EastCountySports.com
CHULA VISTA (11-19-16) — Granite Hills had trouble bottling up Olympian's running game Friday night (Nov. 18), resulting in a 40-26 loss in the San Diego Section Division II quarterfinals.
Granite Hills took a 10-6 lead with two minutes left in the first quarter on a 25-yard touchdown pass to WILLIAM BURTON from quarterback JAKE SIEGFRIED. The march was aided by a catch-and-run reception by MISHAL WASIMI to take the ball into Olympian territory, then Siegfried rushed on a keeper down to the 26.
Granite Hills' BRYCE STRICKLAND connected on a 28-yard field goal to open the scoring on the game's initial drive.
Granite looked crisp on the opening series, behind a couple of sweeping rushes from SETH ALLISTER and a keeper by Siegfried.
Olympian running back Trey Curry rushed for 208 yards on 13 carries and two touchdowns, while fellow back Noah Lacsina had three rushing scores, including an 82-yard TD run in the third quarter.
After Granite re-grabbed the lead, Olympian connected for a 68-yard touchdown by Michael Tyler from quarterback Nico Mendoza.
Granite Hills appeared ready to trade scores with the hosts, as Siegfried hit Wasimi for a first down to the Olympian 45, then Siegfried added another keeper down to the 18.
However, Olympian (7-4) got a fumble recovery on the next play by Dante Pressley, and Curry took the ball deep into Granite Hills territory with a whirling dervish-type of run, setting up a 5-yard score by Lacsina with 2:24 left before halftime to make it 20-10.
Olympian almost demoralized Granite Hills before halftime when an interception was returned down to the 3 with 1:25 to go, but the Eagles forced a fumble right back in front of the goal line to end the first half.
Olympian carried its momentum, however, immediately out of the intermission, as Mendoza connected with Tyler for a big gain, followed by a roughing the passer penalty, to set the ball at the Granite 31.
Curry capped the :49 drive with a 4-yard score and Olympian led 27-10 before everyone was back from the snack bar.
Granite Hills (7-5) still was nearly matching with its offense, taking a quick drive inside the red zone after Siegfried hit Wasimi again, but Olympian forced a turnover on downs at the 18 with eight minutes left in the third quarter.
On the next play, Lacsina exploded for his long touchdown run for a 34-10 Olympian lead.
The Eagles once again took the ball just inside the red zone, but Olympian recorded an interception on a fourth-down try. Lacsina rushed for 114 yards on seven carries.
Siegfried threw three touchdown passes for Granite Hills, two of which came in the last five minutes of the game.
Strickland finished his career as the county's third all-time leading kick scorer with 237 points, which included 25 career field goals. He is East County's all-time leading kick scorer.