City's McClain shoots down Griffins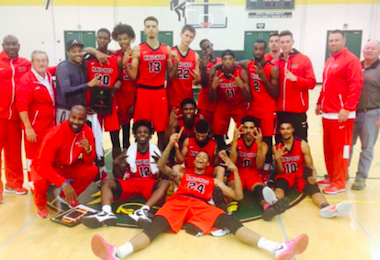 SAN DIEGO CITY COLLEGE KNIGHTS, winners of the 45th annual Grossmont College men's basketball tournament.
2016-17 GROSSMONT COLLEGE MEN'S BASKETBALL
By Chris Davis
© East County Sports.com
EL CAJON (12-5-16) — The Grossmont College Griffins men's basketball team had a tough Sunday (Dec. 4) as they lost the 45th Annual Grossmont College Invitational final by a score of 77-58 in a very tense game against the San Diego City College Knights.
Three Griffins (5-5) were in double figures led by the duo of BRYCE PARSONS (West Hills) and RONALD BLAIN (McDonough, Georgia) each had 15 points.  Parsons added his third double-double of the season with 12 rebounds.  OSCAR LIMON (Otay Ranch) added 10 points to close out the trio of Griffins in double figures.
Parsons and Blain were named to the All-Tournament team that was selected by a mixture of tournament staff and the participating coaches.  San Diego (12-3) placed Wonder Smith on the All-Tournament team along with the MVP of the tournament Darien McClain.
McClain in the finals was on fire as he went 7-of-12 from the field, which included going 6-of-10 from behind the arc.  One of those threes was from pretty close to the volleyball 3-meter line.
The game was close and competitive in the first half as the Knights were up 33-27 lead at the break.
After the break, the game was tense and spirited.  After several of McClain's made threes he would pull both hands into the referee signal for a three point make and turn it into a three-shooter gun and act like he was spinning them and then putting them into a holster.  The City bench was going crazy after each of those holsters.
Grossmont trimmed the lead down to six at one point, but City reinserted McClain and he would hit a shot or two and all of a sudden, the Knights were back up 12.
The Green and Gold will begin their next tournament against Columbia (3-4, Central Valley Conference) at the 44th annual Santa Barbara City College Classic. That will be the final game of the night as it begins at 9:00 p.m. on Thursday.
Other teams in the Classic are: LA Valley (2-5, Western State-East), Bakersfield (5-5, Western State-South), Oxnard (1-4, Western State-North) and fellow PCAC member Miramar (6-3, PCAC North) in the top half of the bracket.  In the bottom half with Grossmont are Columbia, College of the Desert (0-6, PCAC North) and host SBCC (2-6, Western State-North).
San Diego at Grossmont
@ Grossmont
12/4/2016 at 3:00 PM
| FINAL | 1 | 2 | T |
| --- | --- | --- | --- |
| San Diego  |  33 |  44 |  77 |
| Grossmont  |  27 |  31 |  58 |
San Diego

#
STARTERS
MIN
FGM-A
3PM-A
FTM-A
OREB
DREB
REB
AST
STL
BLK
TO
PF
PTS
1

Darien McClain

1
7-12
6-10
6-7
1
4
5
3
1
0
0
3
26
2

Marcus Brumsey

1
2-7
0-0
3-4
1
1
2
1
0
0
0
1
7
10

Wonder Smith

1
3-11
1-4
2-2
3
4
7
1
3
0
3
2
9
12

Jahmere Mitchell

1
2-4
0-0
2-3
0
4
4
2
0
0
3
3
6
13

Alex Wilbourn

1
3-6
0-0
2-2
3
3
6
2
0
1
3
2
8
#
RESERVES
MIN
FGM-A
3PM-A
FTM-A
OREB
DREB
REB
AST
STL
BLK
TO
PF
PTS
0

Jaire Roberts

1
1-1
0-0
0-0
0
1
1
0
0
0
1
1
2
3

Robert McCoy

1
5-9
0-2
2-2
0
0
0
0
1
0
1
3
12
4

Robert Taylor

1
3-7
0-1
1-2
0
3
3
2
2
1
1
1
7
5

Romario Wilson

1
0-1
0-0
0-0
0
0
0
0
0
0
0
0
0
20

Darius Lee

1
0-2
0-0
0-0
1
1
2
1
1
0
0
1
0
22

Nik DeWinne

1
0-0
0-0
0-0
0
0
0
0
0
0
0
0
0
24

Nate Edwards

1
0-1
0-0
0-0
0
2
2
0
1
1
1
2
0
TM

Team

0
0
0
0
0
TOTALS
26-61
42.6%
7-17
41.2%
18-22
81.8%
9
23
32
12
9
3
13
19
77
Grossmont

#
STARTERS
MIN
FGM-A
3PM-A
FTM-A
OREB
DREB
REB
AST
STL
BLK
TO
PF
PTS
5

Daniel McCowen

1
1-9
0-4
2-2
1
3
4
0
0
1
3
0
4
11

Bryce Parsons

1
6-10
0-1
3-4
2
10
12
3
1
1
5
3
15
15

Oscar Limon

1
5-10
0-1
0-0
1
4
5
0
0
1
4
2
10
20

Ronald Blain

1
6-9
1-4
2-4
0
2
2
1
2
3
0
3
15
23

David Wheeler

1
1-8
0-4
0-1
0
3
3
1
2
0
1
0
2
#
RESERVES
MIN
FGM-A
3PM-A
FTM-A
OREB
DREB
REB
AST
STL
BLK
TO
PF
PTS
2

Muhammad Ahmad

1
0-0
0-0
0-0
1
1
2
0
0
0
0
1
0
4

Corwin Feerick

1
0-0
0-0
0-0
1
2
3
1
0
2
1
3
0
10

Josh Moran

1
3-7
1-2
2-2
0
0
0
3
1
0
1
3
9
22

Jonny Schirer

1
0-0
0-0
1-2
1
0
1
0
0
0
0
0
1
30

Taka Hall

1
1-1
0-0
0-0
0
0
0
0
0
0
0
0
2
TM

Team

0
0
0
0
0
TOTALS
23-54
42.6%
2-16
12.5%
10-15
66.7%
7
25
32
9
6
8
15
15
58
| SAN DIEGO | TEAM STATISTICS | GROSSMONT |
| --- | --- | --- |
| 42.6% ( 26-61) | Field Goal % | 42.6% ( 23-54) |
| 41.2% ( 7-17) | 3pt Field Goal % | 12.5% ( 2-16) |
| 81.8% ( 18-22) | Free Throw % | 66.7% ( 10-15) |
| 32 | Rebounds | 32 |
| 12 | Assists | 9 |
| 13 | Turnovers | 15 |
OTHER INFORMATION
Technical fouls: 

San Diego-None ; Grossmont-2 ( Team 2)