ROUNDUP: El Capitan wins undefeated battle with Santana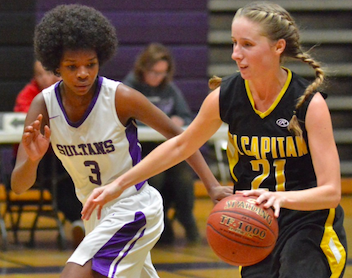 EL CAPITAN'S MARIE COOK DRIBBLES UP AGAINST SANTANA'S JANICE DEGUERIO THURSDAY NIGHT IN SANTEE. / photo by Ramon Scott
2016-17 EAST COUNTY PREP GIRLS BASKETBALL
By Bill Dickens
© East County Sports.com
SANTEE (12-16-16) — The Vaqueros of El Capitan rolled into overtime by tying the game on a pair of free throws by MARIE COOK with 1.6 seconds left to play in a crosstown match-up with Santana in the Mustang Tournament Thursday (Dec. 15).
Both teams – from historically strong East County programs – came into the contest undefeated.
In the extra frame, El Capitan took the lead on a bucket by GRACE BURKETT. That lead maintained to make it 45-41 with 23.8 seconds left in OT.
The Vaqueros put the game away 47-42 with a free throw in the final seconds to raise El Capitan's record to 7-0.
"We played good defense," said assistant Vaqueros coach ROCKY COOK. "Santana's big center (SIERRA SIMANEK) fouled out at the end of the fourth quarter."
Cook, who was only 5 of 12 from the free-throw line, finished with a game-high 21 points, including four rebounds, two assists and three steals.
The Sultans got off to a nice start thanks to their defense and the shooting of JANICE DEGUERIO.
Santana led 9-3 at the end of one, as during the quarter, Deguero canned a three-pointer on the left wing following a pass from AALIYAH STONE.
The Sultans closed the quarter on a 7-1 run.
Santana (4-1) also led 15-11 after the first half, as KOBIE HOLLAND led all scorers with 6 points, while Deguero added a pair of free throws in the second quarter for five at the intermission.
Deguerio appeared the have the possible game-winning basket with 6.4 seconds remaining when her dribble penetration got her through a series of El Cap defenders, and her bank shot off the glass fell in to cap a comeback and give the Sultans a two-point lead.
The Lady Vaqueros had assumed a bit of control of the contest with an 11-0 streak to take a 35-28 lead into the fourth, but the late surge by the Sultans saw them take a 41-39 edge after Deguero's near-hero bucket.
Deguerio was especially sharp despite El Capitan's taller trio with her slashing attacks down the middle of the lane. Three times she was able to navigate the defense, ending in layups.
Ballhandling guards DANIELL PIMENTEL and DEVON BULLOCK were sharp at working the clock down the stretch in overtime for El Capitan.
Pimentel had two steals in overtime to stop key Sultan possessions.
Deguerio finished with 12 points.
El Capitan advances to the Mustang Tournament championship on Saturday at 6 p.m. where they will face the also unbeaten Grossmont Foothillers in an all-East County final.
El Capitan: Marie Cook 21 (4 reb, 2 ast, 3 stl), Stephanie Adams 11 (6 reb, 4 blk, 5 stl), Danielle Pimentel 6 (1 reb, 5 stl), Grace Burkett 4 (7 reb, 3 stl), McKenzi Kygar 3 (1 reb, 1 stl), Jordan Grandy 2 (1 reb, 1 stl), Devon Bullock (1 stl).
Santana: scoring unavailable.
CARLSBAD 53, EL CAJON VALLEY 26 – The day went from bad to worse for the Braves Thursday (Dec. 15) as they traveled to Hilltop in Chula Vista for a Lady Lancer Invitational contest with – they thought – San Diego Southwest, at – they thought – 3 p.m.
Not so, the tournament director said. "I sent out an email that the schedule had changed. You don't play until 6 p.m." And – get this – "you will play Carlsbad."
So, according to Braves coach CARLOS MOSS, the girls sat and watched other teams all day, and played a valiant game against Carlsbad at 6. To say the coach was unhappy is an understatement.
"They even told us we had to change uniforms," Moss said. "I refused. I said I never received any notification of a schedule change. So they let it go."
He was philosophical about it all, however. "We're just going to let it go too. Tomorrow is another day."
One thing that did change though is the Braves will face SD-Southwest Saturday (Dec. 17) in an 8 a.m. game at Hilltop in the same tournament.
LEANNA WATSON was the high scorer for El Cajon Valley with 15 points, 6 rebounds and 5 steals.
SUMAYA HAMEED scored 5 points and was a beast on the boards with 14 rebounds.
El Cajon Valley: Leanna Watson 15 (6 reb, 5 stl), Sumaya Hameed 5 (14 reb), Rania Noori 2, Vean Gorgees 2, Erica Bazile 2, Lilian Akintende (5 reb).
CHRISTIAN 57, SD JEWISH ACADEMY 21 – Christian jumped out to a 20-5 lead over the Lions in the Mustang Tournament on Thursday (Dec. 15) in North County.
BROOKE OWENS led the Patriots with 18 points, MARISSA GILES popped in 17 and JASMYN CRAWFORD contributed 12.
LISETTE DUARTE did not score but was a tiger on the glass with 10 boards.
"Owens was hot tonight," commented Christian coach TIFFANY GILES.
Christian: Brooke Owens 18 (5 ast, 2 stl), Marissa Giles 17 (5 stl), Jasmyn Crawford 12 (8 reb, 3 stl), Cipriana Hudson 6 (3 reb, 2 blk), Alyssa Rothrock 2 (4 reb), Hayley Robinson 2 (8 reb, 2 stl), Bianca Holloway 2 (5 reb, 2 blk), Lisette Duarte (10 reb).
STEELE CANYON 44, MADISON 22 – Steele Canyon ran roughshod over Madison Thursday night (Dec. 15) in a non-league in Rancho San Diego, although not a single Cougar scored in double figures.
"We're still trying to find our offensive legs," said Steele Canyon coach PETER RUIZ. "We need to get wins now before we go into league."
Steele Canyon: Kortni Fahie 9, Nina Taft 7, Natalie Snyder 7, Marianna Martinez 6, Elizabeth Bott 5, Khylaya Brandy 3, Makayla McCarthy 3, Deja Ruiz 2, Laezhane Mason 2.
GROSSMONT 59, SAN PASQUAL 45 – Mustang Tournament game of Thursday (Dec. 15).
Grossmont:  Athena Sotelo 23 (5 reb, 6 ast, 3 stl), Candace Henderson 14 (1 stl), Tyana Warsaw 14 (13 reb, 2 blk), Emily Barnes 4 (9 reb, 1 blk), Jasmine Lee 1 (3 reb), Sabrina Yahonnes 1 (1 stl), Nailah McDuffie 1.