East teams sweep road contests on Tuesday
Updated: December 14, 2016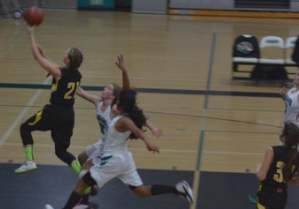 El Capitan's Marie Cook drives for a layup against Valley Center Tuesday night.
2016-17 EAST COUNTY PREP GIRLS BASKETBALL
By Bill Dickens
© East County Sports.com
VALLEY CENTER (12-14-16) — El Capitan took a lengthy road trip when they visited Valley Center in North County for a Mustang Tournament game on Tuesday (Dec. 13). The Vaqueros won it with a strong second half in a 41-20 victory.
MARIE COOK rifled in 18 points and STEPHANIE ADAMS added 10 more.
McKENZI KYGAR tossed in 8 more points, but defense solved the game for El Capitan.
The Vaqueros led 5-3 after one quarter. After three quarters it was 18-8.
El Capitan continued their onslaught as they led all the way.

El Capitan:  Marie Cook 18, Stephanie Adams 10, McKenzi Kygar 8, Jordan Grandy 3, Grace Burkett 2.
GROSSMONT 56, SAN YSIDRO 24 – TYANA WARSAW blazed out to lead the Foothillers with 23 points and 13 rebounds to go along with 2 blocks as Grossmont traveled to San Ysidro Tuesday night (Dec. 13) and defeated the Cougars in the Mustang Tournament.
ATHENA SOTELO also had a double-double of 11 points and 10 assists for the Foothillers.
Grossmont is out to a good start with a 5-0 record.
Grossmont:  Tyana Warsaw 23 (13 reb, 2 blk), Athena Sotelo 11 (3 reb, 10 ast, 3 stl), Candace Henderson 8, Emily Barnes 6 (6 reb, 2 stl), Grace Cercado 3 (3 stl), Noel Luzander 3, Jonelle Russaw 2 (2 reb).
CHRISTIAN 57, SAN DIEGO ACADEMY 13 – MARISSA GILES poured in 29 points as the Patriots smothered San Diego Academy Tuesday (Dec. 13) in a non-league game in North County.
"They left Marissa alone," said Christian coach TIFFANY GILES. "She made 5 uncontested 3s. She drained 3s all night long."
"CIPRIANA HUDSON is a transfer from San Diego Academy and she had fun playing against her alma mater and seeing old friends," the coach said.
"JASMYN CRAWFORD is my speed queen," Giles said. "She is up and down the court, made 6 steals tonight."
"Everybody played and got a lot of playing time. My starters got a lot of sitting time," Giles said.
Christian:  Marissa Giles 29 (7 reb, 1 ast, 1 stl), Cipriana Hudson 9 (5 reb, 4 blk), Brooke Owens 7 (3 reb, 2 ast, 5 stl), Jasmyn Crawford 6 (3 reb, 6 stl), Alyssa Rothrock 4 (5 reb), Bianca Hollaway (3 reb).
Late Report:
WEST HILLS 49, MT. CARMEL 18 – West Hills travelled to North County on Wednesday (Dec. 13) for a non-league tilt with the Sundevils, bringing home a victory.
"The girls played well, especially defensively," said Wolf Pack coach RYAN KINSER. "It was a good tune-up heading into Vegas. All the girls got quality minutes tonight."
West Hills:  Jessica Fondas-Ryan 12, Maya Clemons 10, Kerrie Daniels 8, Vivian Panela 5, Cassie Seaboch 5, Carly Raley 5, Caitlyn Stayner4.