ROUNDUP: Eagles, Vaqueros pick up wins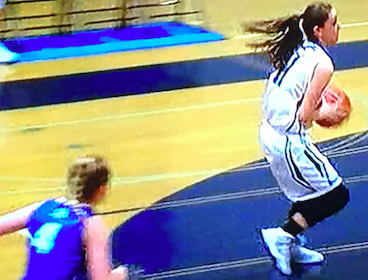 West Hills' Jessica Fondes-Ryan drives for a layup Tuesday evening against Rancho Bernardo.
2016-17 EAST COUNTY PREP GIRLS BASKETBALL
By Bill Dickens
© East County Sports.com
NATIONAL CITY (1-4-17) — ANYANG AGOTH had a breakout game as she scored a career-high 23 points in Granite Hills' 59-23 victory over Sweetwater in the Sweetwater New Year's Tournament on Tuesday (Jan. 3).
"Our defense did pretty good," stated Eagles coach CURTIS NORWOOD. "We moved the ball well and had some spectacular shooting by Anyang Agoth tonight.
"And we had our usual steady play from KANI KUBARI, a solid game by CHASE ROBLES and a yeoman's job from MELISSA MENDOZA. I thought we executed the best we have all season."
CHASE ROBLES pitched in 10 points to contribute to the scoring.
Granite Hills: Anyang Agoth 23, Chase Robles 10, Kani Kubari 8, Shelby Ripberger 8, Cynthia Garcia 3, Paige Welch 3, Melissa Mendoza 2, Shanice Lacy 2.
EL CAPITAN 52, CASTLE PARK 23 – STEPHANIE ADAMS returned to her high scoring with 20 points as El Capitan pounded Castle Park in Tuesday's (Jan. 3) non-league action.
MARIE COOK cranked in 18 points and grabbed 9 rebounds for the Vaqueros.
El Capitan: Stephanie Adams 20 (4 reb, 1 ast, 9 blk, 5 stl), Marie Cook 18 (9 reb, 2 ast, 1 blk, 4 stl), Jordan Grandy 7 (4 reb, 1 ast, 1 blk, 5 stl), Devon Bullock 4 (3 reb, 5 ast, 5 stl), Danielle Pimentel 2 (5 reb, 1 ast, 4 stl), Melissa Reyes 1.
RANCHO BERNARDO 49, WEST HILLS 45 – West Hills hit a bump in the road on Tuesday (Jan. 3) as they fell to Rancho Bernardo in a non-league game.
"We played very poor defense the 1st half, got out worked on rebounding and were not assignment sound," said Wolf Pack coach RYAN KINSER. "We played defense with more effort and energy in the second half and was able to limit their opportunities.
"The 3rd period killed us. We played good defense but were unable to score any points. This game really came down to one thing, it was a team who made shots vs. a team who didn't. We missed lay-ups and wide open jump shots."
VIVIAN PANELA led the Wolf Pack with 12 points.
West Hills: Vivian Panela 12, Kerrie Daniels 9, Carly Raley 8, Helena Keohane 7, Maya Clemons 6, Jessica Fondas-Ryan 3.