Helix DB Perkins chooses UC Davis
Updated: January 12, 2017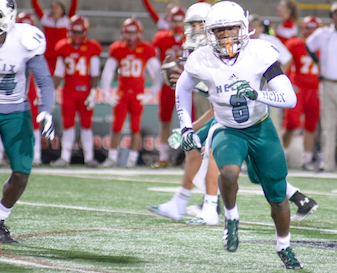 Helix senior defensive back EVAN PERKINS will attend UC Davis on an athletic scholarship.
I'll never forget where I came from. New Beginnings! …Committed ‼️ pic.twitter.com/5jvKsa55Ob

— Evan Perkins (@Ezzy_TaughtMe) January 12, 2017
2016 EAST COUNTY 4-YEAR FOOTBALL STANDOUTS      
By Bill Dickens
© East County Sports.com
LA MESA (1-12-17) — Helix High 5-foot-10, 175-pound senior defensive back EVAN PERKINS has committed to UC Davis of the Great West Conference for next season.
Perkins was a member of the Highlanders' various championship teams, and was named to the 2016 All-EastCountySports.com First Team Defense as well as the Grossmont Hills League First Team Defense.
"…After praying about it and weighing my options," Perkins said via Twitter, "I would like to announce that for the next four years I will be taking my talents, on and off the field, to UC Davis. #Aggieup"
Meanwhile, a host of other East County football seniors are sure to make their announcements in the weeks to come.
Among the standouts, Christian High senior wide receiver THEO GOODWIN has received an offer from the University of New Mexico. Goodwin has also attracted interest from Fresno State, San Jose State, CalState San Luis Obispo and Southern Utah among others.
The list of East County recruits also includes Helix tight end JAYLEN ARNOLD, who has been offered by Adams State of Colorado, Mission Baptist and Northwestern College.
Looking further down the list is Christian lineman JON STINE, who has received seven scholarship bids, including Humboldt State.
Grossmont High quarterback HUNTER GAINES has received a scholarship offer from Sterling College of Kansas.
Grossmont defensive back RAYMOND PERREAULT received offers from Mid-America Nazarene in Olathe, Kan., as well as Trinity International University of Deerfield, Ilinois.