Lady Highlanders win one Pat's way
Updated: January 14, 2017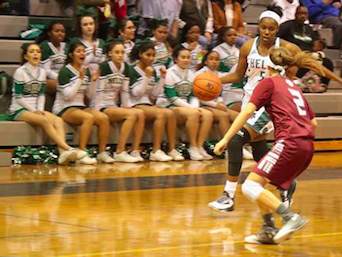 Helix's CAMRYN OWENS looks to make her move Friday night against visiting Steele Canyon. / photo by Antonio McIntyre
2016-17 EAST COUNTY PREP GIRLS BASKETBALL
By Bill Dickens
© East County Sports.com
LA MESA (1-14-17) — At the start of the Helix-Steele Canyon game Friday night (Jan. 13) there was a somber feeling in the Highlanders' gym as the fans, coaching staff and players paid tribute to their recently deceased coach PATRICK TABOR.
A photo of Tabor was on display as the crowd was asked to observe a moment of silence in homage to their fallen tutor.
"The gym was completely silent," recalled Tabor's girlfriend and current Highlanders scorekeeper/statistician BETSY WALKER. "Then at halftime, I carried out a plan that Pat and I had made before he passed.
"I presented hoodie sweatshirts to the three four-year starters – CAM OWENS, DANIELLE SIMMONS and TALIAH HOOKER. Then the rest of the team each received a shooting shirt.
"Pat had a mantra to present to the team this season," Walker continued. "He called it his battle cry, naming it '3 the Hard Way.'  It calls for Coaches to be leaders, players to be coachable and parents to be supportive."
It was the Grossmont Hills League opener for both teams and Helix finished the evening with a 55-27 victory over Steele Canyon.
Helix led 12-6 after one and extended the advantage to 31-14 by halftime.
The Highlanders later moved ahead by 20, posting a 42-22 edge.
Helix improved to 9-5 overall. The Highlanders face Lincoln tonight at 5 p.m. on the road.
Helix:  Danielle Simmons 14 (6 reb, 2 blk, 4 ast), Janae White 10 (5 reb), Camryn Owens 9 (4 reb, 5 ast, 1 blk, 4 stl), Marina Smith 6, Taliah Hooker 6 (2 reb, 2 ast, 1 blk, 1 stl), Mariyah Howard 4 (2 reb, 2 blk), Diamond Whitley 3 (4 reb, 1 ast, 1 stl), Melat Ezana 2 (5 reb, 1 blk), Tokwaje Kwai 1 (1 reb), Olivia Missouria (2 reb, 1 ast, 1 stl), Charity McWashington (4 reb, 2 stl).
Steele Canyon: No scoring reported.