ROUNDUP: Vaqueros, Matadors, Wolf Pack, Hillers win
Updated: January 14, 2017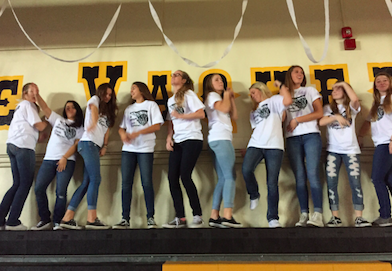 The El Capitan High girls varsity basketball team.
2016-17 EAST COUNTY PREP GIRLS BASKETBALL
By Bill Dickens 
EastCountySports.com
LAKESIDE – MARIE COOK and STEPHANIE ADAMS ganged up on Monte Vista in Friday's (Jan. 13) Grossmont Valley League opener, handing the visitors a 53-37 setback.
Cook pitched in 25 points, snared 5 rebounds, dished 7 assists, blocked 2 shots and made a steal, while Adams rolled a double-double of 18 points and 13 rebounds to go along with 5 assists, 4 blocks and 3 steals.

TAYLOR YOUNG tossed in 16 points including 3 treys for Monte Vista, and ELAYNA MEDRANO scored 10 points for the Monarchs.
El Capitan will meet Morse on Saturday (Jan. 14) in a Mount Miguel Shoot Out event held at Mount Miguel. Tipoff is 4:30, which is a time change.
El Capitan:  Marie Cook 25 (5 reb, 7 ast, 2 blk, 1 stl), Stephanie Adams 18 (13 reb, 5 ast, 4 blk, 3 stl), Jordan Grandy 6 (4 reb, 4 stl), McKenzi Kygar 2 (4 reb, 1 stl), Devon Bullock 2 (1 reb, 1 stl).
Monte Vista:  Taylor Young 16, Elayna Medrano 10, Sara Taha 7, Dejah Moore 2, Mariah Moore 2.
MOUNT MIGUEL 76, SANTANA 23 – Mount Miguel, which had been ridden in a recent slump, bolted out to a 21-6 first quarter lead and continued on to a lop-sided victory over Santana in Friday's (Jan. 13) Grossmont Hills League opener.
The Matadors turned it into a rout by outscoring the Sultans 30-1 in the third quarter.
SATERA BATES paced the Matadors with 22 points including 3 triples. Fact is, Mount Miguel scored 9 three-pointers.
CAMARA DOUGLAS popped in 21 points including 3 treys and went 3 for 3 from the free throw line. She gobbled up 15 rebounds.
LAILA SMITH poured in 10 points, including a pair of treys, and continued to prove the top passer in East County with 10 assists.

As a team Mount Miguel logged 25 steals.
"There were a lot of fouls called in the first half," said Matadors coach ROBBIE SANDOVAL. "In the second half they kinda let us play."
Mount Miguel:  Satera Bates 22 (2 reb, 2 stl), Camara Douglas 21 (15 reb, 3 blk, 3 stl), Laila Smith 10 (3 reb, 10 ast, 4 stl), Nyssa Maga 9 (1 ast, 5 stl), Michelle Corley 7 (2 reb, 1 ast, 3 stl), Nya Maga 3, Deyonna McBride 2 (4 stl), Tiaja Bennett 2 (3 reb, 1 ast, 4 stl).
WEST HILLS 53, GRANITE HILLS 12 – The Wolf Pack of West Hills steamrollered past Granite Hills in Friday's (Jan. 13) Grossmont Hills League opener.
The Pack led 19-0 in the first quarter and closed out with an 8-2 lead in a contest that wasn't close.
CARLY RALEY paced the Pack with 17 points.
"We're just not a very good team this year," said Granite Hills coach CURTIS NORWOOD. "West Hills out-hustled us, out-worked us and out-shot us. They are a good team this year and we're starting over. This was the worst loss I've ever had."
West Hills:  Carly Raley 17, Vivian Panela 9, Maya Clemons 8, Haley Doucette 7, Jessica Fondas-Ryan 4, Sarah Moyer 4, Kerrie Daniels 4.
Granite Hills:  Chase Robles 7, Melissa Mendoza 2, Anyang Agoth 2, Shanice Lacy 1.


GROSSMONT 39, EL CAJON VALLEY 32 – The defending Grossmont Valley League champion Foothillers knocked off El Cajon Valley Friday (Jan. 13) in a league opener.
Victory did not come easy for the Foothillers, who missed 13 free throws.
TYANA WARSAW led the Foothillers with 25 points, 12 rebounds, 2 blocks and 2 steals.
CANDACE HENDERSON chipped in with 7 points, while ATHENA SOTELO scored 7 points, 9 assists, 5 rebounds, and 4 steals.
"Us missing 13 free throws tonight really hurt us," said Foothillers coach GRACE CAMPBELL. "And we got off to a very slow start."
Grossmont:  Tyana Warsaw 25 (12 reb, 2 blk, 2 stl), Athena Sotelo 7 (5 reb, 9 ast, 4 stl), Candace Henderson 7.