Locals may be playing in last Spanos game
Updated: January 21, 2017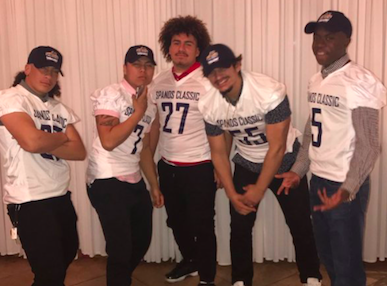 Players from the Alex Spanos All-Star Classic during a game event earlier this week.
2017 EAST COUNTY PREP FOOTBALL – 27th ANNUAL ALEX SPANOS ALL-STAR CLASSIC
By Bill Dickens
© East County Sports.com
SAN DIEGO (1-21-17) — The crop of East County football talent will make an appearance in the 27th annual Alex Spanos All-Star Classic when the South plays the North on Saturday (Jan. 21) at 6 p.m. at Mesa College.
It could be the last time the postseason contest for seniors is played following the Chargers' move to Los Angeles this week. The team has sponsored all of the game's cost since its inception, but the future of the game is unclear.
Headliners for the South include Grossmont High quarterback HUNTER GAINES and his fleet-footed wide receiver DOMONIQUE GUEVARA.
Also included on the South roster from Christian High are offensive lineman JON STINE, running back JOEY MORONES and wide receiver THEO GOODWIN.
From Santana, offensive line star TRENT FORSTER leads the way, along with Valhalla running back JEROME JOHNSON.