ROUNDUP: Matadors hold serve over Pack; Vaqueros win again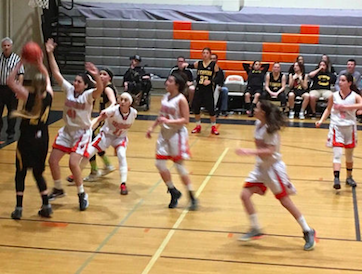 El Capitan's GRACE BURKETT puts up a shot at Valhalla on Tuesday evening.
2016-17 EAST COUNTY PREP GIRLS BASKETBALL
By Bill Dickens
© East County Sports.com
SPRING VALLEY (2-1-17) — In an early showdown between the top two girls basketball teams in the Grossmont Conference the host Mount Miguel Matadors skidded past West Hills 48-44 on Tuesday (Jan. 31).
"We led by 14 points in the fourth quarter, and then they got hot," said Matadors coach ROBBIE SANDOVAL.
The leader of a potential West Hills comeback was VIVIAN PANELA, who buried 17 points and a trio of treys for the Wolf Pack (14-6, 2-1 Grossmont Hills League).
SATERA BATES dropped in 3 treys on her way to a 17 point finish for the Matadors (12-7, 5-0 GHL).
Mount Miguel was aggressive on the boards and in the field.
CAMARA DOUGLAS gobbled up 9 rebounds and blocked 4 shots.
Bates grabbed 6 rebounds and blocked 2 shots.
The ace of the league's passers, LAILA SMITH, was once again smooth as glass as she dealt 8 assists to got with 2 rebounds, 3 steals and 4 points.
Mount Miguel took a 19-3 first quarter lead, and the Wolf Pack kept scrambling back.
"I loved the way our girls played the last three quarters, tough and aggressive, but unfortunately we played a horrible first quarter," said Wolf Pack coach RYAN KINSER. "We played very weak, didn't finish a ton of close range opportunities and didn't follow our defensive game plan.
"I'm proud of the girls' effort to climb out of the deep hole we dug ourselves into, but you just can't get down 16 to a good team.
"Hopefully next matchup we are ready to play from the tip."
"We didn't turn the ball over like we hoped to," said Sandoval. "But give them credit, they did a good job of taking care of the ball.
KERRIE DANIELS pitched in 12 points for West Hills.
Mount Miguel:  Satera Bates 17 (6 reb, 2 blk), Camara Douglas 13 (9 reb, 1 ast, 2 stl, 4 blk), Michelle Corley 5 (2 ast, 1 stl), Tiaja Bennett 4 (1 reb, 2 stl), Laila Smith 4 (2 reb, 8 ast, 3 stl), Nyssa Maga 3 (1 stl), Deyonna McBride 2 (5 reb, 3 stl).
West Hills:  Vivian Panela 17, Kerrie Daniels 12, Maya Clemons 6, Carly Raley 4, Jessica Fondas-Ryan 3, Sarah Moyer 2.

GROSSMONT 54, MONTE VISTA 37 – Grossmont stampeded past Monte Vista in Tuesday's (Jan. 31) Grossmont Valley League contest in El Cajon.
TYANA WARSAW rolled a double-double for the Foothillers of 15 points and 11 rebounds to go with 2 blocks.
ATHENA SOTELO scored 13 points, grabbed 5 rebounds, dished 4 assists and made 2 steals.
TAISHA SILAS pitched in 10 points and made 4 rebounds.
Grossmont:  Tyana Warsaw 15 (11 reb, 2 blk), Athena Sotelo 13 (5 reb, 2 stl, 4 ast), Taisha Silas 10 (4 reb), Candace Henderson 9 (3 stl), Grace Cercado 5, Emily Barnes 1 (6 reb), Jazmine Lee 1 (4 reb).
Monte Vista:  No report.
EL CAPITAN 46, VALHALLA 23 – El Capitan racehorsed past Valhalla in the first quarter and led 27-9 at halftime of Tuesday's (Jan. 31) Grossmont Valley League contest.
STEPHANIE ADAMS led El Capitan with a double-double of 18 points and 11 rebounds, while MARIE COOK pitched in 13 points for the Vaqueros.
JORDAN GRANDY added 8 points, 3 rebounds, and 4 steals for El Capitan.
GRACE BURKETT, in her first game back from injury, grabbed 11 rebounds, made one assist, a block and a steal to go with 5 points.
El Capitan:  Stephanie Adams 18 (11 reb, 1 ast, 2 blk, 3 stl), Marie Cook 13 (7 reb, 4 ast, 3 stl), Jordan Grandy 8 (3 reb, 1 ast, 4 stl), Grace Burkett 5 (11 reb, 1 ast, 1 blk, 1 stl), McKenzi Kygar 2 (1 stl).
Valhalla:  No report.
Grossmont Hills League
Santana 45, Steele Canyon 20 – Santana improved to 2-3 in the GHL and 13-8 overall by dispatching winless Steele Canyon (0-4, 9-9)
Helix at Granite Hills – no report