ROUNDUP: Matadors, Wolf Pack set for Valentine's date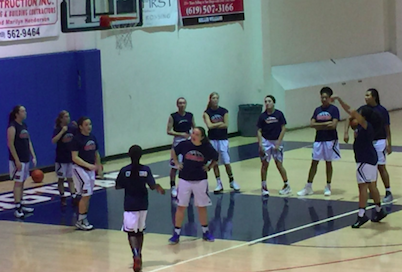 The Christian High girls basketball team warms up prior to its win Friday night.
2016-17 EAST COUNTY PREP GIRLS BASKETBALL
By Bill Dickens
© East County Sports.com
EL CAJON (2-11-17) — Mount Miguel came out strong in Friday night's (Feb. 10) Grossmont Hills League encounter at Granite Hills, but the Eagles managed to stay within five points of the Matadors in the first quarter.
The second quarter and beyond was another matter as Mount Miguel turned on the burners for the rest of the contest, finished with a 74-26 victory.
CAMARA DOUGLAS paced Mount Miguel with a career-high 34 points, 9 rebounds, 2 blocks and 7 steals.
SATERA BATES poured in 29 points, snared 5 rebounds, dished 3 assists and had one steal.
Granite Hills was led by KAMI KUBARI's 10 points.
The win sets up a Grossmont Hills League championship showdown next Tuesday in Santee.
Mount Miguel (8-0 GHL), which plays a non-league game tonight at Mater Dei, holds a half-game lead over the Wolf Pack (8-1). The game is a 6 p.m. start on Valentine's evening.
The contest will virtually decide the league patch, as a West Hills win would virtually assure a share of the circuit crown, while a road win by the Lady Matadors would clinch the title outright.
The Matadors also sit precariously in the No. 9 spot in Division 1, where they would be the top-seed in that division's playoffs.  Just one notch up, however, would place the Matadors in the Open Division postseason.
Mount Miguel:  Camara Douglas 34 (9 reb, 2 blk, 7 stl), Satera Bates 29 (5 reb, 3 ast, 1 stl), Tiaja Bennett 6 (3 reb, 1 ast, 6 stl), Michelle Corley 5 (1 reb, 2 ast, 2 stl), Nyssa Maga (1 reb, 4 ast, 2 stl), Deyonna McBride (1 ast, 1 stl).
Granite Hills:  Not reported.

WEST HILLS 65, STEELE CANYON 38 – West Hills jumped out to an early lead, outpacing the visiting Cougars 17-3 in the first quarter.
Steele Canyon battled back to match the Wolf Pack 14-14 in the second quarter and only trailed by one point in the third quarter. The Cougars ran out of gas in the fourth.
"I thought Steele Canyon played really well tonight," said West Hills coach RYAN KINSER. "There were stretches of the game where they out-worked us.  We missed a lot of free throws (7-21) and missed lay-ups.  Defensively we played well early but I thought we lost our intensity once we got a big early lead.
"We have to play much better moving forward."
VIVIAN PANELA led West Hills with 17 points and JESSICA FONDAS-RYAN tossed in 16.
MAYA CLEMENS and CARLY RALEY each added 11 points for the Pack.
West Hills played without the services of KERRIE DANIELS, who was ill and did not play.
Steele Canyon was led by MARIANNA MARTINEZ with 15 points, 3 rebounds, and 2 assists.
"The girls played with a lot of effort and heart," said Cougars coach PETER RUIZ. "I think we'll surprise a few teams in the playoffs."
The Wolf Pack currently holds the No. 4 seed in the Division 1 postseason.
West Hills:  Vivian Panela 17, Jessica Fondas-Ryan 16, Maya Clemons 11, Carly Raley 11, Sarah Moyer 6, Haley Doucette 4.
Steele Canyon:  Marianna Martinez 15 (3 reb, 2 ast), Elizabeth Bott 4 (1 reb, 1 ast), Reagan Jordan 4 (1 reb, 1 stl), Lala Wadley 4, Nina Taft 4, Kortni Fahie 3, Deja Ruiz 2, Laezhane Mason 1 (1 ast), Tayanna Mason 1 (2 ast), Makayla McCarthy (1 stl).
EL CAPITAN 44, EL CAJON VALLEY 29 – El Capitan came out swinging in Friday night's Grossmont Valley League contest against visiting El Cajon Valley, extending their league record to 7-0 and giving them the official GVL banner.
STEPHANIE ADAMS paced the Vaqueros with a double-double of 25 points and 14 rebounds to go with 5 blocks and a steal.
MARIE COOK tossed in 11 points, snared 5 rebounds and dealt 8 assists.
GRACE BURKETT did not score but hauled down 11 rebounds for the Vaqueros.
For El Cajon Valley, LEANNA WATSON led the Braves with 17 points, 6 rebounds, 4 assists, and 6 steals.
"We lost but we played pretty good defense," said El Cajon Valley coach CARLOS MOSS. "We just couldn't shoot very well tonight. Leanna did a good job tonight. El Capitan is a tough team to play against. They work hard, play with class."
The Vaqueros are currently ranked as the No. 2 seed in the upcoming Division 3 playoffs.
The Braves, meanwhile, are tetering on the edge of the Division 4 postseason party as the No. 12 seed.
El Capitan:  Stephanie Adams 25 (14 reb, 5 blk, 1 stl), Marie Cook 11 (5 reb, 8 ast, 1 blk, 2 stl), Jordan Grandy 8 (1 reb, 1 ast), Grace Burkett (11 reb, 1 stl), Devon Bullock (4 reb, 2 ast, 1 stl), McKenzi Kygar (3 reb, 2 ast).
El Cajon Valley:  Leana Watson 17 (6 reb, 4 ast, 6 stl), Vean Gorgees 6 (5 reb, 1 ast, 5 stl), Lillian Akintende 4 (3 reb, 4 ast, 3 stl), Dania Ella 2 (1 reb, 1 ast), Rania Noori (3 reb, 3 stl), Keariel Brewer (2 reb, 1 stl), Sumaya Hameed (3 reb).


CHRISTIAN 54, MADISON 42 – The Christian High Patriots swarmed the floor as they took down the Madison Warhawks in Friday night's (Feb. 10) Central League contest.
MARISSA GILES poured in 29 points, including a 3 and tying her career best, grabbing 4 rebounds, dishing 2 assists and making 4 steals.
Her early jumper, where she was fouled, allowed her to complete a three-point playing, giving the Pats a 14-10 lead.
#13 Giles again with the And 1 to bring the last bucket of the 1st Period…14-10 PATRIOTS!!! pic.twitter.com/mz5qs6ZZxG

— CUSSDPatriots (@CUSSDPatriots) February 11, 2017
SUZY WEBSTER scored a personal best with 8 points and a rebound, including 2-for-3 shooting on treys.
"We had an exciting game tonight," said Patriots coach TIFFANY GILES. "It was a good win for us, especially for Marissa who matched her season high, driving down the court and penetrating the key all night long. She had layups and short jumpers all night. She was relentless with her steals and taking the ball back down the court.
"HAYLEY ROBINSON had a good game as well," added the coach, "achieving her personal best 8 points and 16 rebounds."
Robinson had a putback, plus a foul, which she converted into a three-point play to give Christian a 46-37 lead midway through the third.
#14 Hailey Robinson with two free throws followed up with the And 1 to extend the PAT lead…46-37 w/4:01 left in 3rd Period!!! pic.twitter.com/ePqLwKzNQU

— CUSSDPatriots (@CUSSDPatriots) February 11, 2017
The Patriots are in strong contention for a postseason berth in Division 3, as they sit currently as the No. 10 seed.
Christian:  Marissa Giles 29 (4 reb, 2 ast, 4 stl), Hayley Robinson 8 (16 reb, 1 stl), Jasmyn Crawford 5 (4 reb), Cipriana Hudson 2 (5 reb), Brook Owens 2 (2 reb), Suzy Webster 8 (1 reb), Lisette Duarte (1 reb), Alyssa Rothrock (1 reb).
 

SANTANA 41, HELIX 36 – Santana overpowered the host Helix Highlanders Friday night (Feb. 10) in a non-league encounter by a narrow margin.
Helix tied or led in every quarter but the third, but had a tough third quarter as the Sultans took the lead 14-3 in that period.
CAMRYN OWENS led the Highlanders with 13 points, while DANIELLE SIMMONS crashed the boards with 10 rebounds and 6 blocks.
The Sultans are possibly sitting pretty in the No. 4 slot in Division 3, which would give the East County three of the top four seeds in the division, joining El Capitan and Grossmont.
Helix:  Camryn Owens 13 (2 reb, 2 ast, 1 stl), Olivia Missouria 7 (2 reb), Danielle Simmons 4 (10 reb, 6 blocks, 1 stl), Melat Ezana 4 (4 reb, 2 blk), Janae White 2 (5 reb), Diamond Whitley 2 (4 reb), Marina Smith 2 (1 reb), Charity McWashington (2 stl), Talia Hooker (1 reb, 1 ast, 1 blk).
MONTE VISTA 56, VALHALLA 47 – Valhalla fell to Monte Vista in Friday night's (Feb. 10) Grossmont Valley League game.
The Norsemen were led by LISA DAMMAN with 22 points – a season high.
The Lady Monarchs led 15-8 after one and 29-18 at halftime.
Valhalla put together its best quarter in the third, outscoring the hosts, 17-13.
Monte Vista is in a battle for the final playoff spot in Division 3, along with Steele Canyon.