Hawks put woes aside in sweep of Westmont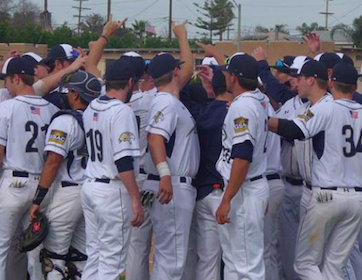 2017 SAN DIEGO CHRISTIAN COLLEGE HAWKS BASEBALL
By Bill Dickens
© East County Sports.com
BARONA (3-5-17) — The San Diego Christian Hawks swept a doubleheader from the Westmont Warriors and captured a 3-game series. Better yet, it was the style that the Hawks used to upend the eighth-ranked Warriors with a pair of walk-off wins.
The key to the first victory was an RBI single to right single by CAEDEN BARNES. The Hawks completed the sweep in game two when JUSTIN HAWKINS scored on a two-out double by STEVEN PICO.
On a bases-clearing triple by Hawkins in the 4th inning, San Diego Christian closed the gap to 6-4 in the first game of the double-header this weekend.
Trailing 9-7 entering the 8th inning of game one of a double-header on Saturday (Mar. 4), the Hawks got a solo home run from Barnes to make it 7-7 at the end of the inning.
That set the table for SDCC's walk-off win in the bottom of the 9th when VAHN BOZOIAN had a 2-run single to right center, tying the game at 9-9 and scoring JOSHUA SIDLEY and AUSTIN YEOMAN.
The Hawks scored four runs in the final two frames for a final score of 10-9.
Barnes was the big stick for the Hawks in game one, adding to his home run, he slammed a single to left in the bottom of the 9th to give the Hawks the walk-off win.
In game two, the Hawks made it a second walk-off win against Westmont College to increase their record to 5-11 and 4-8 in the GSAC.
SDCC struck first for the first time in the series on singles by Pico and Bozoian, which put runners at the corners.
In the deciding 7th inning, Hawkins singled to start off the inning and moved to second on a sacrifice by Yeoman. After a second out, Hawkins scored on a double by Pico.
With two outs in the bottom of the 9th, Hawkins scored on a two out double by Pico to give the Hawks their second walk-off win of the day.
SDCC hosts Menlo College on March 10th and 11th at Point Loma Nazarene College.