East County Athletes of the Week sponsored by Grandstand Pizza
EL CAJON
619-258-6888
1558 N. Magnolia (Magnolia at Bradley)
Also serving Santee, Lakeside, & Fletcher Hills
GET FREE PIZZA ON YOUR BIRTHDAY!
PREP ATHLETES OF THE WEEK
WEEK 13
BOYS
#45 MILES NORRIS, HELIX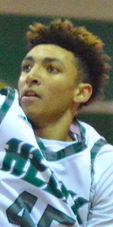 The 5-star recruit scored 22 points, grabbed 29 rebounds and had eight blocks combined in the Highlanders' section Division 2 semifinal and championship games last week. Norris, a 6-foot-10 junior, blocked the last-ditch three-point shot by Orange Glen to lock up the title.
GIRLS
#15 KOBIE HOLLAND, SANTANA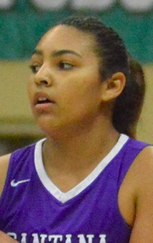 The 5-foot-9 junior scored eight points and grabbed 12 rebounds to lead the Sultans during the championship game defeat at the hands of Lincoln on Friday. Holland was also a force, especially on the defensive end, in Santana's semifinal victory over San Pasqual.
WEEK 12
BOYS  
# 0    RICKY HARVEY, Mount Miguel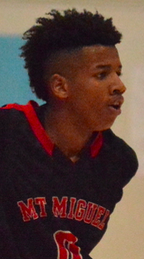 A 5-foot-10 senior guard, Harvey scored 21 points in two games for the Matadors who are one win away from a berth in the San Diego Section CIF Division III championship game. The versatile Harvey grabbed 6 rebounds, dished 3 assists and recorded 5 steals in the win at Coronado.
GIRLS
#  22   VIVIAN PANELA, West Hills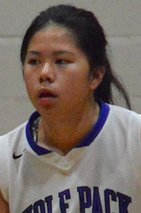 The 5-foot-5 senior spark plug has guided West Hills into the San Diego Section CIF Division I semifinals with a pair of wins last week. In her last two games, Panela has scored 23 points for the Wolf Pack.
WEEK 11
BOYS
# 14   CAMERON SPITZER, Granite Hills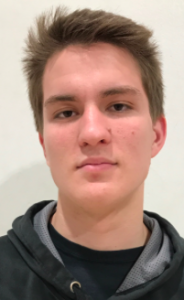 The 6-foot-3 senior guard scored 30 points, grabbed 6 rebounds, made 5 steals and one assist in two games for the undefeated Grossmont Valley League Eagles.
GIRLS
# 1   CANDACE HENDERSON, Grossmont
The 5-foot-7 junior shooting guard scored 35 points, grabbed 7 rebounds and made 10 steals in two games for the Foothillers.
WEEK 10
BOYS  
# 1   RYAN KELLY, Granite Hills
A 6-foot-8 senior post, Kelly scored 38 points, grabbed 27 rebounds, 9 assists, 4 blocks and 3 steals as the Eagles have marched so far to an undefeated season and at least a share of the Grossmont Valley League championship following last Friday's win over its closest rival, Mount Miguel.
GIRLS
# 14  CAMARA DOUGLAS, Mount Miguel
A 5-foot-11 junior forward, Douglas scored 76 points, cleared 43 rebounds, blocked 6 shots, notched 8 steals and recorded 2 assists as the Matadors wrapped up the Grossmont Hills League championship.
WEEK 9
BOYS
# 10   MARQUELL COOL, West Hills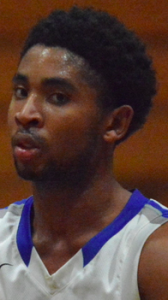 A 5-foot-9 senior guard who is known for his clutch shooting, Cool came up with a big one to help the Wolf Pack knock off Grossmont 62-50. In three games Cool helped the Pack go undefeated. Known mostly for his ball handling, he racked up 13 rebounds, 3 assists and 2 steals in the West Hills sweep.
GIRLS
# 3    SATERA BATES, Mount Miguel

A 5-foot-8 senior guard, Bates poured in 82 points in three games as Mount Miguel went 2-1. She came down with 16 rebounds, blocked 5 shots, dished 2 assists and recorded 2 steals.
WEEK 8
BOYS
# 3  MOSES SMITH, Granite Hills

Smith scored 37 points, grabbed eight rebounds and had seven steals in a pair of Grossmont Valley League victories over Monte Vista and Santana, as the Eagles remained tied for first place.
GIRLS
# 10   LAILA SMITH, Mount Miguel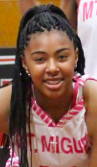 A 5-foot-6 junior point guard, Smith broke a Mount Miguel school record last week, dishing 28 assists including a record 17 against Helix to go with 14 points, 6 rebounds and 6 steals for a pair of victories combined.
WEEK 7
BOYS
 # 22   AUSTIN ODOM, Grossmont
The 6-foot-1 junior guard poured in 52 points, snared 21 rebounds, dished 12 assists, blocked 2 shots and made 4 steals for the Foothillers last week, stepping up in a pair of wins as Grossmont had two starters out for the week.
GIRLS
#  33  JORDAN GRANDY, El Capitan
The Vaqueros freshman dribbled through traffic in two games, finishing with 29 points, including 6 treys as El Capitan posted back-to-back victories. Grandy also snared 7 rebounds, dished 6 assists and blocked 5 shots.
WEEK 6
BOYS
 # 1   DARIAN NORWOOD, Mount Miguel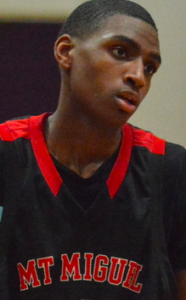 A 6-foot-4 senior, Norwood produced 29 points and 20 rebounds for Mount Miguel as the Matadors posted two victories in as many decisions. The versatile Norwood also dished 5 assists and recorded 4 steals for the 2-0 Matadors.
GIRLS
#  21  MARIE COOK, El Capitan
A 5-foot-10 senior forward, Cook poured in 39 points, pounded the boards for 12 rebounds, dished 13 assists, had 3 blocks and a steal in two games for the Vaqueros.
WEEK 5
BOYS
 # 5   NASHOM CARTER, Christian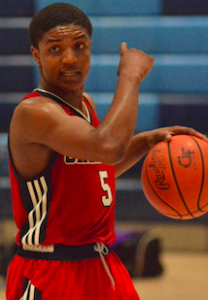 The 5-foot-9 junior produced 107 points and snared 36 rebounds for the Christian High Patriots in five games. He also had 9 assists and 8 steals over three of those contests.
GIRLS
#  11  ANYANG AGOTH, Granite Hills
The junior wing-shooting guard punched in 38 points over three games for the week, including a career-high 23 for Granite Hills over Sweetwater.
WEEK 4
BOYS
 #10     KAI KOMAKI, Valhalla
Valhalla team captain Kai Komaki earned Most Valuable Player honors as the Norsemen captured the Montgomery Holiday Tournament championship. He scored 53 points, dished 9 assists and recorded 4 steals in the Norsemen's four-game sweep.
GIRLS
#  5   LEANNA WATSON, El Cajon Valley 
The 5-foot-6 junior point guard scored 85 points as the Braves split four games in the Bonita Optimist Tournament. She also grabbed 28 rebounds and recorded 19 steals.
WEEK 3
BOYS
 #3      MALIQUE SHAW, Valhalla

The shooting guard helped guide the Norsemen to a four-game tournament sweep and the championship of the San Ysidro Cougar Classic with a 65-63 win over Mission Bay. Shaw knocked down 47 points, grabbed 38 rebounds and blocked 15 shots to pace the Norsemen over the final three games.
GIRLS
#     DANIELLE SIMMONS, Helix

The 6-foot-2 senior buried 49 points and grabbed 26 rebounds as the Highlanders posted a four-game sweep of the Crawford Invitational and championship.
WEEK 2
BOYS
#21  RAMZI SULTAN, Valhalla
Sultan, a 6-foot-5, 180-pound junior forward, scored 41 points and had a pair of 11-rebound games as the Norsemen swept three games for the week.
GIRLS
TYANA WARSAW, Grossmont
Warsaw had three double-doubles as the Foothills won the San Dieguito Mustang Tournament championship, including the title game over El Capitan. She scored 48 points and grabbed 37 rebounds in the three contests.
WEEK 1
BOYS
# 35  JAYLEN ARNOLD, Helix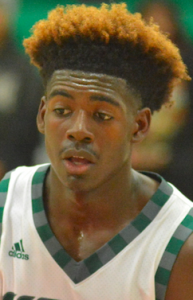 A 6-foot-4 senior forward, Arnold finished the football season in a rush and then stepped onto the basketball court without breaking stride and continued his momentum on the hardwood. Arnold put together a game of 30 points and 10 rebounds and was selected the Hilltop Tournament MVP, scoring 65 points in three games for the week.
GIRLS
# 14    STEPHANIE ADAMS, El Capitan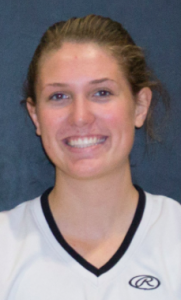 A 6-foot freshman, Adams proved that she belongs at the varsity level, scoring 20 points and 16 rebounds on her birthday with the Vaqueros as they rolled their record to 5-0. She also had efforts of 16 points, 15 rebounds and 5 blocks in a pair of other contests during the week.