East County Athletes of the Week sponsored by Grandstand Pizza
EL CAJON
619-258-6888
1558 N. Magnolia (Magnolia at Bradley)
Also serving Santee, Lakeside, & Fletcher Hills
GET FREE PIZZA ON YOUR BIRTHDAY!
PREP ATHLETES OF THE WEEK
Week 12
#  19  MAX FORD, GROSSMONT
Ford had three hits, including a double, two RBI, a stolen baseb and two runs scored, helping the Foothills to a pair of wins last week in the San Diego CIF Division I playoffs. The junior leads Grossmont in batting average with a .413 mark.
#  68  SHANNON MCMAHON, Christian
The junior catcher went 8-13 for a .615 clip in four games this past week including 2-3 and driving in 4 RBIs in the semifinals elimination against league foe University City to reach the Division III San Diego Section title game. In the title tilt against High Tech San Diego she went 2-for-4 with 3 RBI and ripped 2 doubles which helped the Patriots claim the Division III title.
Week 11
#  27  KYLE CASPER, Valhalla
Casper was a key cog in a true all-around team performance as Valhalla swept a pair of games to clinch to Grossmont Valley League championship. Casper had three hits, two RBI, two walks and scored two runs, raising his average to .407 this season.
#  10  MADISON JAMES, Patrick Henry
The Senior helped the Patriots sweep their two playoff games this week against Westview and Rancho Bernardo. On the week she batted .600, drove in 6 RBI, scored a run, doubled and belted a home run. In the circle, she went 2-0, while striking out 9 batters.
Week 10
#  22  JOSH GATES, Foothills Christian

Gates struck out 16 batters, spinning a no-hitter for 6 1/3 innings and finishing with 16 strikeouts against Calvin Christian to finish with a complete-game two-hitter. He also went 2-for-4 at the dish with two RBI in that game. For the week, he went 5-for-9 with three runs scored and and three RBI as FCHS moved in on the Ocean League championship.
FAITH KING, Helix
The sophomore came up huge in the game regular season finale against El Capitan that decided the Valley League Championship. She went 3-3 and scored a run and helped the Highlanders claim the victory and also a share of the Valley League Championship.
Week 9
#  10  JAYDEN LOMBARDO, Grossmont

The 5-foot-10, 200-pound pitcher-outfielder helped lead Grossmont past Granite Hills 14-1. He slugged a home run, scored 3 runs and notched 2 RBI as the Foothillers flattened the Eagles. The Westmont-bound senior pitched a complete game and did not allow an earned run in the romp over Granite Hills.
#  14  BAILEY WALLACE, Granite Hills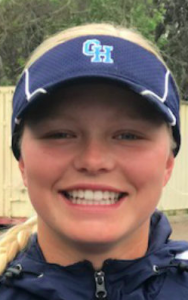 The freshman center fielder in a couple crucial league games scored a couple of runs and in the game against second place Santana, she had what ended up being the game-winning, go-ahead 3-run dinger in the bottom of the sixth inning. In the game, she drove in 3 runs, scoring twice, which led the Eagles to victory and also clinch the Grossmont Hills League crown.
Week 8
#   24   NOAH NUNEZ, Santana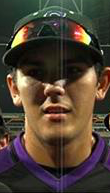 The 6-foot-4, 207-pound senior right-handed pitcher-infielder is the ring leader for the Sultans. He pitched a 2-hit shutout with 7 strikeouts against Helix in the Petco Park showcase. Nunez also proved he can swing the bat as he was 4-for-7 with a triple and a RBI for the week.
#   2   ASHLEY CARTER, Christian
The Junior helped spearhead the Patriots to stay on course for the showdown with University City for first in the Eastern-City League. Against the Cavers of San Diego she drove in a run and scored three times and had three hits, and in the contest against Serra, she had a game-winning grand slam. On the day, she drove in 5 RBI and also garnered the complete-game pitching victory.
Week 7
#   5   ANDREW GONZALES, Monte Vista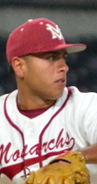 The 5-foot-9, 160-pound senior infielder was 3-for-8 with 2 runs and 6 RBI for the Monarchs as they beat Valhalla in the second game a doubleheader split on Saturday. He also hit a home run and had 2 stolen bases.
#   15   KAYLA MACK, Granite Hills 
The senior outfielder batted .857 (6-for-7) in the two wins against Bishop's and High Tech SD. Against the Knights, she went 4-4 with a double, scored a run and knocked in 4 RBI and against the Storm she went 2-3 with a solo home run, scored 2 runs and drove in 2 runs.
Week 6
#   8   AIDAN RASMUSSON, Santana

A 6-foot-3, 173- pound senior infielder/outfielder, Rasmusson batted .643 (9-for-14) with 5 RBI and 4 runs to help guide the Santana Sultans to the championship of the Fresno Easter Classic in Clovis. He also had 2 stolen bases and 2 doubles. Rasmusson was selected the tournament MVP.
#   29   ALEXA WILLIAMS, El Capitan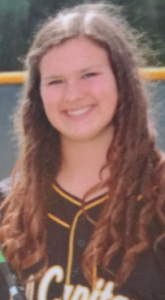 The freshman duel threat on the week helped spur the Vaqueros to a 5-2 record including 4 wins in the Las Vegas Spring Jamboree.  Her efforts included 10 hits in which she scored 9 runs and drove in 16 RBIs. She also smashed 2 2Bs, a 3B and clubbed 2 round trippers. In the circle she garnered 2 wins and a save while striking out 12 batters.
Week 5
#   2   CONNOR KONISHI, Helix
The 6-foot-1, 185-pound senior pitcher-outfielder batted .667 (6-for-9) with a home run and 6 RBI as the Highlanders swept El Capitan in the Grossmont Hills League last week. He also slugged a double. As a pitcher, the San Jose State-bound Konishi spun five innings to pick up a win.
HANNAH McEWEN, Patrick Henry
The senior center fielder and leadoff hitter went 10-for-13, scoring 9 runs and driving in 5 RBI. She also stole a base, smashed 4 doubles and hit a home run, as the Patriots scored 40 runs went 4-0 on the week.
Week 4
#   7   TREVOR HAZELHURST, Granite Hills
The 6-foot-2, 190-pound pitcher-outfielder was 6-for-10 with 2 home runs, 4 runs scored and 5 RBI for Granite Hills in the Bill Dickens East/City/Metro Tournament.
#  1  MADISON MENDEZ, Santana 
The sophomore dual threat tossed three shutouts this past week including one in the Jaguar Classic Silver Division championship game against Granite Hills. She fanned 24 batters overall. At the plate, she had 5 hits including a HR, 2 2Bs, scored a run and drove in 3 RBI.
Week 3
#   56   ZACH HOGUEISSON, Christian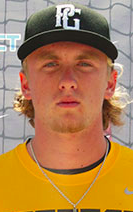 Arizona State bound Zach Hogueisson, a 6-foot-4, 205-pound senior outfielder, has clubbed an East County-leading 5 home runs with 7 RBI, 2 stolen bases and 5 runs scored. This past week, he homered in wins over Valhalla and Steele Canyon.
 #  13   MAKAYLA MCCARTHY, Steele Canyon
The senior helped the Cougars go 4-1 including three wins on Sat., March 24 to claim the Hilltop Tournament championship. She hit .357 with 4 RBI, 2 R and also a home run. In the circle, she was 4-1 in which she tossed 22 innings, gave up 2 runs and struck out 11. She was named the Most Valuable Player of the tournament.
Week 2
# 8  IVAN PLAZOLA, Monte Vista

Plazola, a junior, pitched a complete-game, one-hitter for the Monarchs and earned the win in a 2-1 walk-off victory over Mar Vista on Tuesday for his first win of the season.
# 10  ASHLEIGH HARTWIG, West Hills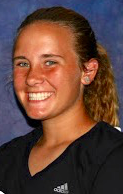 The Junior really showed why she was cog and a hard out in the Wolf Pack lineup as she went 7-9, a .778 average in three games. Against Carlsbad, she went 2-for-3, scored a run and doubled, and against Valley Center in a Jaguar Classic contest she went 3-for-4, drove in a couple of runs and stole a base, and against San Dieguito Academy in a Falcon Fiesta contest went 2-for-2, drove in 4 runs and roped 2 doubles.
Week 1
# 3    TRISTEN SALINAS, Santana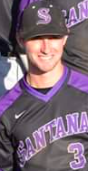 A four-year starter, Salinas continues to excel. The outfielder/pitcher is off to a fast start this season batting at a .538 clip (7-for-13). He has also slashed a home run and driven in four runs for the undefeated, top ranked Sultans. The versatile Salinas has hit in every game thus far, with three doubles and two stolen bases.
# 16  HALEY JOHNSON, Granite Hills 
The versatile freshman was a part of the big reason why the Eagles have made it to the semifinals of the Platinum Bracket of the Cougar Classic up at Kit Carson Park. In the two wins against Chaparral and Westview, and the tie against Cathedral in pool play and also the win against Mt. Carmel in the quarterfinals of bracket play she batted 6-11 for a .545 clip while driving in 5 runs along with a double.