East County Athletes of the Week sponsored by GRANDSTAND PIZZA
Updated: December 5, 2016
EL CAJON
619-258-6888
1558 N. Magnolia (Magnolia at Bradley)
Also serving Santee, Lakeside, & Fletcher Hills
GET FREE PIZZA ON YOUR BIRTHDAY!
2016 EAST COUNTY ATHLETES OF THE WEEK
WEEK 15
Offense
# 6   CARSON BAKER, Helix
The 6-foot-3, 190-pound junior quarterback completed 24 of 38 passes for 308 yards and 3 touchdowns in Helix' joust with Cathedral in the San Diego Section Open Division playoffs. Baker completed 185 of 277 passes for 2776 yards and 23 touchdowns for the Highlanders this season.
Defense
# 12  STEPHEN ROE, Santana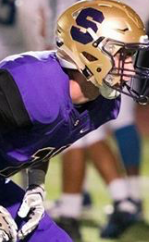 The 6-foot, 160-pound senior defensive back had an outstanding game against La Jolla Country Day as he recorded 8 tackles and intercepted a pass in the San Diego Section Division IV finals. He finished the season with 47 tackles and one interception.
WEEK 14
Offense
#6   BROCK ELLIS, Santana
A 5-foot-11, 175-pound senior WR-DB, Ellis made 9 catches for 176 yards and 2 touchdowns as the Sultans maneuvered past Monte Vista in a San Diego Section Division IV 35-32 semifinal victory. One of the keys to Ellis' performance was pulling in the game-winning touchdown and making two tackles on defense, along with a late-game pass break-up.
Defense
# 8   EVAN PERKINS, Helix
The senior cornerback picked off his 6th interception of the season and returned it 31 yards for a touchdown to help seal the San Diego Section Open Division 28-10 victory over previously undefeated Rancho Bernardo. He also had 5 tackles, along with two receptions on offense for 39 yards.
WEEK 13
Offense
#14   HUNTER GAINES, Grossmont
The 6-foot-2, 190-pound senior quarterback drilled 26 of 35 passes for 327 yards and 3 touchdowns as the Foothillers came up short in a 49-48 defeat at the hands of Mission Hills in the quarterfinals of the San Diego Section Open Division contest Friday (Nov. 18).
Defense
# 22   DALE GENSCHAW, Santana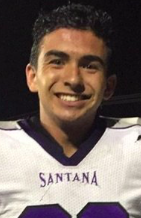 The 5-foot-7 junior linebacker logged three sacks and eight tackles as the Sultans shutout Coronado 44-0 in the San Diego Section Division IV quarterfinals. For the season, Genschaw has 30 tackles to his credit.
WEEK 12
 Offense
#11   MASHAL WASIMI, Granite Hills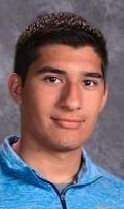 A 5-foot-10, 175-pound senior wide receiver, Wasimi collected 2 catch-and-run touchdown receptions – of 81 and 68 yards – in the Eagles San Diego CIF Division II first round 30-14 victory over San Pasqual.
Defense
# 92   KYLE TINNEY, Granite Hills
The senior 5-foot-10, 235-pound defensive lineman recorded 8 tackles, including 3 for loss, 2 sacks, a forced fumble and a quarterback hurry, as the Eagles depth-charged San Pasqual in a 30-14 San Diego CIF Division II victory.
Week 11
Offense
# 21   SHEMAR GREENE, Mount Miguel
Greene, a junior running back, pounded his way for 290 yards on 35 carries, producing 3 touchdowns in Mount Miguel's 47-41 victory over Santana. He also reeled in 2 passes for 69 yards and a TD against the Sultans.
Defense
# 6   WAYNE BARELA, Steele Canyon

The hard-nosed 6-foot, 195-pound outside linebacker has been a hard hitter all season for the injury-plagued Cougars. In his latest outing he recorded 8 tackles and had an interception in a 15-7 road knockout of El Capitan.
WEEK 10
Offense
#28  ELELYON "FATTO" NOA, Helix

Noa, a 5-foot-7, 165-pound freshman, had 180 yards on 28 carries and a touchdown in Helix's title showdown win  over crosstown rival Grossmont last Friday.
Defense
#21  COLTON SANDOVAL, El Capitan
Sandoval, a 6-foot-2, 180-pound senior defensive back had two interception in the fourth quarter to lead the Vaqueros to a 24-17 road win at West Hills. His first interception, in the third quarter, resulted in a touchback to halt a Wolf Pack drive in the red zone, while his second pick, in the fourth, stopped the Pack's last drive of the game.

WEEK 9
Offense
# 4   JAHMON McCLENDON,Monte Vista
Six-foot-2, 200 pound sophomore running back Jahmon McClendon rushed for 198 yards and one touchdowns, as the Monarchs put themselves in positon to play for a share Grossmont Valley League championship.
Defense
# 28   TYLER GONZALEZ, Granite Hills
6-foot-3, 220-pound senior defensive end Tyler Gonzalez used his quickness to chase Mount Miguel around the backfield, coming away with 4 sacks and as the Eagles remained in first place in the Grossmont Valley League.
WEEK 8
Offense
# 44   JOEY MORONES, Christian
Hard-nosed running back Joey Morones of Christian High barged his way for 124 yards and 5 touchdowns on 24 carries to help lead the Patriots past Lincoln 35-17 in an Eastern League showdown. The 6-foot, 230-pound senior, who also plays linebacker on the defensive side, had 5 tackles in the win and has scored 18 touchdowns this season.
Defense
# 3   RYAN JEWELL, West Hills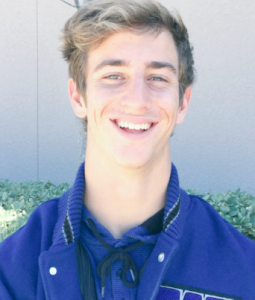 The West Hills cornerback intercepted 2 passes and chalked up 4 tackles in the Wolf Pack's 27-14 victory over Steele Canyon. He also hauled in three passes on offense, including a 39-yard catch-and-run TD. The 6-foot, 165-pound junior helped the Pack move to within one game of the Grossmont Hills League lead.
WEEK 7
Offense
# 5   JAKE SIEGFRIED, Granite Hills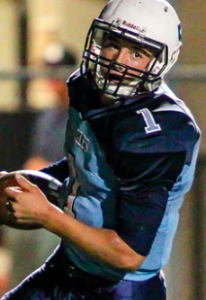 An early season injury to the Granite Hills quarterback vaulted 5-foot-10, 175-pound junior Jake Siegfried into the starting role as signal caller for the Eagles. Siegfried had one of his best games of the season, completing 10 passes for 144 yards and 2 touchdowns in 13 attempts as the Eagles knocked off Santana 37-13 in the opening round of the Grossmont Valley League action. He also rushed for 102 yards on 9 carries and one score in the victory.
Defense
#63   BRANDON ARMS, Grossmont
A 6-foot-4, 265-pound senior defensive lineman, Arms was a standout for the Foothillers as he rolled up 7 tackles, 5 solo and 3 for loss as Grossmont shutout El Capitan 37-0 in the Grossmont Hills League opener.
WEEK 6
Offense
# 14   BOBBY WALLACE, Santana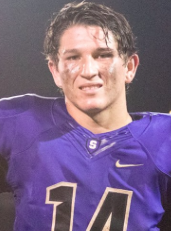 It was Bobby Wallace night at Santana last Friday. The 5-foot-10, 180-pound senior running back rushed for 210 yards and 4 touchdowns on 25 carries. In the process he broke two records. He broke the school career rushing record with 2,364 yards and the mark for total points scored of 186. The Sultans beat Mar Vista 49-35.
Defense
#58   ANDREW MINK, Grossmont
Facing a larger Olympian offensive line, 6-foot-2, 215-pound Andrew Mink recorded 4 tackles, one for loss and forced a fumble. The senior defensive lineman also notched 2 sacks and blocked a kick as the Foothillers prevailed 49-13 over the Mariners.
WEEK 5
Offense
# 9   JOSH OEDEWALDT, Santana
The quarterback completed 12 of 13 passes for 309 yards and 5 touchdowns as Santana defeated San Diego 49-7. The 6-foot-3, 185-pound junior registered a quarterback rating of 170.7. Oedewaldt's longest pass of the game was a 69-yarder.
Defense
#3    GREGORY JONES, El Cajon Valley
Track athlete Gregory Jones proved that he can play football with the best of them as he intercepted three passes when El Cajon Valley defeated Orange Glen, 44-28. The 5-foot-11, 160-pound corner also had 3 tackles against the Patriots to help lead the Braves to their 5-0 start.
WEEK 4
Offense
# 12   PHOENIX CATES, El Capitan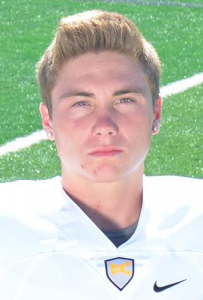 The senior quarterback attacked the El Capitan record book by passing for 380 yards on 24 completions in 39 attempts in a win over Patrick Henry. The 5-foot-11, 185-pound Cates also cranked out 2 touchdown strikes. His passing yardage ranks 6th all time in the El Capitan record book and his 24 completions is No. 3.
Defense
# 45   JOSH McNISH-HEIDER, Valhalla
The 6-foot-2, 230-pound junior outside linebacker helped the Norsemen post a 45-0 victory over Mar Vista. It was the second shutout registered by Valhalla. He recorded 6 tackles, 5 solo and 4 for losses. He also bagged a sack and forced a fumble for the Norsemen, who have allowed only 14 points in four games.
WEEK 3
Offense
# 2   TYSON SMITH, El Cajon Valley 
The 5-foot-11, 160-pound senior quarterback rushed for 283 yards and one touchdown on 28 carries as the Braves nipped Clairemont 32-28 in a non-league game. Smith also scored on three 2-point conversion runs. On the flip side the free safety recorded 10 tackles and intercepted a pass.
Defense
#   MIKEL OLIVER, Steele Canyon
The 6-foot-4, 240-pound junior defensive end anchored the Cougars defense in a 37-7 rivalry victory over Granite Hills Friday night (Sept. 9). Oliver set the tone for the Cougars, recording a 7-yard sack on Granite Hills' first play from scrimmage. He also collected 2 interceptions, a second sack, and scored a touchdown on a 46-yard run.
WEEK 2
Offense
#18   DOMONIQUE GUEVARA, Grossmont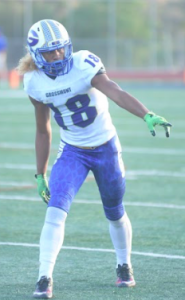 The 6-foot-2, 195-pound senior caught 11 passes for 203 yards and 3 touchdowns in Grossmont's 35-21 victory over Otay Ranch.
Defense
#17    GABRIEL HYDORN, Mountain Empire
The multi-talented sophomore – DE, QB, WR – forced 4 fumbles and recovered 3 himself, and also made five tackles, in the Red Hawks' 20-0 victory over Army-Navy.
WEEK 1
Offense
#19   SCOTTIE YOUNG, Helix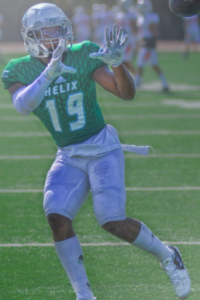 The versatile 6-foot-1, 200-pound senior strong safety/wide receiver posted a personal best of 10 receptions for 262 yards and 2 touchdowns in the Highlanders' stunning loss to Timpview High of Provo, Utah.
Defense
#20   CONNOR MOSER, Valhalla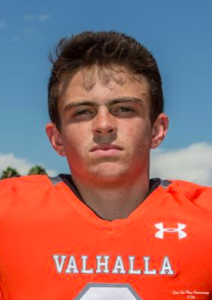 On the defensive side, the junior 6-foot, 175-pound Norsemen corner returned an interception 50 yards for a touchdown in Valhalla's 30-0 victory over Scripps Ranch. He also recorded 2 tackles and recovered a fumble. Moser was part of the secondary that knocked down 8 passes.