Griffins, Bostadt continue hot streak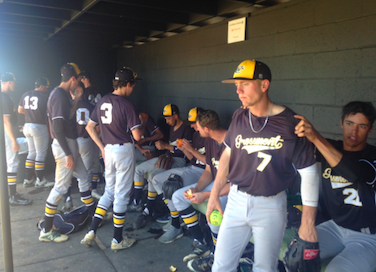 2017 GROSSMONT COLLEGE BASEBALL
By Ramon Scott
EastCountySports.com
CHULA VISTA – Grossmont's ROBERT BOSTADT continued his recent offensive assault with a three-run triple in the third inning to lead the Griffins to their eighth-straight result without a defeat, clinching the week series with Southwestern with a 7-2 win on Thursday.
Bostadt, named a Pacific Coast Athletic Conference Men's Athlete of the Week for the week of February 27 through March 5 earlier in the week, drove in NOAH STROHL, REECE HERNANDEZ and DAVID MALDONADO to make it 4-1.
JUSTIN BURKEY drove in Bostadt with a double in the inning, as Strohl reached on an RBI walk, as the Griffins scored five runs in the frame to erase the Jaguars early 1-0 lead.
In the eighth, ERIC DE LA ROSA drove in two more runs with a single.
Bostedt, a sophomore out of Granite Hills High, was just 1-for-5 on Thursday, but went 9-for-14 with a home run, 2 doubles, 3 steals and 3 RBIs as Grossmont opened defense of its 2016 conference championship with 3 straight wins (6-2, 3-1 and 14-5) over San Bernardino Valley last week.
In Saturday's final game of the series, Bostedt went 5-for-6 with a homer, double and 3 singles to up his batting average to .379 on the season. He is currently hitting .364.
UNLV-bound sophomore DONAVAN MCCRYSTAL (3-1), out of West Hills High, had a solid outing despite not recording a strikeout, delivering 6 2/3 innings, scattering seven hits and a pair of walks, allowing just one earned run.
Freshman HAYDEN SHENEFIELD went 2 1/3 innings of shutout relief.
Southern California 17th-ranked Grossmont currently is already atop the PCAC at 5-0, tied with Palomar and Mesa, and 10-5-1 overall. The teams conclude the series on Thursday at 2 p.m.
Grossmont vs Southwestern
@ Southwestern | The Junction
3/9/2017 at 2:00pm
| FINAL | 1 | 2 | 3 | 4 | 5 | 6 | 7 | 8 | 9 | R | H | E |
| --- | --- | --- | --- | --- | --- | --- | --- | --- | --- | --- | --- | --- |
| Grossmont   | 0 | 0 | 5 | 0 | 0 | 0 | 0 | 2 | 0 |  7 |  7 |  1 |
| Southwestern  | 1 | 0 | 1 | 0 | 0 | 0 | 0 | 0 | 0 |  2 |  9 |  0 |
Southwestern

HITTERS
AB
R
H
RBI
BB
SO
LOB

Kenny Ohlhauser

  rf
4
0
1
0
0
0
0
   

Anthony Llamas

  c
0
0
0
0
0
0
0

Blake Flippen

  lf
4
1
2
0
0
0
0

Angel Estrada

  ss
3
1
1
1
1
0
0

Adam Lopez

  3b
4
0
2
1
0
0
2

Justin Sparby

  1b
3
0
1
0
0
0
1
   

Riley Regala

  pr
0
0
0
0
0
0
0
   

Hunter Reed

  1b
1
0
0
0
0
1
0

Baley Castro

  dh
4
0
1
0
0
0
2

Victor Carlino

  2b
4
0
1
0
0
0
0

Freddy Walker

  cf
3
0
0
0
0
0
0
   

Tiger Guerrero

  ph
1
0
0
0
0
0
0

Abraham Valdez

  c
2
0
0
0
1
0
2
   

Kyle Pineda

  rf
1
0
0
0
0
0
0

Michael Cartwright

  p
0
0
0
0
0
0
0
   

Justin Meza

  p
0
0
0
0
0
0
0
   

Hudson Pearson

  p
0
0
0
0
0
0
0
   

Dylan Wannamaker

  p
0
0
0
0
0
0
0
Totals
34
2
9
2
2
1
7
BATTING
2B: Adam Lopez
RBI: Angel Estrada; Adam Lopez
GIDP: Baley Castro
BASERUNNING
CS: Kyle Pineda
FIELDING
DP: Angel Estrada; Justin Sparby; Victor Carlino
PITCHERS
IP
H
R
ER
BB
SO
HR

Donavon McCrystal

6.2
7
2
1
2
0
0

Hayden Shenefield

2.1
2
0
0
0
1
0
Totals
9.0
9
2
1
2
1
0
PITCHING
Batters Faced: Donavon McCrystal 27; Hayden Shenefield 9
Southwestern

PITCHERS
IP
H
R
ER
BB
SO
HR

Michael Cartwright

5.0
5
5
5
4
2
0

Justin Meza

1.2
1
0
0
0
0
0

Hudson Pearson

0.2
0
2
2
1
1
0

Dylan Wannamaker

1.2
1
0
0
0
2
0
Totals
9.0
7
7
7
5
5
0
PITCHING
Batters Faced: Michael Cartwright 23; Justin Meza 7; Hudson Pearson 4; Dylan Wannamaker 6
HBP: Justin Meza; Hudson Pearson