Is TJ top 5 NBA pick?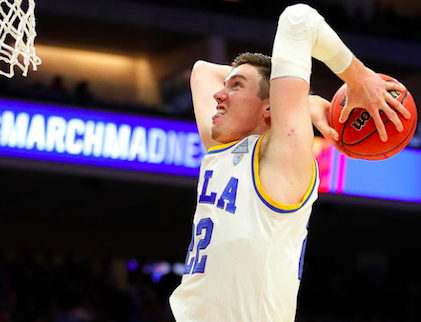 T.J. Leaf dunks during an NCAA Tournament game earlier this month.
2017 EAST COUNTY FOUR-YEAR COLLEGE STANDOUTS
By Ramon Scott
EastCountySports.com
WESTWOOD – Calling it a "huge decision for me and my family," 6-foot-10 power forward T.J. Leaf, out of Foothills Christian, announced on Thursday that he would hire an agent and declare for the 2017 NBA draft.
Leaf, a freshman at UCLA who averaged a team-leading 16.3 points per game last season while ranking second in rebounding on the Bruins with over eight boards per game, also said, "It was definitely one of the hardest decisions of my life."
And while Leaf may still be slight of build for his position at the professional level, his numbers would indicate that the former Knights' star is set to cash in big on his first professional contract.
Leaf's freshman production puts him in elite company with some previous one-and-done college entrants that have went in the top five selections in the NBA Draft.
"The fans were amazing and made for a great year," Leaf said. "The coaches were the best I've had, and I can't thank them enough, especially Coach Alford.
"I will always love my UCLA family so much, in particular the amazing teammates I had this past year. They are like brothers to me. This was the most fun year of basketball I've had in my entire life, and I will definitely miss it. But, I cannot wait to start my new journey."
Leaf joins UCLA teammate Lonzo Ball in announcing his intentions to go pro.
Despite the comparisons to other early entrants, consensus draft experts project Leaf as a lottery selection, which is one of the first 14 picks in the upcoming draft.
"TJ had such a great season for us, and I completely support his decision to pursue his dream," said UCLA coach Steve Alford said in a statement. "I'm proud of what he was able to accomplish this season."
Leaf shot 61.7 percent, including 46.6 percent from three-point range for the 31-5 Bruins.
"He brought so much to our team, both on and off the court, and we're certainly going to miss him," Alford said. "TJ has been an absolute joy to coach, and I know that all of us at UCLA will be excited to watch him continue to grow at the next level."
Leaf, 19, was born in Israel. His father, Brad, was a professional basketball player and coached his son at Foothills Christian.
The EastCountySports.com Player of the Year in 2015-16, Leaf is sure to work on continuing to develop his frame for the rigors of NBA contact, but his basketball IQ is undeniable and he should certainly be a solid first-round choice.
Should UCLA point guard Aaron Holiday also depart for the NBA, another Foothills Christian player – point guard Jaylen Hands – would almost certainly take over as the starter next season.
#ThankYouBruins #GoBruins pic.twitter.com/aVsQbnwdxk

— TJ Leaf (@leafsquad22) March 30, 2017