East talent abounds on college diamond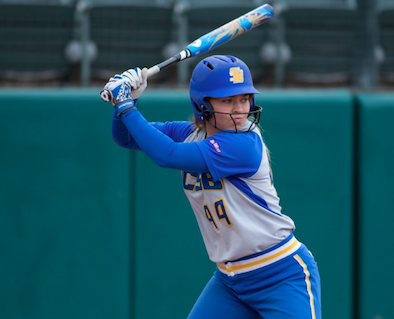 Altmeyer
2017 FOUR-YEAR COLLEGE SOFTBALL STANDOUTS
By Adam Paul
EastCountySports.com
EL CAJON – It's been a stellar season so far for some of East County's best softball talent spread out across college softball diamonds across the country.
Here's a look at a handful of notable names making an impact with their teams so far this in 2017:
PAIGE BOWLER
The Former West Hills standout now a freshman at Southwestern Oklahoma State playing for the Bulldogs went 1-2 with a home run her first on the season against Southwestern Nazarene College on April 1st.
On the season, Bowler is hitting .309 with 21 hits, 7 runs and 9 RBI for the Bulldogs who compete in the Great American Conference.

ANYA VANDERSIP
A freshman who played at Patrick Henry, helping them to a CIF Division I runner-up last season is now playing for the Grizzlies of Georgia Gwinnett and in her last couple of games vs Bryan (Tenn.) on April 1st scored a run and on March 24th against Union went 1-3 with a run scored.
For the season, Vandersip is hitting .329 with 22 runs and 20 RBI and 8 stolen bases, 4 doubles and a triple.
KAILA DEWITT
The former Granite hills Eagle standout, who helped lead them to a CIF Division II runner-up in 2015 is now a junior at Missouri Valley College of the NAIA who plays in the Heart of America Conference.
The junior in her last couple of games went 2-3, 2B, and 1-3 in a doubleheader against Peru State (Neb.).
Against Graceland (Iowa) she had a RBI and in the doubleheader against Haskell (Kansas) she went 3-3, R, 2 2B, 2 RBI and in the second game went 1-2, R, and had an RBI.
Season wise in 22 games she is hitting .375 with 24 hits and has scored 9 runs and driven in 12 RBI.

DELANEY GOURLEY
The senior All-American pitcher who at El Capitan set the CIF record for most strikeouts in a career has been nothing but short of dominant in her last few games.
In the game against Arkansas she tossed 5 innings giving up 2 hits, no runs and no walks while striking out 6 in the victory. In the 1-0 loss against rival Auburn on March 27th, she went 7 innings giving up 3 hits and 1 run, walked 1 and fanned 10.
She beat the Tigers on the 25th in which she went 3 innings giving up 2 hits, a run and struck out 2.
Her biggest feat of the year was her Perfect game against the Iowa Hawkeyes back on March 2nd in which she went 5 innings and struck out 12 on the day.
Season wise she is 12-2 with a 0.84 ERA, 9 complete games, 2 saves, 123 strikeouts in 83 1/3 innings of work.
SIERRA ALTMEYER
The former standout at Patrick Henry who was a force to be reckoned with has been on fire as of late for the UC Santa Barbara Gauchos.
The sophomore in her last couple of games has gone 6-13 with 3 RBI, R, HR and a 2B.
Against Cal Poly in a double header over the weekend she went 1-3 and 1-2 in both games. In the game against Cal Poly on April 2nd she went 2-4, 2 RBI, 2 2B and against Cal on Mach 29th she went 1-3 with a run, RBI and belted a home run.
On the season, Altmeyer is hitting. 371 with 39 hits, 29 R, 20 RBI, 7 HR, 7 2B, 2 3B, and 2 SB.

TESS EATON
The always reliable starter who never gave up while at West Hills is now a Sophomore at Carroll College, which plays in the Cascade Conference of the NAIA.
Eaton has won her last two starts in which she has pitched.
In the start against Eastern Oregon, she tossed 7 innings, giving up 3 runs on 6 hits while striking out 2.
In the victory against Northwest Christian, she tossed 7 innings, giving up 0 runs on 4 hits while fanning 6 on the day.
Season wise in the circle for the Fighting Saints, Eaton is 4-1 with 30 innings under her belt, she has a 1.87 ERA and has struck out 12.