ROUNDUP: League races taking shape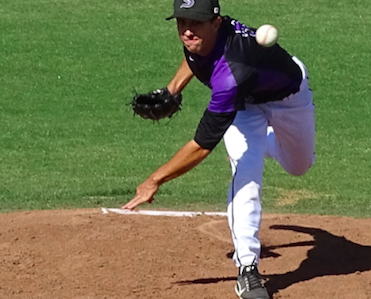 Santana's Colton Calvert delivers to Grossmont on Wednesday.
2017 EAST COUNTY PREP BASEBALL
By Bill Dickens
© East County Sports.com
LAKESIDE (4-6-17) — It was "K Day" for Helix senior pitcher CONNOR KONISHI, who seemingly could do no wrong as the Highlanders massacred El Capitan 20-2 on Wednesday (Apr. 5) in a Grossmont Hills League rout.
Konishi teed off on El Capitan pitching with a 5-for-5 batting spree, which included a 3-run homer, a triple and a double to spark a Helix team that's been struggling at the plate for weeks.
"Coach (COLE) HOLLAND and Coach (AUSTIN) RAUCH have really been motivating and insisting that our team be more aggressive at the plate," said Konishi. "Today the ball never looked bigger in my eyes, but you can't be satisfied with just one big game."
Oh yeah, he also pitches.
Konishi pitched the first five innings and allowed only one hit and struck out 5, which again proved that it was "K Day."
"The props have to go to my defense," Konishi said. "Pitching with a big lead takes a lot of weight off your shoulders but you still have to stay focused."
Konishi picked up his outfielder's glove and went 5-for-6 as he finished the game as the center fielder. He had plenty of help.
ERICK SMELKO was 3-for-4 with 3 runs scored and 3 RBI.
The big blow, however, was delivered by BRANDON PETERSON, who pounded a grand slam home run during Helix's 10-run sixth inning.
CARLO OQUITA hit a home run in the big sixth, and ROMAN PADILLA started the round tripper parade in the third inning.
It was a wild afternoon as the Highlanders collected 22 hits. Led by Konishi, the Highlanders got plenty of punch from several players. Smelko, Padilla, Oquita, AUSTIN KRETZCHMAR and HUNTER ISBELL all had multiple hit games.
SHAYNE CUNNINGHAM accounted for 2 of El Capitan's 3 hits.
STEELE CANYON 11, MOUNT MIGUEL 3 – Steele Canyon has scrambled into a 3-way tie for the Grossmont Valley League lead. The Cougars share the pole position with West Hills and Valhalla at 2-0.
Nobody is tooting their own horn but the Cougars have to be pleased at their current position.
Four Steele Canyon pitchers helped the Cougars shut down Mount Miguel on Wednesday (Apr. 5), while Valhalla and West Hills rolled to commanding victories in other venues.
Catcher LUKE ARIAS went 3-for-3 with 2 runs scored and 2 RBI to help propel the Steele Canyon offense.
ANTHONY MATA and MATTHEW BRINKMEIER each drove in a pair of runs to help hold off the Matadors (3-8, 0-2 GVL).
AUSTIN GARMO made his first start for Steele Canyon, twirling four innings, allowing 6 hits, 3 runs, 2 earned, no walks and one strikeout to earn his first varsity victory.
Three Steele Canyon relievers came on to protect Garmo's victory march, including LANDON SCHIRER who struck out 2 in one inning.
The Cougars stacked up 10 runs in the first four innings and never looked back.
In Steele Canyon's 5-run third inning JOSH ESQUIBEL walked and Arias singled. With two outs Mata doubled in 2 runs. Navarro walked and Brinkmeier followed by slashing a 2-run single to left center. AARON TAYLOR hit an RBI single to cap the big third inning.
For Mount Miguel JULIUS HARRIS hit a 2-run homer in the second inning, which at the time tied the game 2-2.
SANTANA 5, GROSSMONT 1 – Santana climbed into a tie for first place with Helix in the Grossmont Hills League.
So what does that mean?
What it means is to be a couple of notches ahead rather than being a couple of notches behind.
Santana, which earlier in the season spent the first week plus in first place in the county winning their first four games, has since slid down the slide and doesn't figure to catch up real soon.
"Again, it's just polls. The season is not based on polls," said Santana skipper RIGO LEDEZMA. "Of course we try to win every game that we play."
In a key battle of East County contenders, Santana teed off on the visiting Foothillers by scoring 4 runs in the first three innings. Not surprisingly, that was plenty of firepower against the Foothillers, who have struggled meekly with the bats so far this season.
Santana produced 10 hits. AIDAN RASMUSSON was 2-for-4 with a run scored, 2 RBI and a double for Santana.
The Sultans scored 3 runs in the third inning. The key blows were a single by Rasmusson and a double by NOAH NUNEZ. ANDERS TOLHURST hit an RBI single, driving in 2 runs.
COLTON CALVERT allowed only one run and 5 hits in five innings to balance his record at 2-2 with a complete game effort for the Sultans. He needed only 82 pitches to get the job done.
MAX FORD went 2-for-3 at the plate to lead the Foothillers.
GIOVANI GIGANTI drove in CHRIS GIOVENGO with the only run for the Foothillers in the 6th inning, but that was it for Grossmont.
WEST HILLS 8, MONTE VISTA 5 – NOAH QUINTANA hurled the Wolf Pack into a tie for first place with Steele Canyon and Valhalla for the Grossmont Valley League lead.
The Pack senior was all over the diamond as he clubbed a double, ripped a triple and went 3-for-3 with 3 RBI. That's more than a spark.
He had help though as BRADEN SANFORD was 4-for-4 with 3 runs scored and 2 RBI. He also stroked a double and a triple and stole a base.
Leadoff hitter CHRIS SCHROEDER set the kindling to the West Hills blaze, going 3-for-4 with 2 runs scored and 3 singles as well as stealing a base.
"We just all saw the ball today — it was just our day," said Schroeder, a junior. "I worked my way up and produced, so it's worked out for me in center.
"I think we are a legitimate contender," Schroeder added. "It's early, but so far it's worked out."
It was clearly an aggressive afternoon for West Hills against Monte Vista, which tried to counterpunch behind the bat of DAVID GARCIA, who was 2-for-2 with 3 runs scored.
The Monarchs however finished with 5 hits compared to the Wolf Pack's 13.
Schroder opened the game with a basehit, followed by consecutive triples by Sanford and Quintana. The pair added consecutive RBI basehits in the 2nd, then stroked back-to-back doubles in the 6th for an important insurance run, giving Quintana three RBI.
The offensive output allowed Pack pitcher JONATHAN MAAT to enjoy a free-and-easy outing on the mound. He struck out six before coming out due to the CIF pitch count rules.
Enter reliever BRENDAN SHERWIN, who retired all four batters, including the final two on strikeouts to garner the save.
Trailing 7-1, Monte Vista (7-6 overall, 0-2 GVL) stayed in the contest with consecutive double plays in the 2nd and 3rd innings. Then in the 6th, Monarchs relief pitcher FRANCISCO GUTIERREZ knocked in two runs with a double.
However, West Hills elected to walk the next better to bring the go-ahead run to the plate. That's when Sherwin entered to coaxed a fielder's choice grounder to escape the jam.
VALHALLA 20, EL CAJON VALLEY 0 (5 inn.) – The Valhalla Norsemen (4-8, 2-0) claimed another victory Wednesday (Apr. 5) in Grossmont Valley League play as they defeated the El Cajon Valley Braves (2-7,0-2) 20-0. The game was stopped after 5 innings.
Norsemen senior pitcher, SDSU commit, CASEY O'SULLIVAN blanked the Braves, allowing only an infield single and striking out 13 of the 16 batters he faced to gain the win.
On the offensive side Valhalla had 18 hits with CAMERON ZAMUDIO, LEWIS DIRKES, JONAH ST. CLAIR, JAKE BARBA and Casey O'Sullivan each collecting multiple hits. Dirkes, a Cal St Bakersfield commit, was 3-4 with three triples and four RBI.
HECTOR CARREON collected El Cajon Valley's only hit.
Both teams will begin play in the 66th Lions Tournament on Monday (Apr. 10). El Cajon Valley will play GompersAcademy in the 1A plus division while the Norsemen will take on San Ysidro in the 6A division.
CLASSICAL ACADEMY 6, FOOTHILLS CHRISTIAN 0 – No further information was provided for this non-league game.
Wed., Apr. 5, 2017
Grossmont Hills League
HIGHLANDERS 20, VAQUEROS 2
Helix ab r h bi El Capitan  ab r h bi
Smelko cf-p  4 3 3 3  Montejano 3b 4 0 0 0
Richardson ss  4 2 1 0  Markle 2b  3 0 0 0
Konishi p-cf  6 2 5 6  Shenefield 1b  3 0 0 0
Oquita 1b  6 1 2 3  Lindsay ss  3 1 1 0
Isbell c  5 2 2 1  Donahue dh  3 0 0 0
Padilla dh  4 2 3 2  Molitor lf  2 0 0 0
Babbitt dh  1 1 0 0  Coker lf  1 0 0 0
Kovalcheck lf  4 1 0 0  Bell c  1 0 0 0
Owens lf  1 1 1 0  GJohnson c  0 1 0 0
Kretzschmar 3b  4 2 3 1  Cunningham rf-p 3 0 2 0
Jackson 3b  1 1 1 0  Head cf  1 0 0 0
Peterson rf  3 2 1 4  Olivieri cf  1 0 0 1
TJohnson rf 1 0 0 0  JZamora  - - - -
Hernandez  - - - -  
GZamora 2b  - - - -_________________________
TOTALS  44 20 22 20  TOTALS  25 2 3 1

Helix (9-4, 2-0) 204 00(10) 4 – 20 22 2
El Capitan (2-10, 0-3) 000 0 0 1 1 - 2  3 3

GWRBI-Konishi.
E-Oquita, Kretzschmar, Shenefield, Molitor, Markle.
DP-Hel 1, EC 1.
LOB-Hel 10, EC 5.
2B-Konishi, Isbell, Lindsay. 
HR-Padilla (1) 3rd, one on; Konishi (3) 6th, two on; 
Oquita (1) 6th, solo; Peterson (3) 6th, grand slam. 
SB-Peterson, Kretzschmar, Head.

PITCHING SUMMARY
Helix ip  h  r er bb so
Konishi W(3-1) 5.0  1  0  0  2  5
Smelko  1.0  1  1  0  0  0
Hernandez 1.0  1  2  1  1  0
El Capitan
JZamora L  3.0  7  6  4  3  2
Shenefield  1.2  3  2  2  0  2
Lindsay  0+ 3  7  0  2  0
Cunningham  1.2  7  5  5  1  1
HBP-by JZamora (Isbell). 
Lindsay faced 5 batters in the 5th.

SULTANS 5, FOOTHILLERS 1
Grossmont  ab r h bi Santana  ab r h bi
Giovengo 2b  3 1 1 0  Salinas cf 3 1 1 0
Giganti ss  3 0 0 1  Rasmusson ss 4 1 2 2
Tedokon c  1 0 0 0  NNunez dh  3 1 2 1
Keagy rf  2 0 1 0  Alesi 1b  3 0 0 0
JGarcia 1b  3 0 1 0  Culver p  3 1 1 0
Lombardo rf-c  3 0 0 0  Taylor p 0 0 0 0
Ford cf  3 0 2 0  Tolhurst 2b  3 0 1 2
Odom lf  3 0 0 0  Allen-Fox c  3 0 1 0
Hulett p  1 0 0 0  Oedewaldt 3b  2 0 1 0
Williams p  1 0 0 0  Simmons ph  1 0 0 0
Ennis p  0 0 0 0  Ellis lf  3 1 1 0
Parent 3b  2 0 0 0  NJackson p 0 0 0 0
TOTALS  25 1 5 1  TOTALS  28 5 10 5

Grossmont (5-7, 1-1) 000 001 0 – 1 5 3
Santana  (6-7, 1-1) 013 001 x – 5 10 0

GWRBI-Calvert.
E-Odom, Hulett, JGarcia.
DP-None.
LOB-Gro 3, Sant 9.
2B-Ford, Rasmusson, NNunez. 3B-Giovengo. 
Sac-Salinas.

PITCHING SUMMARY
Grossmont  ip  h  r er bb so
Hulett L  2.2  6  4  3  0  1
Williams  2.2  3  1  0  0  3
Ennis  0.2  1  0  0  0  0
Santana
Calvert W(2-2) 7.0  5  1  1  0  1
HBP-by Williams (2), by Hulett (1).

Grossmont Valley League
COUGARS 11, MATADORS 3
Mount Miguel ab r h bi Steele Canyon ab r h bi
Montijo p-3b-rf 4 0 2 0  Taylor dh  4 1 2 1
White 1b  4 0 1 0  YSmith rf  4 1 0 1
Ortiz ss  4 0 2 0  Esquibel 1b  2 2 0 0
Zertuche 2b  3 1 1 0  Arias c  3 2 3 2
Preciado rf  3 0 2 0  Blethen c  1 0 0 0
Darby 3b  0 0 0 0  Tellous 1b  2 0 1 0
UNunez 3b  1 1 0 0  Dickey pr-1b  1 1 1 0
Camacho 3b-p  1 0 0 0  Yanez 2b  1 0 0 0
Solis p  1 0 0 0  McCarthy ph  1 0 0 0
Harris lf  3 1 1 2  Matta ss  4 1 1 2
Beauzec c  3 0 0 0  Navarro 3b  0 2 0 0
Conwright cf  3 0 1 0  Brinkmeier cf  3 1 1 2
TOTALS  30 3 10 2  TOTALS  26 10 9 7

Mount Miguel (3-8, 0-2) 021 000 0 – 3 10 6
Steele Canyon (7-4, 2-0) 215 201 x - 11 9 1

GWRBI-YSmith.
E-Ortiz 2, Montijo 3, Zertuche, Brinkmeier.
DP-MM 3. SC 2.
LOB-MM 6, SC 5.
2B-Matta, Arias. 3B-White, Taylor. 
HR-Harris (2) 2nd, one on. 
SB-Esquibel, Navarro. 

PITCHING SUMMARY
Mount Miguel  ip  h  r er bb so
Montijo L  3.1  7 10  8  5  3
Camacho  0.2  0  0  0  3  0 
Solis  2.0  1  1  0  0  2
Steele Canyon
Garmo  W(1-0) 4.0  6  3  2  0  1
Nadau  1.0  2  0  0  0  0
Pedrin  1.0  0  0  0  1  0
Schirer  1.0  1  0  0  0  2 
WP-Montijo, Camacho. PB-Beauzec, Arias. 

WOLF PACK 8, MONARCHS 5
Monte Vista  ab r h bi West Hills  ab r h bi
Gutierrez p  4 0 1 2  Schroeder cf 4 2 3 0
DGarcia ss  2 3 2 0  Sanford 2b  4 3 4 2
Sanchez 1b-rf  3 0 0 1  Quintana 1b  3 1 3 3
Gonzales 3b  3 0 1 0  DCraft lf  3 1 0 0
Harlow pr  0 0 0 0  Villasana dh  3 0 0 0
Plazola p-cf  3 1 0 0  Commerford 3b  3 0 0 0
Camacho 2b  1 0 0 0  Gagliano rf  2 0 0 0
Alvarez rf  2 0 0 0  Wittmeier c  3 1 1 0
Manuel rf-1b  1 0 1 0
Gulley lf  3 1 0 0_________________________
TOTALS  22 5 5 3  TOTALS  25 8 11 5

Monte Vista (7-6, 0-2) 101 012 0 – 5 5 1
West Hills (6-6, 2-0) 430 001 x – 8 13 2

GWRBI-Quintana (4).
E-Quintana, Sanford, Travoli.
DP-MV 1.
LOB-MV 7, WH 6.
2B-Quintana, Sanford. 3B-Quintana, Sanford. 
SB-Sanford, DCraft, Travoli, Schroeder, Camacho. 

PITCHING SUMMARY
Monte Vista  ip  h  r er bb so
Plazola L  1+  6  6  6  1  0  
Gutierrez  5.0  7  2  1  0  2
West Hills
Maat  W(1-2) 5.2  5  5  3  3  6
Sherwin Sv (1) 1.1  0  0  0  0  2
HBP-by Gutierrez (Quintana, Gagliano), 
by Maat (Camacho, Gonzales, DGarcia). 
WP-Plazola. PB-Wittmeier.

NORSEMEN 20, BRAVES 0 (5 inn.)
Valhalla  ab r h bi El Cajon Valley ab r h bi
Barba  lf  4 3 3 3  Favela ss  2 0 0 0
Thornton lf  0 0 0 0  Sanchez 2b  1 0 0 0
Dirkes ss  4 2 3 4  Romero 2b  1 0 0 0
Hageman c  1 0 0 0  Carreon p-3b  2 0 1 0
RO'Sullivan 1b 4 0 0 0  Moreno 3b-p  2 0 0 0
Wilkinson 1b  1 0 0 0  Mitchell c  2 0 0 0
Casper cf 2 2 1 1  Verdugo cf  2 0 0 0
CSt.Clair cf  1 1 1 0  Cebreros lf  2 0 0 0
CO'Sullivan p  3 2 2 2  Bove 1b  2 0 0 0
Howard rf  3 1 1 1 Huerta rf  1 0 0 0
Ingrassia rf 0 1 0 0
JSt.Clair 3b  4 3 3 2
Perot dh  1 2 0 1
Heider c 1 1 1 2
Zamudio 2b  3 2 3 3
TSmith 2b  1 0 0 0
Dunnam  - - - -__________________________
TOTALS  33 20 18 19 TOTALS  17 0 1 0

Valhalla (3-8, 2-0) 806 06 – 20 18 0
El Cajon Valley (2-6, 2-0) 000 00 -  0  1 5

GWRBI-CO'Sullivan.
E-Favela 4, Bove.
DP-ECV 1.
LOB-Val 4, ECV 2.
2B-CO'Sullivan, Casper, Barba, Heider, Zamudio. 
3B-Dirkes 3. SB-Dirkes, Casper. 

PITCHING SUMMARY
Valhalla ip  h  r er bb so
CO'Sullivan W(1-3) 5.0  1  0  0  0 13
El Cajon Valley
Carreon  L(1-3)  3.0 12 14  5  2  2
Moreno  2.0 6  6  6  2  2
HBP-by CO'Sullivan (Carreon, Moreno). 
WP-Carreon. BK-Carreon, CO'Sullivan. 

Non-League
CAIMANS 6, KNIGHTS 0
Foothills Christian (9-3) 0
Classical Academy (6-7) 6