Sultans sweep tourney; three in Lions semifinals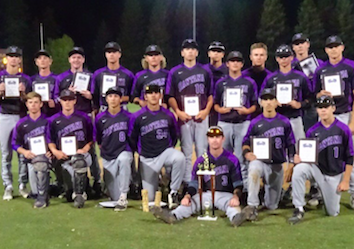 SANTANA IS PICTURED WITH THE FIRST PLACE CHAMPIONSHIP TROPHY AND PLAQUES AFTER SWEEPING FRESNO EASTER CLASSIC / PHOTO BY ANTHONY CALVERT
 2017 EAST COUNTY PREP BASEBALL
By Bill Dickens
© East County Sports.com
FRESNO (4-13-17) — The Santana Sultans (12-6) swept to five straight wins to capture the Fresno Easter Classic gold division this week against a field of 34 teams.
The Sultans wrapped up the title with a victory in the championship game against the state's No. 19 team Pleasant Grove, 3-1 on Wednesday (Apr. 12).
To complete the Sultans' wrap, AIDAN RASMUSSON was named the Most Valuable Player of the tournament, while NOAH NUNEZ was tabbed the Most Valuable Pitcher.
Rasmusson, the Sultans' senior shortstop, batted .643 in the tourney. He also whacked four doubles, scored four runs and drove in five.
Nunez pitched a 1-hit complete game shutout against Clovis. He also batted .333.
Another Santana player who could have easily picked up an award but just missed the mark was TRISTEN SALINAS, who batted .444, slugged a triple and drove in 3 runs.
Former Clovis East coach RIGO LEDEZMA returned and led Santana to become the fourth non-Central Section winner in the tournament's 48-year history.
SANTANA 11, REDWOOD 0 – In the semifinal encounter, Santana needed only five innings to mow down the Redwood Giants.
Four Santana hitters had multiple hitting games. COLTON CALVERT pitched a five-inning complete game with a 4-hitter to raise his record to 3-2.
HELIX 11, MADISON 0 – JORDAN JACKSON and GRIFFIN ZAMORA combined on a 5-hit shutout, with Jackson working the first five innings to pick up his 6th win in as many decisions in Wednesday's (Apr. 12) Lions Tournament Classic Division conquest of Madison.
The victory vaulted Helix (11-5) into the semifinals of the Classic Division against the Agoura Chargers at noon at Cathedral on Thursday (Apr. 13). If the Highlanders are successful they will play the winner of Torrey Pines and Bishop Gorman at 3:30 at Cathedral for the championship.
AUSTIN KRETZCHMAR drove in 4 runs for the Highlanders. Helix slashed 13 hits in the game off Madison pitching and look forward to a showdown against Agoura, and possibly more.
ZACK OWENS was 3-for-3 with a run scored and one RBI for Helix.
CONNOR KONISHI continued his blazing hitting as was 2-for-4 with 2 runs scored.
ERICK SMELKO drove in 2 runs and BRADON PETERSON pounded out a pair of hits as well.
STEELE CANYON 5, SANTA FE CHRISTIAN 2 – Coach DAN NERAT's Cougars stretched their winning streak to five games in a row as they clipped Santa Fe Christian in Wednesday's (Apr. 12) final round of pool play in a Lions Tournament Division 6A contest.
The Cougars proved that they are geared for a run for the Division 6A championship. The Cougars will tackle Patrick Henry at 10 a.m. on Thursday (Apr. 13) at Steele Canyon. If successful, they will play the winner of Point Loma and Westview in the 6A championship game at 3:30, again at Steele Canyon.
The Cougars advanced with a 4-run 5th inning. BRANDON NAVARRO led off the inning with a base hit and advanced to third on an infield error. MATTHEW BRINKMEIER singled and stole a base, and AARON TAYLOR ran for him. JOSH ESQUIBEL tripled and drove in 2 runs, then LUKE ARIAS doubled to deep right center to drive in 2 more runs.
That would be all the firepower Steele Canyon would need as NOAH NADEAU pitched the first 5 innings, allowing 2 runs and 7 hits to pick up his second win in three decisions. TREVOR BACK pitched two shutout innings to pick up the save.
Brinkmeier, Steele Canyon's center fielder, threw a runner out at the plate to protect the Steele lead.
FOOTHILLS CHRISTIAN 7, HOOVER 1 – The Knights pelleted Hoover with nine hits and JUSTIN EICHER pitched a complete game 2-hitter with 7 strikouts to carry Foothills Christian into the semifinals of the Lions Tournament Division 2A.
The Knights will take on Classical Academy at San Diego City College (Morley Field) at 10 a.m. on Thursday (Apr. 13). If the Knights are successful they will face the winner of Maranatha and El Centro-Southwest at 3:30 in the championship game at Hickman Field.
Eicher did more than just pitch as he slugged 3 hits in four at-bats with an RBI double and a stolen base.
JOSH GATES was 2-for-4 with 2 runs, 2 hits and 2 RBI to go along with 2 doubles.
CHRISTIAN 11, LIBERTY CHRISTIAN (Nev.) 5 – When it comes to power hitting, not many teams in the San Diego Section can take the ball deeper than the 14-3 Christian High Patriots.
They proved that in an 11-5 victory over Liberty Nevada in Wednesday's (Apr. 12) Lions Tournament Premier Division contest.
The Patriots hammered four home runs – all of the 2-run shots. Their leading slugger was ZACH HOGUEISSON, who drilled his county-leading 7th home run in the third inning with one on.
The home run parade didn't stop there, as GARRETT NIELSEN whistled a 2-run shot out in the 3rd inning for his third home run of the year. JUSTIN LEDGERWOOD clobbered his 4th home run with a man aboard in the fourth, and CHASE WEHSENER hit his second homer with a man aboard in the 1st inning.
The Patriots pounded out 13 hits, including 3 each by Wehsener, Nielsen and Ledgerwood.
Christian will play a consolation contest against Desert Oasis at 10 a.m. Thursday (Apr. 13) at the Patriots' field.
EL CAPITAN 9, McCLATCHY 5 – El Capitan finally generated some power at the right time as the Vaqueros clipped the McClatchy Lions in Wednesday's (Apr. 12) Lions Tournament Division 5A encounter.
TREVOR SHENEFIELD slugged the first of his two home runs in the 5th inning with a man aboard and his second in the 6th.
In the 2nd inning, TYLER LINDSAY singled and SHAYNE CUNNINGHAM singled to score him. AUSTIN BELL hit a base hit to score Cunningham.
In the 5th inning, HUNTER MARKLE reached on an error and Shenefield hit his first home run. Lindsay singled and JUSTIN ZAMORA doubled to score Lindsay. Cunningham singled and ANTHONY BENEDETTO singled to score Cunningham.
STEVIE MONTEJANO singled in the 6th and Shenefield hit his second homer for 2 RBI.
Zamora pitched six innings, striking out 5 to earn the win. BAILEY ROBERSON pitched one inning to earn the save.
GRANITE HILLS 5, ELK GROVE 3 – SEAN ROSS is joining the East County home run derby as he slugged his 4th round-tripper in a walk-off 2-run homer Wednesday (Apr. 12) to send Elk Grove of Sacramento packing in a Lions Tournament Classic Division contest.
Ross also started on the mound and pitched one inning, giving up one hit, a run, a walk and struck out one.
JOSH VERDON pitched six innings, allowing one hit, 2 earned runs, 2 walks and struck out 5 to earn the win.
DARIEN COSSIO and JAKE FENN both doubled to bring in runs. Cossio had 2.
Granite Hills will host Westlake in a Classic Division consolation game on Thursday (Apr. 13) at 11 a.m.
MONTE VISTA 10, CALVIN CHRISTIAN 0 (5 inn.) – The Monte Vista Monarch bullied Calvin Christian in Wednesday's (Apr. 12) Lions Tournament Division 2A encounter.
The game only lasted five innings before the Monarchs caused the Crusaders to call "uncle."
The Monarchs hammered Calvin Christian for four innings, doing all of their scoring during that stretch to put the game on ice.
ANDREW SAVOY allowed only 4 hits in five innings, struck out 7 and walked none as he did not permit a run for the Monarchs.
WESTVIEW 1, VALHALLA 0 – The Valhalla Norsemen (5-10) and the Westview Wolverines (9-7) battled in an old fashioned pitcher's duel in Wednesday's (Apr. 12) 6A game of the 67th Annual Lions Tournament. Westview would capitalize on an error to score the game's only run.
Norsemen senior CASEY O'SULLIVAN, a SDSU commit, was the hard-luck loser throwing 5 innings, allowing 1 unearned run on 3 hits and fanning 10.
TANNER SMITH collected the only hit for Valhalla, going 1-for-2 at the plate in the 6th inning.
CATHEDRAL 5, GROSSMONT 2 – Nobody can accuse Foothillers coach JORDAN ABRUZZO of taking on a hefty schedule in the Lions Tournament Classic Division, because the Hillers have taken on all comers, including Wednesday's (Apr. 12) battle against Cathedral Catholic, which left Grossmont wanting 5-2.
Cathedral pounced on the Foothillers 4-0 after two innings.
Grossmont's comeback bid fell short. Although the Foothillers outhit the Dons nine to eight, Grossmont could never catch up.
JAMES ODOM, JAYDEN LOMBARDO, MAX FORD and JACKSON HULETT each collected multiple hits for Grossmont.
DEL NORTE 3, WEST HILLS 1 – BRADEN SANFORD laced three singles to propel West Hills into a winning position against Del Norte in Wednesday's (Apr. 12) Lions Tournament Division 5A encounter to a shot at the 5A championship.
The Wolf Pack wasted a complete game pitching performance by JONATHAN MAAT, who twirled a 7-hitter, allowing only one earned run and striking out 6.
The Wolf Pack hammered out 9 hits but it wasn't enough as Del Norte cruised to the victory.
The game was decided on key bunting situations, as both ballclubs shortened up on the bats three times.  However, the Pack failed all three times, with one missed opportunity resulting in a double play, while Del Norte was able to produce an insurance run moments after West Hills finally got on the scoreboard.
Down 2-0, the Wolf Pack (6-9 overall) Sanford beat out a grounder to the hole at shortstop for his third base hit on the day.
Sanford followed with by stealing his 16th base of the season, then scored when Dylan Craft lined a single over the head of the Del Norte third baseman. Craft went 2-4.
The Wolf Pack defense also saw center fielder CHRIS "LARRY" SCHROEDER make a circus catch to end an inning, while starting catcher JOSEPH THRAILKILL threw out a Hawks runner attempting to steal second.
West Hills' NOAH QUINTANA stroked a double as part of a 2-for-3 outing, while JASON VILLASANA collected a base hit as a pinch-hitter, also reaching base later on a dropped third strike by hustling down the line to beat the throw to bring the potential game-tying run to the plate in the 7th.
CLASSICAL ACADEMY 14, MOUNT MIGUEL 3 (6 inn.) – Mount Miguel's pitchers could not shut down the Caimans of Classical Academy as they succumbed to a 14-3 loss in Wednesday's (Apr. 12) Lions Tournament Division 2A encounter.
The Matadors could only muster three hits in the setback, including an RBI base hit by CONNOR WHITE. ANGELO ZERTUCHE was 2-for-3 with one RBI.
ESCONDIDO CHARTER 17, EL CAJON VALLEY 2 – The Escondido White Tigers pounced on a semifinal bid by crushing El Cajon Valley 17-2 in Wednesday's (Apr. 12)  Lions Tournament Division 1A Plus encounter.
The White Tigers took a 10-0 lead after four innings.
ANTHONY MORENO was 1-for-2 while HECTOR CARREON was 2-for-2 as the Braves got mugged by Escondido Charter.
JUAN MICHEL was 2-for-2 with an RBI, and JESUS FAVELA was 1-for-3 with an RBI for the Braves.
Wed., Apr. 12, 2017
Fresno Easter Classic
Semifinal:
SULTANS 11, GIANTS 0 (5 inn.)
Santana (10-6) 101 63 – 11 12 0
Redwood (10-4) 000 00 -  0  4 1
Calvert and Allen-Fox. Eartti and N/A. WP-Calvert (3-2). LP-Eartti.

Championship:
SULTANS 3, EAGLES 1
Santana        (11-6) 100 020 0 – 3 5 2
Pleasant Grove (12-2) 000 001 0 – 1 3 1
Salinas, Linscott (4) and Allen-Fox. Brizle, Eaton (5) and N/A. WP-Linscott. LP-Brizle. 

Lions Tournament
Classic Division
EAGLES 5, THUNDERING HERD 3
Elk Grove     (6-6) 100 002 0 – 3 2 2
Granite Hills (9-7) 300 000 2 – 5 9 1
Jordan, Zalaksy (6) and Kolb. 
Ross, Verdon (2) and Fenn. 
WP-Verdon. LP-Zalaksy. 
HR-Ross (GH-4) 7th, walkoff one on. 

DONS 5, FOOTHILLERS 2
Grossmont (5-10) 001 000 1 – 2 9 2 
Cathedral (13-4) 140 000 0 – 5 8 0 
Romero, Ennis (2), Levin (7) and Lombardo. 
Brown and Polinsky. WP-Brown. LP-Romero.

HIGHLANDERS 11, WARHAWKS 0
Madison (11-5) 000 000 0 –  0  6 3
Helix   (11-5) 024 041 x – 11 13 1
Mayers, Rydelski (3), Schilling (3) and Rainaldi. 
Jackson, GZamora (6) and Isbell. 
WP-Jackson. LP-Mayers.

Premier Division
CHRISTIAN PATRIOTS 11, LIBERTY CHR PATRIOTS 5
Christian           (14-3) 202 400 3 – 11 13 0
Liberty Chr. (Nev) (8-9-1) 010 220 0 -  5  6 0
Beck, AMarkowicz (5) and Ohton. 
Safier, Contreras (4), Nickell (4), Beard (7) and Deyer. 
WP-Beck. LP-Safier. HR-Nielsen (Chr-3) 1st, one on; 
Hogueisson (Chr-7) 3rd, one on; Wehsener (Chr-2) 2nd, one on; 
Ledgerwood (Chr-4) 4th, one on.  

Division 6A
WOLVERINES 1, NORSEMEN 0
Valhalla (5-10) 000 000 0 – 0 1 1
Westview (10-6) 000 100 x – 1 3 0
CO'Sullivan, Howard (6) and Heider. 
Mercado and Rocha. WP-Mercado. LP-CO'Sullivan. 

COUGARS 5, EAGLES 2
Santa Fe Christian (8-9-2) 100 100 0 – 2  8 1
Steele Canyon       (10-5) 001 040 x – 5 10 1 
Gerber and Hoppen. Nadeau, Back (6) and Arias. 
WP-Nadeau (2-1). LP-Gerber. Sv-Back (2). 

Division 5A
VAQUEROS 9, LIONS 5
McClatchy  (10-7) 001 004 0 – 5  7 1
El Capitan (4-11) 020 052 0 – 9 15 1
Dopkins, Huizar (3), Bristow (4). 
Zamora, Roberson (7)and N/A. 
WP-Zamora. LP-Dopkins.

NIGHTHAWKS 3, WOLF PACK 1
West Hills (6-9) 000 010 0 – 1 9 11
Del Norte  (8-9) 020 010 x – 3 7  0
Maat and Thrailkill, Sanford (5). 
Askegreen and Dwyer. WP-Askegreen. LP-Maat (1-3).

Division 2A
CAIMANS 14, MATADORS 3 (6 inn.)
Mount Miguel      (6-11) 000 120 –  3  7 1
Classical Academy (10-7) 021 47x – 14 16 0
Montijo, Mendoza (4), Darby (5), White (5).
Classical Acad. Batteries N/A. WP-Montijo. LP-N/A.

MONARCHS 10, CRUSADERS 0
Calvin Christian (4-8) 000 00 –  0 4 8
Monte Vista      (11-8)162 1x – 10 9 0
Shockley, Louisa (3) and Louisa. 
Savoy and Sandoval. WP-Savoy. LP-Shockley.

KNIGHTS 7, CARDINALS 1
Foothills Christian (13-4) 010 141 0 - 7 9 1
Hoover              (4-12) 000 000 1 – 1 2 1
Eicher and Wurts. Jackson, Castillo (7) and Avila. 
WP-Eicher (3-1). LP-Jackson.

Division 1A Plus
WHITE TIGERS 17, BRAVES 2
El Cajon Valley      (4-8) 100 100 0 –  2  5 4
Escondido Charter (10-8-1) 334 070 x – 17 15 2 
Sanchez, Favela (4) and Michel. Stinnett and Coe. 
WP-Stinnett. LP-Favela.