ROUNDUP: Norsemen in charge of Valley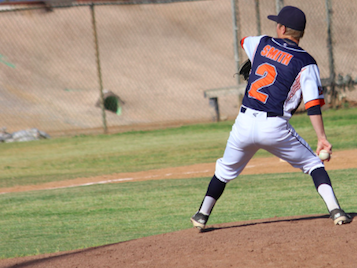 2017 EAST COUNTY PREP BASEBALL
By Bill Dickens
© EastCountySports.com
RANCHO SAN DIEGO (5-4-17) — The battle for the Grossmont Valley League shifted to Spring Valley Wednesday (May 3) as the Steele Canyon Cougars (13-9, 5-3) hosted the Valhalla Norsemen (13-11, 9-1). A pair of late-inning rallies lifted the Norsemen into control of the league with 4-1 win.
The Cougars would strike in the home half of the 1st. Catcher LUKE ARIAS would plate AARON TAYLOR on a sacrifice fly to make the score 1-0.
The score remained the same till the Valhalla 5th. JACOB BARBA smacked a two-out single to left and LEWIS DIRKES singled to right. RILEY O'SULLIVAN doubled to center, scoring both Barba and Dirkes and the game was then 2-1 Valhalla.
The Norsemen plated a pair of insurance run in the top of the 7th. CAMERON ZAMUDIO singled to open the frame, after a sacrifice bunt Barba was hit by a pitch. Dirkes was safe on an error scoring Zamudio. A walk to O'Sullivan loaded the bases. KYLE CASPER then grounded out to SS to score Barba.
TANNER SMITH earned the win going 6 1/3 innings, allowing 1 run on 2 hits and 3 strike outs. COLE HOWARD recorded final two outs for the save. TYLER LUBAN went 6 1/3 frames, allowing 4 runs on 7 hits with 3 strikes but took the loss for the Cougars.
SANTANA 5, EL CAPITAN 0 – When NOAH NUNEZ toes the rubber, it's game over.
Such was the case Wednesday (May 3) when the Sultans smothered El Capitan 5-0 in a Grossmont Hills League game.
Nunez walked none as is the custom of his style, and struck out 7. He raised his record to 7-2 and established himself as the king of the hill in East County.
To boot, Nunez was 2-for-3 with a double and 2 RBI. His battery-mate EMORY ALLEN-FOX was 1-for-2 with 2 RBI, and leadoff man TRISTEN SALINAS was 3-for-3 with 3 runs as Santana blew the game open. Salinas also stole two bases to help Santana drive for the GHL title.
Santana (16-7, 6-1) leads Helix (16-8, 6-2) by half a game.
Santana broke a scoreless tie in the 3rd inning when Allen-Fox singled and BROCK ELLIS sacrificed to move Allen-Fox to second. Salinas then singled and AIDAN RASMUSSON hit a sacrifice bunt, scoring Allen-Fox. Salinas then stole third base and Nunez walked, allowing Salinas to steal home.
In the 5th Salinas and Rasmusson both singled and Nunez doubled to score Salinas.
Allen-Fox was hit by a pitch and CAMERON KANE ran for him in the 6th. One out later Salinas walked and Nunez singled to score Kane. On the throwing error, Salinas came in to score.
GROSSMONT 14, GRANITE HILLS 1 – The Foothillers, who have been anemic on the offensive trail of late, have suddenly broken loose, as they proved in Wednesday's (May 3) Grossmont Hills League game at Granite Hills.
It was a stunning knockout for the Foothillers against a team that was once ranked in the Top 10.
JAYDEN LOMBARDO was the show for Grossmont this day as he spun six shutout innings and wielded a potent bat with a 2-for-4 effort that drove in 3 runs.
Leadoff man MAX FORD was 2-for-4 with a double, 2 runs scored and 2 RBI for the Foothillers. JESSE GARCIA was 2-for-5 with a double, and NOAH LEVIN was 2-for-5 with a double. And for good measure, Lombardo also had a double.
Grossmont turned the game into a blowout with 8 runs in the 7th inning.
JACKSON HULETT led the Foothillers, who hammered 18 hits in the game, with 3 hits in 5 at-bats. Eight Foothillers had multiple hits.
Granite Hills avoided a shutout when pinch hitter BRYCE STRICKLAND slugged a solo home run in the bottom of the 7th.
MONTE VISTA 13, MOUNT MIGUEL 2 – Monte Vista drilled the Mount Miguel pitching staff for 18 hits, led by KRYSTIAN CAMACHO's powerful performance, going 4-for-4 with 3 runs and a RBI in Wednesday's (May 3) Grossmont Valley League action.
This was no solo act as FRANCISCO GUTIERREZ was 3-for-4 with a run scored and a RBI as the Monarchs scored in every inning.
That was plenty of legroom for the Monarchs' IVAN PLAZOLA, who pitched six innings, allowed 5 hits, one run, none earned, 2 walks and 6 strikeouts to earn the win.
ZACH MANUEL pitched the final frame allowing one run, no earned runs, struck out one and walked none.
DIEGO SANDOVAL had a double for Monte Vista, and DAVID GARCIA hit two doubles.

For Mount Miguel AUSTIN ORTIZ went 2-for-3 with a RBI, and ANDREW MONTIJO and JOSEPH MENDOZA each scored a run.

WEST HILLS 7, EL CAJON VALLEY 0 (forfeit) – The Wolf Pack received a Grossmont Valley League forfeit win from El Cajon Valley due to the Braves inability to field a team.
FOOTHILLS CHRISTIAN 14, ARMY-NAVY 0 – Winning pitcher CHRIS STALLARD went four innings, while senior JOE KANG was 3-for-4, including a double and 4 RBI. Senior TRISTAN BARTLING was 2-for-4, along with 2 RBI.
No further information was provided for this Ocean League game.
Wed., May 3, 2017
Grossmont Hills League
SULTANS 5, VAQUEROS 0
Santana      ab r h bi El Capitan    ab r h bi
Salina cf     3 3 3 0  Bell c         3 0 3 0
Rasmusson ss  2 0 1 1  Lindsay ss     3 0 0 0
NNunez p      3 0 2 2  Zamora cf      3 0 1 0
Simmons dh    3 0 0 0  Donahue dh     2 0 0 0
Calvert rf    1 0 0 0  Benedetto ph   1 0 0 0
Alesi 1b      2 0 0 0  Barker lf      3 0 1 0
NJackson ph   1 0 0 0  Shenefield 1b  3 0 1 0
Tolhurst 2b   2 0 0 0  Montejano 3b   3 0 0 0
Allen-Fox c   2 1 2 0  Markle 2b      2 0 0 0
Kane pr       0 1 0 0  Cunningham rf  2 0 0 0
Ellis lf      2 0 0 0
TOTALS       21 5 6 3  TOTALS        25 0 6 0

 Santana    (16-7, 6-1) 002 012 0 – 5 8 0
 El Capitan (5-17, 0-7) 000 000 0 – 0 6 1

GWRBI-Rasmusson.
E-Montejano.
DP-Sant 1, EC 1.
LOB-Sant 5, EC 4.
2B-NNunez. SB-Salinas 2, Barker. 
Sac-Ellis, Rasmusson, Calvert.

PITCHING SUMMARY
Santana         ip  h  r er bb so
 NNunez W(7-2) 7.0  6  0  0  0  7
El Capitan
 Peyton L      5.0  7  3  3  6  5
 Lindsay       2.0  1  2  1  1  0
HBP-by Peyton (Alesi), by Lindsay (Allen-Fox).

FOOTHILLERS 14, EAGLES 1
Grossmont     ab r h bi Granite Hills ab r h bi
Ford cf        7 2 2 2  Ross cf        3 0 0 0
Lombardo p     4 0 2 3  Verdon 3b      3 0 1 0
JGarcia 1b     5 0 2 0  Cossio lf      3 0 0 0
Keagy pr       0 1 0 0  Hazelhurst rf  2 0 1 0
Hulett lf      5 2 2 2  Strickland ph  1 1 1 1
Giovengo ss    5 1 2 1  Fenn 1b        2 0 0 0
Levin 2b       5 1 2 1  Curran 1b      1 0 0 0
Parent 3b      3 3 2 1  Joslyn c       2 0 1 0
Giganti c      2 2 1 0  Allister c     1 0 0 0
Ennis p-lf     - - - -  McGrew 2b-p-3b 3 0 0 0
Odom dh        3 2 2 2  Omahen ss-p    2 0 0 0
Russell rf     0 0 0 0  Anderson dh    2 0 0 0
                        Cummings       - - - -
TOTALS     36 14 17 12  TOTALS        25 1 4 1

 Grossmont     (12-13, 5-4) 131 001 8 – 14 18 0
 Granite Hills (11-13, 2-6) 000 000 1 -  1  4 0

E-None.
LOB-Gro 20, GH 3.
2B-Ford, JGarcia, Levin, Lombardo, Joslyn. 
HR-Strickland (1) 7th, solo. Sac-Giganti. 

PITCHING SUMMARY
Grossmont       ip  h  r er bb so
 Lombardo  W   6.0  3  0  0  0  4
 Ennis         1.0  1  1  1  0  1
Granite Hills
 Burton    L   6.0 11  6  5  0  3
 Brooks        0.0  4  5  5  1  0
 McGrew        0.0  1  2  2  1  0
 Omahen        1.0  2  1  1  1  1
HBP-Burton. Balk-Burton.

Grossmont Valley League
MONARCHS 13, MATADORS 2
Mount Miguel     ab r h bi Monte Vista      ab r h bi
Zertuche 2b       3 0 0 0  Gutierrez cf      4 1 3 1
Solis 2b          1 0 0 0  KCamacho 3b-ss-2b 4 3 4 1
NCamacho c        4 0 1 0  DGarcia ss        4 2 2 2
Conwright cf      3 0 0 0  Gonzales 2b       2 1 0 2
Montijo 3b        3 0 0 0  Harlow ss-lf      2 0 1 1
Ortiz ss          3 0 2 1  DSandoval c       4 0 1 2
Preciado p-3b-rf  2 0 1 0  Sanchez 1b        3 1 1 0
Beauzec rf        3 0 1 0  Wiley 1b          0 0 0 0
Mendoza 1b-3b-p   3 1 1 0  Plazola p         3 1 2 1
Beas lf           2 0 0 0  Manuel lf-p       1 1 1 0
Harris lf         1 0 0 0  Gulley lf-ss-3b   3 2 2 0
                           Schweizer         1 0 0 0
                           Alvarez rf        3 1 1 0
TOTALS           27 2 6 1  TOTALS        34 13 18 10

 Mount Miguel  (5-18, 2-9) 010 000 1 –  2  6 7
 Monte Vista  (15-11, 4-5) 311 332 x – 13 18 1

E-Conwright, Ortiz 2, Mendoza, Preciado, Beas, Montijo, 
KCamacho. 
DP-MM 2, MV 3.
LOB-MM 6, MV 9.

2B-DSandoval, Plazola, DGarcia 2. 
SB-NCamacho. Sac-Alvarez. SF-Gonzales. CS-Gutierrez 2. 



PITCHING SUMMARY

Mount Miguel      ip  h  r er bb so
 Preciado  L     4.0 13  9  6  1  2
 Mendoza         2.0  5  4  2  3  1
Monte Vista
 Plazola   W     6.0  5  1  0  2  6
 Manuel          1.0  1  1  0  0  0
WP-Preciado. Balk-Preciado. 

NORSEMEN 4, COUGARS 1
Valhalla      ab r h bi Steele Canyon ab r h bi
Barba 3b       3 2 1 0  Taylor rf      2 1 0 1
Dirkes ss      4 1 2 0  YSmith cf      2 0 0 0
RO'Sullivan 1b 3 0 2 2  Esquibel lf    2 0 0 0
CO'Sullivan 1b 0 0 0 0  Arias c        2 0 0 1
Casper cf      3 0 0 1  Tellous 1b     3 0 0 0
Hageman c      4 0 1 0  Yanez 2b       3 0 0 0
Howard rf      3 0 0 0  Pedrin dh      3 0 1 0
TSmith p       3 0 0 0  Navarro 3b     2 0 0 0
Zamudio dh     3 1 1 0  Brinkmeier ph  0 0 0 0
Perot lf       2 0 0 0  Mata ss        2 0 1 0
JSt.Clair 2b   - - - -  Canales ss     1 0 0 0
TOTALS        28 4 7 3  TOTALS        22 1 2 1

 Valhalla     (13-11, 9-1) 000 020 2 – 4 7 1
 Steele Canyon (13-8, 5-3) 100 000 0 – 1 2 1

E-RO'Sullivan, Tellous.
LOB-Val 6, SC 6.

2B-RO'Sullivan 2. 
SB-Taylor 2, YSmith, Esquibel, Mata. 
Sac-Perot, Taylor. SF-Arias.

PITCHING SUMMARY
Valhalla        ip  h  r er bb so
 TSmith  W     6.1  2  1  1  2  3
 Howard  Sv    0.2  0  0  0  0  1
 Ingrassia     0.0  0  1  1  2  4
Steele Canyon
 Luban   L     6.1  7  4  3  1  3
 Newberry      0.2  0  0  0  1  0
HBP-TSmith 2, Luban 1.

WOLF PACK 7, BRAVES 0 (forfeit)
El Cajon Valley (4-12, 0-7) 0
West Hills     (11-13, 7-3) 7

Ocean League
KNIGHTS 14, WARRIORS 0
Foothills Christian (17-8, 4-0) 14
Army-Navy           (4-12, 2-4)  0