East County Athletes of the Week sponsored by Grandstand Pizza
Updated: November 28, 2017
EL CAJON
619-258-6888
1558 N. Magnolia (Magnolia at Bradley)
Also serving Santee, Lakeside, & Fletcher Hills
GET FREE PIZZA ON YOUR BIRTHDAY!
PREP ATHLETES OF THE WEEK
Week 13
OFFENSE
ELELYON NOA, Helix
Noa, a 5-feet-8, 175 pounds sophomore tailback, rushed 35 times for a career-high of 302 yards, including touchdown runs of 3, 40, 1 and 48 yards as the Highlanders defeated San Marcos, 62-41, in the San Diego CIF Open Division semifinals.
DEFENSE
TORREY MACK, MONTE VISTA
Mack, a senior defensive back, jumped a screen route with perfect timing for an interception and returned it 34 yards for a touchdown late in the first half to give the Monarchs a 17-0 lead en route to a 30-20 win over host University City in the San Diego CIF Division 4 semfinals.
---
Week 13
OFFENSE
DEONTAE MCKINNEY, Steele Canyon
McKinney, a senior tailback scored three touchdowns in the first half and four for the game, as he rushed for 275 yards on 29 carries to help the Cougars scat past Bishop's, 61-52, in the San Diego CIF Division 2 quarterfinal.
DEFENSE
CHRISTOPHER ALVARADO, Helix
On a team full of marquee stars, Alvarado, a junior, took his turn in the spotlight against Madison in the SDCIF Open Division quarterfinals with two sacks and helped on several gang pile tackles on the Warhawks star running back.
---
Week 12
OFFENSE
JORDAN ANDERSON, Steele Canyon
Anderson, a senior wide receiver, caught touchdown passes of 54 and 12 yards in the first quarter to help Steele Canyon to the early lead in a 28-22 victory over visiting Mira Mesa in the opening round of the San Diego CIF Division 2 playoffs.
DEFENSE
ALEX LEMON, Mount Miguel
Lemon, a senior linebacker, had 10 tackles, including a sack, five solo tackles and 3 1/2 tackles for loss as the Matadors limited host Escondido to just 179 total yards in a 27-18 San Diego CIF Division 3 road playoff victory at The Den.
---
Week 11
OFFENSE
JESSE MATTHEWS, Christian
Matthews, a senior captain, caught three touchdown passes, including the go-ahead score in the fourth quarter as the playoff-bound Patriots upset No. 10 Point Loma, 44-37. Matthews had six catches for 88 yards overall in the game.
DEFENSE
ROBERT WHITEHEAD, Steele Canyon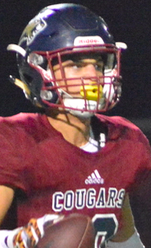 Whitehead had two interceptions inside the red zone, a fumble recovery, a defended pass and a fourth-and-goal tackle Friday night in the Cougars' 28-7 Grossmont Hills League win over El Capitan.
---
Week 9
OFFENSE
ELSHADDAI LEVI, Monte Vista
Levi, a junior FB/DE, scored on runs of 8 and 2 yards in the first quarter, then added a 1-yard dive in the third quarter a 50-0 win over El Cajon Valley. On Defense, he had five tackles, including a sack and another for loss, and a forced fumble on special teams that resulted in a touchdown.
DEFENSE
ZACH JONES, Grossmont
Jones, a senior, had a night to remember in Grossmont's 51-14 Grossmont Hills League win over Steele Canyon. Jones had an interception and 77-yard return, and eight tackles, including two sacks.
---
Week 8
OFFENSE
SHEVELL STERLING Jr., Grossmont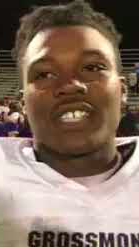 Sterling Jr., a senior, rushed 22 times for 166 yards and four touchdowns in Grossmont's 54-26 Grossmont Hills League win over Valhalla.
DEFENSE
DAVID LIPSCOMB, Steele Canyon
Lipscomb, a junior, stepped into a starting linebacker role and helped the Cougars to a big Grossmont Hills League win at West Hills with a blocked punt recovery for a touchdown, a sack, a forced fumble and five tackles.
---
Week 7
OFFENSE
ISAIAH WOODEN, Helix
Wooden, a senior, had two punt returns – of 75 and 63 yards – for touchdowns and caught three passes for 63 yards, including a touchdown in Helix's 41-7 win over host Steele Canyon.
DEFENSE
CAMERON WILL, Mountain Empire
Will, a junior outside linebacker, had 20 tackles, including nine solo, and a sack in the Red Hawks' 44-13 win in Anza over the Hamilton Bobcats.
---
Week 6
OFFENSE
THOMAS FISHBURNE, Steele Canyon
Fishburne, a senior, passed for four touchdowns and 268 yards to lead the Cougars past previously unbeaten Mira Mesa, 52-26, in a Homecoming contest. He was 18-for-25 throwing, rushed 13 times for 44 yards and booted one field goal and seven point-after tries.
DEFENSE
ETHEN BISHOP, Granite Hills
Bishop, a 5-foot-7, 160-lb. sophomore, led the Eagles' gang-tackle approach in a 28-7 smothering of El Capitan on Homecoming. No one was more active than Bishop, who was in on seven stops, including one for loss, and he had two pass break-ups at the goal line as Granite Hills stymied the Vaqueros after El Cap scored on its first possession.
---
Week 5
OFFENSE
BROOKS MOUTAW, Santana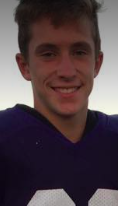 In his first varsity game, Moutaw, a sophomore, rushed for 170 yards and four touchdowns on 23 carries, helping the Sultans win 50-43 over Vincent Memorial in a game played in El Centro.
DEFENSE
AMIR HARRIS, Steele Canyon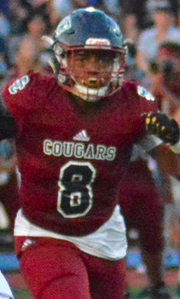 Harris, had six tackles, a fumble recovery, and a sack, helping lead the Cougar defense, which held Otay Ranch scoreless over the final three quarters in a 14-13 road victory.
---
Week 4
OFFENSE
CADE WEAVER, West Hills
Weaver, a senior, had two touchdown receptions, including a 37-yard score in the fourth quarter, then kicked a game-winning 42-yard field goal as time expired, lifting the Wolf Pack to a 23-20 win over host Mount Miguel.
DEFENSE
LANDON WOOD, Santana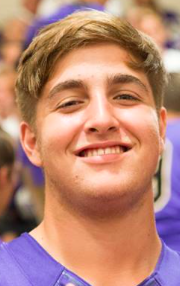 Wood, a senior linebacker/tight end, had two sacks and also had two touchdown receptions on offense, as the Sultans shut out visiting Clairemont, 31-0.
---
Week 3
OFFENSE
JAHMON MCCLENDON, Monte Vista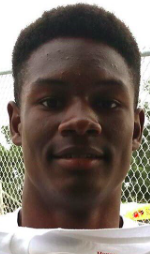 McClendon, a junior running back, set a Monte Vista school-record of 333 yards in the the Monarchs' 35-27 win over visiting Patrick Henry. He scored all five touchdowns in the victory. McClendon had over 200 yards and four touchdowns in the first half.
DEFENSE
CHANCE LOVATO, El Capitan
In the fourth quarter with Valley Center driving down 14-13, Lovato, a senior, blitzed on a third-down play and recorded a sack for a 9-yard loss, driving the Jags out of possible field goal range with 2:17 left. On the next play, on fourth-and-16 from the 34, Lovato recorded an interception at the 7-yard line to ice the game for the Vaqueros.
---
WEEK 2
OFFENSE
JORDIN YOUNG, West Hills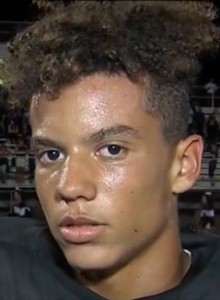 Young, a junior, completed 13-of-16 passes for 124 yards and two touchdowns, while also rushing 11 times for 75 yards and a score, leading the Wolf Pack to the rivalry win over Santana in the Mayor's Cup game in West Santee.
DEFENSE
SANTINO PACHECO, Mount Miguel
Pacheco, a senior, had two sacks and nine tackles in the Matadors' 15-6 win over Chula Vista. On offense, the 5-foot-11, 180-pounder had five receptions for 50 yards, including a touchdown
---
WEEK 1
OFFENSE
BRADLEY JEREMIAH, Christian
Jeremiah, a senior, had one of the most prolific passing games in section history, throwing for 532 yards and seven touchdowns on the road in a 60-33 win over Hurricane, Utah. Jeremiah was 26-for-38 and also scored a rushing touchdown.
DEFENSE
RASHAD SCOTT, Helix
Scott, a senior bound for San Diego State University, had four interceptions against visiting Herriman, Utah, including returning one for a 32-yard touchdown. He also had two receptions, including one for a score.