Highlanders fall to state's best team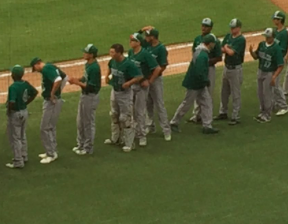 Helix lines up prior to the game.
2017 EAST COUNTY PREP BASEBALL PLAYOFFS
SAN DIEGO CIF OPEN DIVISION CHAMPIONSHIP GAME
EASTLAKE 8, HELIX 3
By Ramon Scott
EastCountySports.com
SAN DIEGO – The Helix Highlanders were going to need something more than a break in order to knock off the highly-touted Eastlake Titans in the San Diego CIF Open Division championship game at USD Saturday night.
The mighty Titans, ranked third in the entire country, put together a strong performance in knocking off the seventh-seeded Highlanders for the third time this season, taking the title with an 8-3 victory at Cunningham Field at Fowler Park.
Eastlake solidified its standing as the state's top team in 2017. California has no state-level championship tournament.
SDSU-bound senior Casey Schmitt smashed a two-run home run with two out in the first inning to give the Titans the early lead.
Meanwhile, 6-foot-6 junior Grant Holman (10-0) was menacing on the mound early for Eastlake (32-4).
Holman, who famously threw a seven-inning no-hitter at the Little League World Series in Williamsport, Pa., four years ago, retired the first six hitters he faced, then held limited the Highlanders as his team built a 7-0 lead after four innings
Helix (22-12) got its first hit with no outs in the top of the fourth.
Then Helix got another hit, putting two men on with no outs. But that rally was thwarted by Holman and the Titans.
LJ Jones had a two-run single for Eastlake to make it 4-0 in the third, while USC-bound Ben Ramirez (3-for-4) had a two-run triple in the fourth for the Titans.
Helix put two men aboard with two out in the last of the fifth when ROMAN PADILLA scored on a single by AUSTIN KRETZSCHMAR (2-for-3), getting the Scotties on the scoreboard.
Schmitt pitched the final two innings.
The Highlanders added two more runs in the sixth inning.
MATTHEW RICHARDSON had two hits for Helix, while ZACK OWENS added a RBI for Helix.
It was just a tough assignment for the Scotties, facing what will go down as one of the best teams in section history.