San Marcos stuns Sultans in D2 final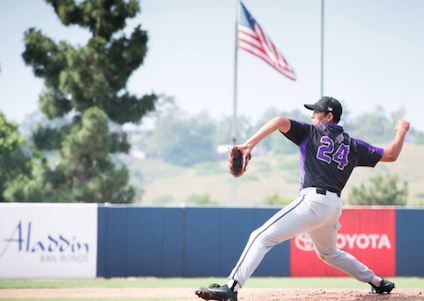 Santana's NOAH NUNEZ delivers a pitch on Saturday. / photo by TRyan Photography
2017 EAST COUNTY PREP BASEBALL PLAYOFFS
SAN DIEGO CIF DIVISION II CHAMPIONSHIP GAME
SAN MARCOS 6, SANTANA 4
By Ramon Scott
EastCountySports.com
SAN DIEGO – The San Marcos Knights scored four runs in the bottom of the sixth, stunning the Santana Sultans, 6-4, in the San Diego CIF Division II championship at USD's Fowler Park Saturday afternoon.
The Sultans appeared poised to claiming their first championship in 23 years, taking a 4-2 lead into the bottom of the sixth inning.
However, San Marcos senior Tyler Holmes cleared the bases slicing a triple to left with one out, putting the Knights in the lead with Santana getting a final turn at bat.
Santana scored in the first, third and fifth innings.
Senior NOAH NUNEZ, the winning pitcher in the Sultans' semifinal game, hit a stand-up triple with a one-hop shot off the wall, then came home to score for Santana. Nunez, who is headed for San Diego State, also had a double and scored twice.
In the top of the sixth, senior ANDERS TOLHURST booked it from first base on a double, which was smacked down the left field by senior BROCK ELLIS.
The Sultans scored a run and still had the bases loaded in the top of the sixth inning, but the Knights escaped without further damage.
San Marcos scored a second run in the bottom of the third and another in the bottom of the fifth, but senior TRISTEN SALINAS got out of a tight spot in the fifth, leaving Knights at first and second.
The Sultans put the lead runner on in the top of the seventh inning when junior T.C. SIMMONS hustled down the line and reached on an error when the second baseman had to charge to try and get off a throw, but couldn't muster anything further.
Then, senior EMORY ALLEN-FOX precisely lifted a single over the second baseman putting the tying run on, still with no outs.
However, the Knights made a pair of web gems in foul territory for the final two outs.
Santana left 11 runners stranded in the contest.