Highlanders locked in on title goals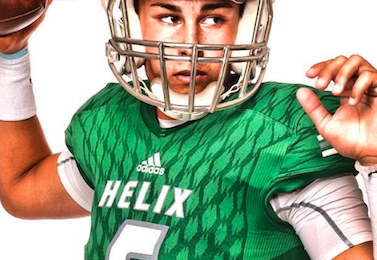 Helix's CARSON BAKER / Top_Dawg Network
2017 EAST COUNTY PREP FOOTBALL – PREVIEW
HELIX HIGHLANDERS
By Ramon Scott
EastCountySports.com
LA MESA – The Helix Highlanders already live on a foundation built on success.
This season, the Scotties should thrive in the biggest games prep football has to offer behind elite and experienced linemen, forming that foundation once again.
Coupled with some of the most explosive offensive talent in the state, Helix will be measuring its success in late November.
Sure, the Highlanders will be tested through a tough non-league schedule and an underrated Grossmont Hills League campaign, but expectations are only fueled by the challenge of winning three championships in a single school year.
Despite losing a pair of Division I superstars to graduation, Helix's roster is as intimidating as ever on both sides of the ball in 2017.
Senior quarterback CARSON BAKER threw for 2,776 yards and 23 touchdowns last season.
Baker, a serious scholar, has already committed to UC Davis over the likes of Dartmouth, Columbia and USD.
The 6-foot-3, 190-pounder was a first team All-East County and second team All-San Diego CIF selection as a junior.
Baker and many of the Scots put on a summer clinic in 7-on-7 passing leagues.
Senior wide receiver/defensive back RASHAD SCOTT, is a 6-2, 190-pounder made waves during the summer with his commitment to San Diego State, joining a handful of other top county players heading to the Mesa.
Scott caught 46 passes last season and seven touchdowns last season, but is also an elite defender, named on the All-East County first team defense in '16.
Senior athlete ISAAC TAYLOR-STUART is the brightest star, having come over for his senior season from St. Augustine.
Taylor-Stuart rushed for 645 yards and 7 touchdowns for Saints last season, and was named to the All-San Diego CIF first team defense as a defensive back. He also caught nine passes last season.
Already considered an elite talent heading into the offseason, he broke into the national spotlight by running the fastest time at The Opening.
With his move here, Taylor-Stuart has become one of the most – if not the most – highly recruited players ever to play at an East County school. His list of suitors reads like a current Top 25 and list of national championship teams combined.
Then there is that senior foundation in the interior.
Seniors WILLIAM PAYNE (6-2, 265), LOPAKA ROJAS (6-2, 290), MATT AVII (6-1, 255) and ISAIAH MANN (5-11, 230) are arguably the county's best returning group.
Sophomore running back ELELYON NOA had one of the most memorable breakthroughs for a freshman last season.
Noa had 637 yards last season and four touchdowns in just six games to claim the East County Offensive Rookie of the Year honor. He rushed for 180 yards in the Grossmont Hills League win over Grossmont in just his second game on the varsity.
Senior ISAIAH WOODEN should appear in the Highalnders' offensive plans, as well.
Junior linebacker/tight end MICHAEL SHAWCROFT, already a breakout performer on the D-line heading into last season, developed so dramatically, he was annointed the East County's most improved player last season in earning first team All-East County, as well.
He's joined in heading up the defense by senior linebacker TYREE TARRANT-PATANE (6-foot, 215), a second team All-East County pick last year. He has already been offered by Western New Mexico.
Senior safety JAYDEN TAUANUU (6-foot, 180) also returns in the secondary, while defensive end/full back LARS LASH is a smashing force.
Senior K/P KEATON CHASE is the top returning specialist in the East County.
The Highlanders allowed an average of 13 points per game last season in going 10-3 under first-year coach ROBBIE OWENS.
Admittedly, Helix had a rushed start after the sudden change in the coaching staff before last season.
Two of the three losses came to section rival Cathedral Catholic, including a 35-27 defeat in the Open Division championship game last Dec. 3.
Helix lost to a Utah invader to open 2016, but they will try their hand again, hosting Herriman.
The Highlanders also face Lancaster Paraclete, Cathedral Catholic and St. Augustine in the early non-league slate.
Sufficed to say that expectations are of the highest order for the Highlanders and whether they reach their ultimate success or not, fans can at least expect to see some of the highest caliber games played in the region all season.