New-look Monarchs still ball old school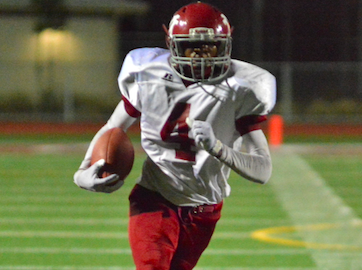 Monte Vista junior JAHMON MCCLENDON
2017 EAST COUNTY PREP FOOTBALL – PREVIEW
MONTE VISTA MONARCHS
By Ramon Scott
EastCountySports.com
SPRING VALLEY – The Monte Vista Monarchs are already motivated for the regular season in the Grossmont Valley League.
Imagine how fine-tuned they'll be when the San Diego CIF Division 4 playoffs roll around.
The Monarchs pretty much ran roughshod over any inferior defense behind a veteran line and running back JAHMON MCCLENDON.
The bulk of that line has graduated, but McClendon, a junior running back/defensive back, is capable of making a young line grow quickly with confidence with his bursting, bruising style.
McClendon was a first team All-East County selection last season as a sophomore.
BLAKE SCHMIDT, a 6-foo-2, 165-pound senior tight end/defensive line is the anchor on both sides for Monte Vista, which finished 7-5 last season and lost at Santana in the waning moments in the SDCIF Division 4 semifinals last season.
Schmidt was a second team All-Grossmont Valley League player last season for his work blocking on the offensive line from the end position.
Senior TORREY MACK a 5-foot-10, 160-pound senior, was a second team All-GVL defensive back last season and is also going to be more of an option in the offensive backfield this season in Monte Vista's double-wing look.
For veteran head coach Ron Hamamoto (6th year, 28-31 at MV, 215 career wins overall), at least he will get some added weaponry to go along with with his usual chug-along running game.
Yes, expect your Monarchs to take to the air with more frequency this season behind the arm of EMMIL HENDERSON a 5-foot-8, 165-pound transfer quarterback from Helix.
Also joining the Monarchs from the ranks of the Highlanders is JACK WALKER a 6-foot-3, 200-pound tight end/defensive lineman.
Senior EARNEST DAWN (5-10, 145), a defensive back/running back, had some big-play flash last season in some critical moments, especially defensively.
Senior AMIR CONLEY (6-foot, 150), a defensive back, is also a veteran returnee in the secondary.
Junior TERELL KYLE (5-8, 170), is a running back/defensive back is a returning starter from the defensive unit.
EMMANUEL MENDEZ, a 5-foot-10, 210-pound two-way lineman, is poised for an all-league senior season.
The Monarchs expect a handful of sophomore starters and among the top of the group is defensive lineman/tight end SEBASTIAN VALDEZ, who was impressive in the scrimmage at Clairemont.
Senior SANTIAGO FIGUEROA handles the kicking chores.
The Monarchs and Hamamoto aren't one for flashy stats, but when their offense is rolling, it can be a thing of beauty.
Meanwhile, defensively, a bevy of two-way players combined with thin roster can grow a young team quickly, but put wear on the ranks at a more rapid pace. Finding that median for effectiveness but perseverance has always been the coach's specialty.
The Monarchs hit the road for the first three contests at Mar Vista, University City and Patrick Henry.
On Sept. 15, the Monarchs host Casteel (Queen Creek, Ariz.), the 59th-ranked team in Arizona, which won its season opener, 71-0.
Monte Vista also hosts CIF State 3A runner-up Bishop's.
The Monarchs' league home games are versus Mount Miguel and Santana.
A very tough task to be sure, but win-or-lose in the chase for the Grossmont Valley League patch, Monte Vista would look to be a sure contender for the CIF Division 4 championship in the postseason.