All eyes will be on Sultans, Oedewaldt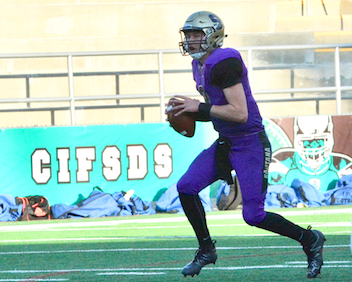 Santana quarterback Josh Oedewaldt
2017 EAST COUNTY PREP FOOTBALL – PREVIEW
SANTANA SULTANS
By Ramon Scott
EastCountySports.com
SANTEE – It would be hard to think that Santana senior quarterback JOSH OEDEWALDT would continue to get overlooked after he led a football program to new heights in 2016 by throwing for nearly 3,000 yards and 33 touchdowns, taking the Sultans all the way to the San Diego CIF Division 4 championship game.
Maybe because the confident pro-style quarterback lost nearly his entire supporting cast from last year's 8-5 squad that averaged more than 36 points per game on offense.
Maybe because he was overshadowed by a D-I passing prospect in a high-profile passing duel in the section title game last December, preventing him from getting his just due.
Maybe because despite being named an All-Grossmont Valley League selection, he fell short of being named the league's player of the year by having his poorest game of the season against eventual champ Granite Hills.
Despite all the success that ended in Oedewaldt and his all-star offensive cast producing one of the top 25 or so most productive passing seasons in section history, Josh is going to have to go out and do it all over again in order to continue to pursue his goals at the next level.
Santana lost nine offensive starters and more than half the defense from last year's record-setting Sultans, but Oedewaldt and the remaining crew are putting all there trust in what has become one of the top coaching duos in the East County in head coach TIM ESTES (6th year, 21-33 overall) and assistant MARK NOBLE.
Estes grinded through rebuilding years early and now Santana has gone 15-10 over the last two season.
"We have the most amazing coaches," said Oedewaldt, a 6-foot-3, 185-pound captain. "We may be younger, but this team has a drive to play.
"We are going to have a lot of success due to the players who are coming up from the JV. Coach Noble is one of the best coaches around and we are just as confident as we were last year."
Some of the other leaders still around mostly abound on the defensive side of the ball. Although several will also take positions on offense this year, as well.
LANDON WOOD linebacker/tight end, is a team captian that had 78 tackles, including 10 for loss, and two interceptions last season.
Senior DALE GENSCHAW (running back/linebacker) had 44 tackles last season, including nine for loss with four sacks
Senior BRAYDEN NIETO, an All-Grossmont Valley league honorable mention performer last season, leads a group of two-way lineman, including BRIAN MCRAE and JOSE CHAIREZ.
Nieto had 64 tackles, including eight for loss and three sacks, while Chairez had 34 tackles and one sack in 2016.
Sophomore MLB/DE LUKE SIMANEK is a fast-rising force in the Sultans' defensive plans
Oedewaldt will have to locate a new set of weapons on offense.
"Last year, we were just getting started," said Oedewaldt, who was named an All-East County first team signal caller. "We are going to surprise everyone this year. These guys are quick learners, they are fired up and they are hungry."
CAMERON KANE (wide receiver/defensive back) had nine receptions and two touchdowns last season behind the Sultans' now-departed star wideouts.
DAVON CHESTNUT (wide receiver/defensive back) was targeted 11 times last season and scored three touchdowns.
Returning at running back will be junior IAN LITTEN, who also plays linebacker. He had 18 tackles last season.
COLTON SNIPES (wide receiver/defensive back) is another reported target.
Senior free safety/slot back DYLAN HANSLIK (5-11, 165) is a reported key contributor.
Sophomore linebacker/running back CAMERON LARICCIA (5-7, 145) reportedly had an impressive scrimmage against Steele Canyon and did sophomore receiver LINCOLN SUMNER.
Senior TIMMY TISCHER (P/K) is another one of East County's elite place-kicking and punting specialists.
Santana's success could be measured late in the regular season with the focus on the GVL campaign.
The Sultans will not only be fighting to finally get that elusive league patch, but also could be battling for their playoff lives as they are difficultly placed in section Division 3.
Santana faces West Hills in West Santee in Week 2.
The Sultans' non-league home schedule features matchups with Christian and Clairemont.
Santana gets Granite Hills at home this time around in the league opener on Oct. 6.