Patriots continue to make grade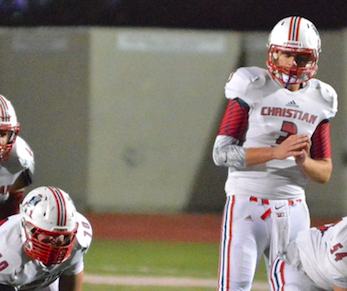 Christian quarterback BRAD JEREMIAH
2017 EAST COUNTY PREP FOOTBALL – PREVIEW
CHRISTIAN PATRIOTS
By Ramon Scott
EastCountySports.com
EL CAJON – The Christian Patriots keep climbing the ranks of the San Diego Section and there is no telling how far they can rise.
After winning various league and section championships under the current regime for two decades, the Patriots embark on another challenge in 2017 after moving up to the San Diego Section's Division 2 for this upcoming season.
Christian has risen to similar challenges in the past, gauging and surpassing other opponents in smaller leagues in its rise to current status, then finally reaching the pinnacle in lower section divisions to capture championships.
This year will be no different, as despite a strong returning group from last year's stellar 12-1 team, the Patriots find themselves in a great Eastern League pursuit, as well as, part of a jumbled mix of teams that the Pats can beat on any given day in the postseason
However, the teams appear to be rated so evenly in Division 2 that even one key slip up could actually have Christian on the outside looking in.
Christian's offense looks lethal despite losing a pair of high-production stars with 6-foot-4 senior quarterback BRAD JEREMIAH at the helm. He passed for more than 2,000 yards last season and 21 TDs last season.
He looked sharp with several of his top targets in the SDNFL Kick Off Classic scrimmage last week, connecting with veterans BRYCE RIEPL and JESSE MATTHEWS.
Notable senior receiver CONNOR MOSER transfers over from Valhalla. while receiver ALONZO RICHARDSON could emerge as one of the area's top sophomore standouts.
Meanwhile, ALEXANDER GONZALEZ looks like a fine replacement in the running game after he busted off a long touchdown run against the Matadors in the preseason game.
GARRETT ROSENTHAL, a 5-foot-11, 185-pounder who had 81 tackles and 5 sacks last season, is one of best in East County's current crop of junior defensive players.
Senior linebacker C.J. KIRWAN had a mind-boggling 17 tackles in last season's Division IV championship game.
Protecting up front, 6-foot, 223-pound center NATHAN LEE leads the latest crop of interior players.