2017 EAST COUNTY FEARLESS FORECASTER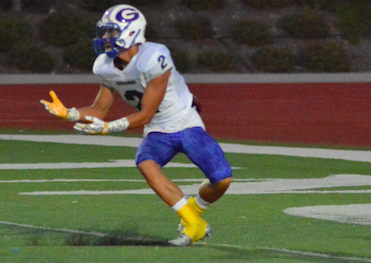 Grossmont's Josh Moala
2017 EAST COUNTY PREP FOOTBALL
FEARLESS FORECASTER
By Fearless Forecaster
EastCountySports.com
EL CAJON – Two teams ranked in the Top 15 in the county square off in the 2017 season opener Friday night at 7 when Jeffrey Jackson, Mozes Mooney and the CIF State 3A runner-up Bishop's Knights visit the 15th-ranked Grossmont Foothillers.
It will be up to the Foothillers to either slow the pace, or try and keep the pace, with the Knights' aerial show led by Jackson, who threw for over 4,000 yards last season.
Sophomore JAMIE ODOM and senior DYLAN SMITH will reportedly start the season sharing time under center for Grossmont. Senior JOSH MOALA figures to be the beneficiary of the most targets, but the Foothillers promise plenty to go around.
Still, the Hillers will maintain the fast-paced, up-tempo offense, along with a heavy dose of senior running back SHEVELL STERLING.
Although the task is daunting, Grossmont has a top defender leading the way in the secondary against Bishop's multi-faceted attack in senior ANDREW LIRA.
Unfortunately, however, senior safety JOE WILLIAMS, a big part of Grossmont's defense plans here and throughout the season, is injured and could miss the first half of the season.
Bishop's has another big offensive weapon in WR Jacob Jackson.
That puts an urgency on Grossmont defensive linemen COOPER ZOELLNER and JOSEPH TOLEDO to make it difficult for Jackson.
Senior linebackers ZACH JONES and DAISEAN CRAWFORD will also have plenty of work to do.
The Foothillers will be a mainstay in the rankings all season, but some growing pains for Grossmont gives the nod to … BISHOP'S, 35-31.
HERRIMAN (UTAH) (0-1) at HELIX (0-0), 6 – Helix lost to Utah invader Timpview last season in the season opener at Hart Stadium, but still bounced back for a resounding season.
This Herriman team (ranked 15th in Utah) doesn't rank as highly as last year's opponent and for as good as last year's Highlanders squad was, there seems to be hardly a drop off in this year's unit.
The Highlanders drew 19 or 28 first-place votes in the initial Union-Tribune preseason poll.
All eyes will be on Helix newcomer ISAAC TAYLOR-STUART, especially a sure bevy of college scouts still vying for the senior's attention. The lightning-fast two-way athlete makes his first start for his new school after coming over from St. Augustine.
The Highlanders possess more firepower behind senior quarterback CARSON BAKER and senior WR/DB RASHAD SCOTT. Not to mention, super sophomore back ELELYON NOA.
The Scotties have a ton of experience in the interior, led by two-way stars LOPAKA ROJAS and MATT AVII.
Helix junior MICHAEL SHAWCROFT has already developed into an elite defensive player, as he moves to linebacker this season.
The Mustangs had just 187 yards in a season-opening loss last week against Lone Peak, the fifth-ranked team in Utah, so that adds up to… HELIX, 31-21.
GRANITE HILLS at SAN PASQUAL, 7 – A budding rivalry between the Eagles and Golden Eagles, but despite some key losses for Granite Hills, the El Cajon-based Eagles still possess several impact players that can change the tempo of the game.
Granite Hills defenders TYLER GONZALEZ, WILLIAM BURTON and GARRETT CURRAN are as impressive of a trio on any local defense.
Granite Hills has some young offensive linemen, as well, under development, but they are learning from some of the best.
Senior signal caller JAKE SIEGFRIED is the reigning Grossmont Valley League Player of the Year. He is a dual-threat that had over 2,700 yards of total offense last season.
The Golden Eagles are less dynamic, but a potent ground threat nonetheless. They return eight starters on offense from last year's team that lost to Granite Hills twice, including a playoff matchup.
The Fearless Forecaster favors the familiarity factor for… GRANITE HILLS, 28-21.
MORSE at MOUNT MIGUEL, 7 – The Matadors play their first four games at home as they'll face Martell Irby, Tim Patrick and the potent Morse Tigers.
Mount Miguel possesses its own dangerous running threat in senior SHEMAR GREENE, as well as, new senior starter MUGABE MILLER making the reads at quarterback.
The duo hooked up for a touchdown against Christian last week at the SDFNL Kick Off Classic.
Senior speedster SANTINO PACHECO is a spur-of-the-moment threat.
Senior ALEX LEMON's defensive teammates will have to be up to the task.
Morse was all run, no pass last season, but word is the Tigers would like to run some spread offense.
The Matadors lost to a pair of tough, similar non-league teams at home last year, so… MORSE, 35-24.
MADISON at EL CAPITAN, 7 – The Vaqueros are off to a rough start after losing senior linebacker CAMERON PHILLIPS with a broken fibula to end his high school football career during a downer performance against an up-and-coming Eastlake squad at the SDNFL Kick Off Classic last Saturday.
Then, on Monday, coach RON BURNER and staff announced that the school would be abandoning the upcoming junior varsity season after losing nine players to a series of bumps and bruises, enough to compromise the health and development of a roster consisting of just a couple more than enough players to take the field.
Those remaining JV players will be brought up to the varsity, while the rest of the program's emphasis will focus on the freshman season.
That leaves the Vaqueros staring down the gun of the barrel of the county's third-ranked team in the Madison Warhawks.
Madison had a huge turnover, but this defending state division champion reportedly still has plenty of firepower, although more running is likely in the offing early on this season.
El Capitan quarterback WICK HAUSER will continue to get plenty of on-the-job training as his rapidly-developing skill set gives the Vaqueros a chance to answer with air power.
Senior CONNOR ROOSA controls the ground game for the Vaqueros.
Seniors ANTONIO OLIVIERI and CHRIS MCDONOUGH lead a capable defense and El Capitan's coaching staff is known for sewing up early-season set backs.
The future is still bright for the El Cap varsity, but this night's game comes just too quickly… MADISON, 28-14.
SCRIPPS RANCH at VALHALLA, 7 – The Norsemen crushed the Falcons last year 30-0 on the road and defensive stars JOSH MCNISH-HEIDER, JACE MANNING, DYLAN MARSH and TY SCHIMKE will be out to get 2017 off to a dominating start.
The Norsemen allowed just two touchdowns over the first six weeks of the season last year en route to qualifying for the Open Division playoffs.
Valhalla has a pair of veteran quarterbacks in BRYAN MADRIZ and DENNIS DAHLIN that have worked well together, but they are familiarizing themselves with a largely new surrounding cast outside of senior lineman CASEY CASPER.
Valhalla's sack attack will be out in force Friday night… VALHALLA, 24-7.
MONTE VISTA at MAR VISTA, 7 – The Monarchs are touting more passing in 2017, but until they prove any success in that department, we'll count on stud junior RB JAHMON MCCLENDON.
What McClendon means to this team on offense, junior BLAKE SCHMIDT represents on defense.
Monte Vista can also count on quick two-way backs TORREY MACK, EARNEST DAWN, both seniors, and TERELL KYLE, a junior.
The formula was a simple one which led Monte Vista to the Division 4 championship game last season, but the Mariners are no slouch, either, especially when it comes to running the ball.
Mar Vista was 8-3 last season, but lost some big-time talent. Kyle Denney is likely the Mariners' main rushing force.
This one comes down to the wire… MONTE VISTA, 22-21.
SANTANA at CASTLE PARK, 7 – The Sultans led 28-0 less than 10 minutes into the game last season in week three and coasted to their first victory of the season in a 42-0 romp as quarterback JOSH OEDEWALDT threw for five touchdowns on just six pass completions.
LATRELL BROWN, now a senior, led all Santana tacklers with four, in the shutout.
Senior LANDON WOOD is the leader of the Sultans' defense, but keep your eye on unheralded senior two-way lineman BRAYDEN NIETO. Senior Dale Genschaw is a top veteran presence.
The Trojans return enough players to assure improvement over last year's 1-9 campaign, but this shouldn't be close… SANTANA 34, CASTLE PARK 21.
SOUTHWEST (El Centro) at WEST HILLS, 7 – The Wolf Pack went blow-for-blow with the Eagles for three quarters in last year's season opener in the Imperial Valley, but a last-second field goal gave the hosts the walk-off win.
Expect West Hills to return the favor on Friday night.
The Wolf Pack expects to not miss a beat with new starter JORDIN YOUNG at quarterback, who guided an undefeated junior varsity team last season.
Veterans RYAN CLARK, ZACH BELL, JAKE HALLAHAN and RYAN JEWELL have probably been thinking about this one all summer.
Southwest parlayed that win into a 6-0 start and ended up losing a two touchdown lead to eventual Division 4 champ La Jolla Country Day in the semifinals.
The Eagles return an experienced club from that successful season, so expect an exciting game on the Wolf Pack's brand new blue two-toned surface, WEST HILLS, 21-17.
EL CAJON VALLEY at SERRA, 6:30 – The Braves forced a turnover in the game's waning moments, but Serra stopped a last-minute drive to win a Division 4 playoff game in El Cajon last Nov.
The Braves' BRANDON ROBINSON had a huge reception in that game to take El Cajon Valley down to the 1-yard line during a first-half touchdown march. He's the Braves leading returning receiver.
El Cajon Valley, which started last season 5-0, will rely on the running of senior MAQUEL GARNER.
The Braves return senior two-way linemen ANDRE ROBLES, MOSE KALEUATI and MASON TILEIA.
DEANDRE KELMON, a 5-foot-9, 155-pound junior has been announced as the Braves' starter at quarterback.
Serra plans on running a spread offense behind a sophomore quarterback, but has several weapons returning.
These teams are very closely rated, so Fearless usually just favors the home field advantage, SERRA, 24-21.
CHRISTIAN (0-0) @ HURRICANE (Utah) (1-0), 7 – The Patriots bused to Utah for a rare trip out of state to face a Hurricane squad coming off a 30-6 road win in their season opener against a Mountain View (Utah) team that has averaged just one win per season over the last five years.
Christian tuned up for their season opener with a passing exhibition against Mount Miguel in the SDFNL Kick Off Classic, as senior BRADLEY JEREMIAH passed for five touchdowns in the scrimmage.
Senior BRYCE RIEPL and JESSE MATTHEWS caught touchdown passes in that one, while ALEX GONZALEZ ripped off a long-distance touchdown run.
Christian has top-notch returning defenders in junior defensive end GARRETT ROSENTHAL and senior safety C.J. KIRWAN.
The Tigers were 3-7 overall last season.
Expect coach MATT OLIVER's Patriots to have fun on their trip and take care of business on Friday night… CHRISTIAN, 28-21.
STEELE CANYON at BRAWLEY, 7 – Steele Canyon's MIKEL OLIVER and Brawley's CASEY KLINE star in a cat battle in the Imperial Valley on Friday night.
Despite injuries which has limited his time on the field, Oliver is a game-changing defensive end/tight end who has already committed to play at San Diego State, while Kline is a Division I propect at linebacker that also is the team's quarterback.
Brawley came to the East County to play Christian in the season opener last season and was dealt a 42-21 loss, but the Cougars will be out to gain confidence early after a sub-Cougar par 3-8 season.
Senior THOMAS FISHBURNE is one of the East County's most experienced quarterbacks and has won in last-minute pressure situations several times already in his career.
The Wildcats were 7-4 last year and won six-straight to finish the regular season and capture the Imperial Valley crown.
The Cougars have plenty of returning talent to rebuild quickly, but beating a playoff team on the road could be a tall order… BRAWLEY, 32-28.
TEMECULA PREP at MOUNTAIN EMPIRE, 6:30 – Mountain Empire went 4-6 last season, but has several key returnees, including new quarterback GABRIEL HYDORN, linebackers JOHNATHAN PANUELAS and CAMERON WILL, along with two-way standouts CAMERON WILL and BLAKE "The Tackling Machine" JARRELL.
Also, expect wide receiver/defensive back WYATT MANN to do big things after returning from injury. Junior DALLAS PRINCE gives Hydorn yet another option.
The Patriots were 3-6 last season, including a 21-14 home loss to the Red Hawks in week 3.
Mountain Empire has five receivers in this game that combined for 20 receptions in last year's meeting, although the War Hawks rushed for just 36 yards in that one.
This one is all… MOUNTAIN EMPIRE, 35-17.
UPLAND CHRISTIAN at FOOTHILLS CHRISTIAN (8-man), 7 – The defending section 8-man champion Knights come back to earth, but get an interesting test for the squad, which is almost completely turned over. The game is scheduled to be played at Seau Field.
Upland Christian was an 8-man team that played 11-man last year, but is returning the 8-man game after just one season.
Foothills, of course, played 11-man for quite awhile before switching to 8-man, culminating in last year's magical run.
JADON BANKHEAD is shouldering much of the load as a two-way leader at linebacker and at running back. CHASE EURICH (5-10, 220) returns at center, while veterans ILYJAH BARTOLOME (6-0, 235) NOAH HAMILTON (6-3, 180) return.
Senior STEVEN LEONCINI is the quarterback for the Knights.
The Knights have to defend against Eagles' standout senior quarterback Nathan Dennis and runner/receiver David Serrano.
Upland was 20-9 in the three previous years before last season… UPLAND CHRISTIAN, 44-31.
2017 Record: 0-0.