Matadors can't tame Tigers in opener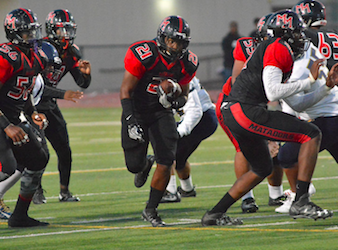 Mount Miguel senior RB SHEMAR GREENE finds running room in the first half Friday. / EastCountySports photo
2017 EAST COUNTY PREP FOOTBALL
MORSE 26, MOUNT MIGUEL 19
By Ramon Scott
EastCountySports.com
SPRING VALLEY – Mount Miguel gave a hard-fought effort Friday, good enough to give them a chance to beat the Morse Tigers, but the visitors prevailed despite three touchdowns from Matador senior quarterback MUGABE MILLER.
Morse scored two quick touchdowns in the first quarter, including a 72-yard score on a rushing play just 49 seconds into the game by Helix transfer A.J. Vilaysane.
Morse's Tim Patrick added a 41-yard touchdown run for a 12-0 lead just 4:33 into the contest.
Miller had a 7-yard keeper with 2:10 left in the second quarter to get the Matadors on the scoreboard.
The Matadors' JARVIS HEARD caught a deflected ball in the secondary and raced for a big gain to put his team in scoring position. Heard had two catches for 87 yards on the evening.
Miller added touchdown runs of 4 and 2 yards in the fourth quarter, as Mount Miguel eventually closed the Morse lead to 20-19.
Irby blocked a subsequent extra-point to maintain the 1-point lead.
Morse running back Martell Irby had a 59-yard run in the third quarter and later scored on a 4-yard run.
Mount Miguel coach SEAN MCDADE said it was a 100 percent effort on the part of all of his players and told them to feel encouraged.
"They played all four quarters," McDade said. "We have a lot to build off of this defensive effort."
Greene had a 104 yards rushing on the night, while catching five passes for 98 yards.
"We let them score fast so we can get the ball back and try and run down and score just as quickly but we just ran out of time," McDade said."And it really hurts when you have three touchdowns called back on penalties."
"We'll be ready to run the ball, clean up the missed tackles and clean up the penalties (for next week)," McDade added.
Mount Miguel's defensive effort in the fourth included an interception and a turnover on downs to keep them in the game against the favored Tigers late.
SANTINO PACHECO had an interception for the Matadors in the fourth quarter. He finished with 11 tackles and two pass break-ups.
Miller completed 10-fo-26 passes for 208 yards and also rushed for 85 yards.
Morse rushed for 306 yards overall on
Mt. Miguel's C.J. JACKSON had two tackles for loss.
The Matadors, who open the season with a four-game homestand, host Chula Vista next. The Spartans beat the Matadors in last year's season opener in the South Bay.