Healthy Cougars get second chance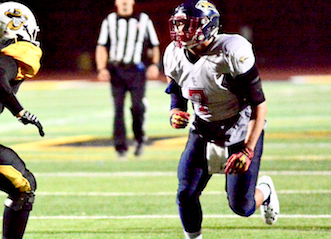 Steele Canyon's MIKEL OLIVER
2017 EAST COUNTY PREP FOOTBALL – PREVIEW
STEELE CANYON COUGARS
By Ramon Scott
EastCountySports.com
SPRING VALLEY – Following an un-Steele Canyon-like 3-8 season in 2016, the Cougars seem poised for a sneak attack on its opponents this season.
Despite a promising roster, last year's Cougs were a wounded animal, which led to a five-game losing streak mid-season.
Now, with about half of the starting units returning, including some players that missed time last season due to injury, Steele Canyon sits in an interesting position as a championship contender in the San Diego Section Division 2 playoffs.
The most notable of last year's walking-wounded is senior star MIKEL OLIVER, who still made the All-East County first team despite missing time.
Ticketed for SDSU, the defensive lineman/tight end already had caught the eye of the Aztecs despite his physical setbacks during his prep career (he missed nearly half of '16).
A healthy season from Oliver could really give him some momentum heading to the Mesa next year. Healthy now, expect the Cougars to use him for the inside three technique.
Senior THOMAS FISHBURNE, who is part improviser/part escape artist, is soon to become the most prolific quarterback in school history, but Fish's future – after SCHS – could be on the other side of the ball.
Steele Canyon coach SCOTT LONGERBONE knows about dealing with injuries, obviously, but he also knows that Fishburne needs to get some next-level exposure at free safety, a likely position for the superb athlete.
Fish's Fanatics need not worry, as the second team All-East County QB from last season will be directing a potent offense, including tailback DEONTAE MCKINNEY, who is running like he has something to prove, according to Longerbone.
McKinney's backfield mate is ISAIAH THOMPSON, who has great hands and great vision.
Senior JORDAN ANDERSON joins Oliver as one of Fishburne's targets. He is the leading returning receiver in terms of receptions from last season.
The defense is the biggest beneficiary of the returning players who are back healthy and ready to put the unit back on track.
Senior linebacker AMIR HARRIS and senior defensive back D.J. HALL return, as does corner back PERRY STEELE.
Senior two-way lineman DARRIN WALTON (6-foot-4, 215), junior IAN MILLER (6-2, 268) and junior BILL TELLOUS (6-2, 230) are sure to shore up the Steele Curtain this season.
Senior transfer HAYDEN ROACH gives the Cougars an insurance policy. A good dual-threat QB at West Hills last season, Roach is likely to find time as a slot back and/or strong safety unless needed elsewhere.
If the Cougars are to return to form, Longerbone stresses that the team has to get back to winning the turnover battle. Two years ago, Steele Canyon put up a ridiculous +28 turnover margin en route to an appearance in the SDCIF Division 1 semifinals.
"We're pushing turnovers, turnovers and more turnovers," Longerbone said. "This group is very mature because they're not even speaking about Madison (in Week 2), they're not speaking about league, they are only focused on Brawley (in the season opener)."
Longerbone said that they are grooming some young offensive linemen, but they stood up well in the preseason scrimmage at Santana.
The Cougars host Helix and Valhalla in home contests in the Grossmont Hills League this season.