Braves can't make early lead stand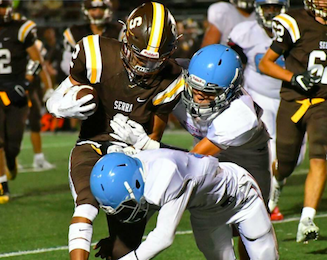 El Cajon Valley players bring down a Serra ball carrier Friday night. / photo ECV ASB
2017 EAST COUNTY PREP FOOTBALL
SERRA 40, EL CAJON VALLEY 16
EastCountySports.com staff report
SAN DIEGO – Serra High widened the gap over the last time they faced the El Cajon Valley Braves last November, taking a 40-16 home opener win in a rematch of a playoff matchup on Friday night.
In the first quarter, El Cajon Valley mounted a scoring drive with all runs, as MAQUEL GARNER scored from 14-yards out to cap the march.
The Braves went for the conversion for an 8-0 advantage.
The Braves recovered a fumble and converted the turnover into a score later in the first half as DEANDRE KELMON rushed in on a 2-yard keeper.
Serra scored on a touchdown pass in the second quarter, but the Braves seemed truly in control heading into the locker room with a 16-6 lead.
Considering the Braves were in a game of catch-up with the Conquistadors in their playoff matchup, it was a good position to be in ahead at the half.
Serra quarterback Tim Zebroski hit T.J. Silvestri with a 50-yard pass for a score in the fourth quarter to cap a one-sided momentum run, as the Q's scored the final 34 points of the game.
In the second half, the Braves couldn't slow Zebroski and running back Myles Bryant.
The Braves' BRANDON ROBINSON was knocked out of the game with an apparent knee injury.
Next week, the Braves play Kearny.