ROUNDUP: Red Hawks win, others stifled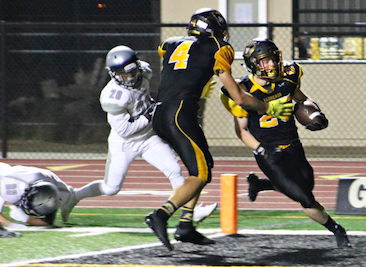 CHASE LOVATO converts one of his two interceptions for a touchdown Friday night. / photo by Billy Ortiz
2017 EAST COUNTY PREP FOOTBALL
EastCountySports.com staff report
PINE VALLEY – Mountain Empire coach BERNARD VANN and his staff thought his squad might be a bit underrated heading into the 2017 season.
Well, the Red Hawks smashed their way to 275 rushing yards in a 48-0 win over Temecula Prep to send a message that they are far better than their power rating would suggest.
Quarterback GABRIEL HYDORN, a junior, hooked up with senior receiver WYATT MANN for three touchdown passes, as well.
Hydorn proved very efficient with his 9-for-11 night for 121 yards. He also rushed eight times for 65 yards.
The Red Hawks' defense held Temecula Prep to just four first downs and 48 total yards from scrimmage. Mountain Empire also recorded two interceptions.
Junior captain DALLAS PRINCE rushed three times for 77 yards and a 28-yard touchdown for the Red Hawks, while senior BLAKE JARRELL carried seven times for 64 yards and two scores, including a 13-yard run which made it 21-0.
Prince's score gave the Red Hawks the early 7-0 lead.
Hydorn threw a 21-yard TD to Mann to extend the lead to 14-0, then in the second quarter, hit him for a 12-yard score for a 28-zip lead. The third hook up came from 10 yards out to extend the margin to 41-0.
Jarrell added a 6-yard score and finished with 12 tackles on defense to lead the squad.
Senior JOHNATHAN PENUELAS added 10 tackles for Mountain Empire, while junior CAMERON WILL had an interception and 10 tackles.
MADISON 47, EL CAPITAN 18 – As expected, the Warhawks made their mark early, but the Vaqueros made some nice adjustments in the second half to put some points on the board against the third-ranked team in the county.
Sophomore quarterback WICK HAUSER threw a touchdown pass to STAR IULI for El Capitan.
El Capitan senior defensive back CHASE LOVATO had a fumble recovery early in the game and also had two interceptions, including one off an errant pass which he returned for a touchdown.
El Capitan was able to score another touchdown in the fourth quarter.
Hauser was constantly under pressure by Madison's defensive line.
El Capitan is on the road next week against Mater Dei Catholic.
SAN PASQUAL 52, GRANITE HILLS 7 – Granite Hills looked like they lost the link to last year's game videos after San Pasqual shaked, squeezed and slid by the grasp-less Eagles.
The Golden Eagles had two interceptions in the first half and scored touchdowns on its first four possessions en route to a 28-0 halftime lead.
Granite Hills quarterback JAKE SIEGFRIED had a 2-yard TD run in the third quarter.
After going (1-0), next week San Pasqual will travel up the road to take on Vista. Granite Hills (0-1) will look to even out their record against Valhalla next Friday at home.
Granite Hills had 68 yards of offense in the first half and was penalized 10 times in the game.
San Pasqual had  395 yards rushing for the game.
UPLAND CHRISTIAN 52, FOOTHILLS CHRISTIAN 0 – The defending San Diego Section 8-man champs were shutout in their season opener at Seau Field.