Olympians beat Griffins, then heat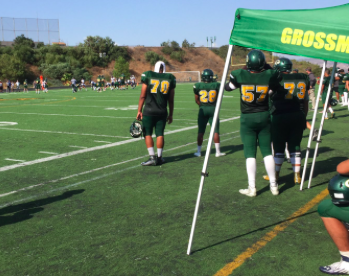 2017 GROSSMONT GRIFFINS FOOTBALL
SAN DIEGO MESA 32, GROSSMONT 7
EastCountySports.com staff report
EL CAJON – One-hundred degree weather in helmets and shoulder pads doesn't feel so exhausting when you are on the winning end of a lopsided score.
For the Grossmont Griffins, they still felt miserable even after taking off their equipment Saturday afternoon.
The Mesa College Olympians had the answers against Grossmont's young skill players, forcing six turnovers in a 32-7 win at Mashin-Roth Field.
San Diego Mesa had three interceptions and three fumble recoveries, while holding Grossmont to 187 yards of total offense.
Former West Hills High star SPENCER MOYER, who was the Griffins' back up quarterback last season, had an efficient day, going 19-for-32 for 147 yards.
Moyer threw a 4-yard touchdown pass to former Santana receiving star ADAM CHILDRESS for a 17-0 lead with 12:31 left in the first half.
"It feels great to come out and get a 'W' together," said Moyer, who was immediately propelled into the Olympians' main offensive plans. "We've been working together since February, we've been working out in the weight room and on the field and we've become a family.
Grossmont was nearly shutout in the first half, until quarterback BRAD CAGLE hit SEAN WHITE with a 34-yard touchdown to send the game into the locker room 20-7.
Despite the hot air that was breathed back into the life of the Griffins' chances, it was understandable that some fans left at halftime. The heat was truly overwhelming.
The Griffins probably wanted to leave, too. Mesa won the second half, 16-0.
"The learning curve for a young team is inevitable," Grossmont head coach MIKE JORDAN said. "It was tough to go up tempo because Mesa knows all our calls with an ex-QB on the team."
A bright spot for Grossmont was the debut of freshman JEROME JOHNSON. The Valhalla product rushed seven times for 61 yards. He could present the tough volume running the Griffs may need to dial back their young offense behind veteran Cagle.
Still, the Griffins finished with just 32 net yards rushing.
MYLEK STEEN, a freshman out of Castle Park, got the best looks from Cagle, catching five passes for 53 yards.
However, Cagle made his own misery, with the three picks, and two fumbles lost. He was 14-of-38 and eventually gave way to JOSH HARRIS, a freshman out of Oceanside High.
ALEX DOCKERY, a freshman from La Jolla High, had a 70-yard kickoff return for Grossmont.
Freshman LANE SELF had an interception on defense for the Griffins.
Former West Hills standout ERNIE GARCIA led Grossmont with nine takles, while former Valhalla star LOGAN BAKER added six for the Griffs. Another former Wolf Pack player, TYLER SEPULVEDA added five stops for GC.
Logan Vallo's 4-yard run open the game scoring.