Harris' new mission is with Griffins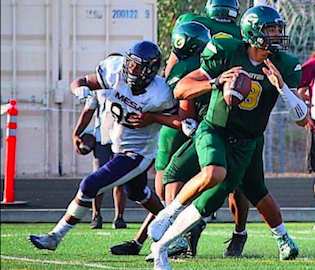 Grossmont College freshman JOSH HARRIS escapes on Saturday against Mesa.
2017 GROSSMONT GRIFFINS FOOTBALL
By Ramon Scott
EastCountySports.com
EL CAJON – Grossmont College freshman quarterback JOSH HARRIS was one of the stars of the 2012 East County football season when he helped lead Helix to a 10-1 record as the junior quarterback of the Highlanders.
But when it appeared that Harris had lost his grasp on the starting job over the summer, Harris moved to Oceanside after his dad changed jobs.
Harris played in four games for the Oceanside Pirates in the early part of 2013, but didn't earn a starting nod after completing 129-of-219 passes for 2,013 yards, 18 touchdowns and eight interceptions in Helix's march to the San Diego CIF Division II semifinals.
On Saturday, nearly four years later and after serving his missionary work in Nicaragua, with just a little over one-quarter remaining and the Griffins down 32-7, the 21-year-old Harris, who was talked about during the 2013 offseason as a Division I prospect, was back on a local football field, entering the game for Grossmont in replacement of a constantly harassed BRAD CAGLE.
Harris completed a pair of passes on his first drive, including an 11-yard connection with ALEX DOCKERY, but he lost a fumble three plays later, something the Griffs did several times trying to get away from the Mesa Olympians.
The 6-foot-6, 230-pounder got a second chance – so to speak – on the next drive, where he was able to complete a pair of short throws before a fourth-down attempt resulted in an incompletion. Overall, he was 4-for-7 for 27 yards.
The Griffins certainly seem to think their plans went awry last week thanks in part to former Griffin and West Hills Wolf Pack quarterback SPENCER MOYER, who not only was sharp for his new school in the season opener, but also schooled his defensive teammates on the tendencies of the Griffs' offensive sets.
The result was a 32-7 drubbing by the proud Olympians in withering heat. A heat that the visitors were able to withstand better than their East County hosts.
The Griffins will have the sunshade available again this week as Sunday will be the hottest day of this week, but it is not expected to be like those conditions players faced in the opener.
Still, it can't be an enthusiastic start for Grossmont as downtrodden L.A. Harbor comes to town for this Saturday's home matchup.
Figure the Griffins pretty much smoked Mesa and Harbor to a fantastic start to last season, but now Grossmont College has lost six of the last eight times it has taken the field.
Last year against Harbor College, Grossmont scored 21 straight points out of halftime – including two scores on turnovers – as the game was played at San Pedro High while the Seahawks were getting new turf.
The Griffins' offense struggled in that one, as well, but Grossmont recorded five interceptions and forced two fumbles.
Harbor led 21-16 at halftime, but Grossmont scored on a 37-yard fumble return for a touchdown and a 47-yard interception return for a touchdown. The Seahawks pulled to 37-27 with 6:20 left on
The Seahawks had won the week prior, but went on to lose nine straight.
Jalin Scott completed 11 of 18 passes for 156 yards and one touchdown for L.A. Harbor in that one. He is the quarterback this year, as well, throwing for 156 yards in a 33-2 rout of lowly Compton.
Whether this Harbor team is any better than the previous version could be the eventual test here, as Grossmont would have to expect to need this game to sustain any of their preseason confidence.
Freshman JEROME JOHNSON rushed for 61 yards in his Grossmont debut after coming off his star senior year at Valhalla last season. He averaged over eight yards per carry.
MYLIK STEEN was Grossmont's leading receiver with five catches. The Castle Park product is also a freshman.
Grossmont's defense was led in the opener by sophomore ERNIE GARCIA (West Hills), who had nine tackles, and sophomore LOGAN BAKER (Valhalla), who added six stops.
Former Creekview (Tex.) standout LANE SELF has landed at Grossmont and recorded a pick in his first game.
The Griffins and Seahawks meet on Saturday at 1 p.m. at Mashin-Roth Stadium. Bring plenty of water.
GRIFFIN GRAFFITI
Last week, the Griffins only amassed a total offense of 187 yards, 155 through the air and 32 yards on the ground, which led to a long overheating day for the Griff defense, who didn't get to their former 2nd string quarterback, Moyer, not even once.
There is a light at the end of the tunnel as this time they can move the no-huddle tempo offense, without the visiting L.A. Harbor Seahawks knowing their every move. Grossmont can
Cagle, the 2016 All-PCAC quarterback had one of his worst outings, going 14-for-38 for 128 yards, 1 TD, and three interceptions, which was very uncharacteristic of the talented sophomore, formerly of El Capitan High.
For Grossmont to send the Seahawks back to the harbor with a loss, they must take care of the football, use the up tempo, and run the ball more effectively to open up the passing game Cagle.
L.A. Harbor's only 2 points coming early in the first quarter after a blocked extra point, as David Cooper scooped up the ball and ran it back for a 98-yard scamper for Compton as the Harbor defense held them scoreless for the remainder, led by DB Tulafono Loyoleot, with 5 tackles, DB Omari Brooks added a pick and 4 tackles, while CB T.J. Jones also decided to join in on the interception train, with 1 as well and 3 tackles on the day.
The Griffin secondary will have to be on their toes to stop WR Ikenna Ohaeri, who last week a pair of catches for 95 yards and a touchdown.
The Griffins will also need to stack the box, as this team did well on the ground last week, rushing as a team 48 times for 188 yards, distributed to RB Merrell Jasper (13 carries for 58 with 2 TD), and RB Tyler Stewart (10 carries for 52 yards and a TD)
The whole National Central Conference division won last week.
The Seahawks will be tough, but if Grossmont plays stellar defense and takes care of the
football, they should prevail… GROSSMONT, 24-21.