Wolf Pack grasp familiar Mayor's Cup
Updated: September 2, 2017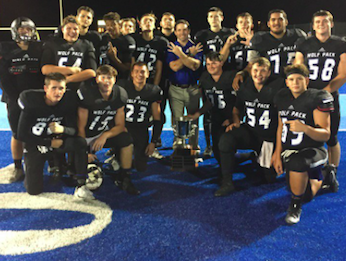 West Hills with the Jack Dale Cup Friday night.
2017 EAST COUNTY PREP FOOTBALL
WEST HILLS 34, SANTANA 7
By Jim Lindgren
Special to EastCountySports.com
SANTEE – What a difference a week makes! A neighborhood rivalry, a televised pep rally and a huge rowdy crowd also helps.
West Hills was limited to 93 total yards in a lopsided loss last week to a very good team from El Centro, Southwest High.
On Friday night, the Wolf Pack clicked on all cylinders, clicked in all three phases of the game and clicked off a 34-7 rout of crosstown rival Santana to win the Jack Dale Mayor's Cup for the sixth straight year and 21st time in its 29-year history.
"It was a big day for the school," West Hills coach CASEY ASH said. "We had the Alarm Clock Pep Rally (for KUSI's Prep Pigskin Report) before school. We were playing against a rival where most of the kids know the kids on the other team.
"It was a long day, but it was a great day."
It was a great day for junior quarterback JORDIN YOUNG, who guided the JV to a 9-0-1 record last year but last week completed only three passes for 47 yards.
Young opened Friday's game by completing his first seven passes and finished 13-for-16 for 125 yards and two touchdowns. He also rushed 13 times for 66 yards and a 14-yard score.
"He threw the ball much better tonight," Ash said. "If you can go 13-for-16, that's a great game. I don't expect him to get that every week. But I expect him to run the ball like he did tonight."
A week after losing to Southwest 36-17, Young guided the offense to 278 total yards and six scores in its first seven possessions.
CADE WEAVER caught four passes for 50 yards, including a 25-yard touchdown. He also kicked field goals of 28 and 30 yards, was 4-for-4 on PATs, boomed 5-of-6 kickoffs into the end zone and punted well.
"It's our rival school, and you just don't want to lose," Weaver said. "Taking that cup home is the greatest feeling ever. It puts our class in the record books. Another plaque on the cup."
West Hills' defense also played spectacularly, limiting Santana to 127 yards until a late 63-yard touchdown pass from backup quarterback RYAN JAGGARD to COLTON SNIPES spoiled what could have been West Hills' first shutout since 2015.
AUSTIN DENISON had two sacks and Saul Sanchez one after an initial hit by JEREMY THOMAS in the backfield.
Special teams also kicked in with Weaver's kicking and RYAN JEWELL's punt returns of 32 yards and 50 yards that both set up touchdowns.
"Offensive line and quarterback stepped up this game," Ash said. "We played well in all three phases. Offense and defense were much better than last week. Special teams has been really solid in both games."
What a difference a week makes! Santana rolled up 516 total yards, including 283 passing yards from JOSH OEDEWALDT in last week's 56-19 win over Castle Park.
The Sultans had only 60 yards in the first half and didn't reach 100 until midway through the fourth quarter.
"We didn't play very well," Santana coach TIM ESTES said. "West Hills just seems to have our number.
"I thought it was going to be a much closer game – one of those whoever has the ball last wins or winning on a kick or something.
"I didn't expect this. I don't know if there's a bright spot yet."
Oedewaldt was 7-of-15 passing for 47 yards, over-throwing targets all night. In relief, Jaggard finished 2-for-5 for 72 yards. Snipes had both of those grabs for 72 yards.
The Sultans rushed for 233 yards last week. They got 69 Friday, led by DALE GENSCHAW's 26 yards.
"The kids all know each other," Estes said. "There's not a lot of hoopla we have to do before the game. If they can't get up for this game, we've got problems."
Santana was up for the game, also bringing a large boisterous crowd, but the Sultans had lots of problems, including a number of injuries and eight penalties for 60 yards.
West Hills scored four times on its four possessions of the first half to take a 20-0 lead at intermission.
Santana went three-and-out in its first possession, and Jewell's 30-yard punt return gave West Hills the ball on the 25-yard line. Four plays later, REESE WILTGEN leaped over a defender in the right corner of the end zone to nab an 8-yard touchdown reception from Young for a 7-0 lead.
The Wolf Pack started on the 45 on its next drive and scored six plays later on a 28-yard field goal by Weaver.
Santana's third straight punt gave West Hills the ball on their 27-yard line. They then ran 18 plays covering the 73 yards in 9:27 to go up 17-0 when Young darted up the middle for a 14-yard TD run.
On the final play of the first half, Weaver boomed a 30-yard field goal for a 20-0 lead.
In the third quarter, Jewell's 50-yard punt return gave West Hills possession at the 25-yard line. On the next play, Young hit Weaver over the middle for a 25-yard TD and a 27-0 lead.
Dill raced around right end for a 35-yard touchdown on the last play of the third quarter to put the Pack up 34-0. Dill finished with 41 rushing yards as the Wolf Pack got 153 on the ground running behind linemen JAKE HALLAHAN, NATHAN JONES, ALEX LEGGATE, ZACH BELL and RYAN CLARK.
Santana didn't score until 2:45 remained. It's biggest defensive play was a sack by NATHAN TEMPLE.
Overmatched by Southwest, West Hills ran only 34 plays last week.
"That's usually a half," Ash pointed out before the game.
Indeed. West Hills ran 33 plays in the first half against Santana, gaining 166 yards and four scores.
"It was an amazing game," said Young, after hoisting the Mayor's Cup trophy over his head in celebration. "I've never held a cup up before. It's the best feeling in the world."
West Hills (1-1) plays next Friday at Mission Bay (0-1) at 6 p.m.
Santana (1-1) plays host to Christian (2-0) at 7 p.m.