Paraclete proves more elite than Helix
Updated: September 2, 2017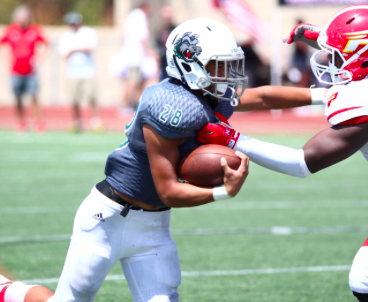 Helix's Fatto Noa carries on Saturday. / photo by Patrick Takk
2017 EAST COUNTY PREP FOOTBALL
PARACLETE 23, HELIX 6
By Ramon Scott
EastCountySports.com
DEL MAR – It can happen to an athlete in any condition, ranging from elite professionals to your weekend grinder.
The severe clinch of cramping muscles that send your legs into stiff resistance, rending you unable to move.
Helix's ISAAC TAYLOR-STUART, the highly-recruited defensive star, suffered a bout of extreme cramping five minutes into the third quarter, sending him under the porta-shade to get filled with fluids.
One play later, the Paraclete Spirits were celebrating their second touchdown of the day, a 47-yard pass that gave them a two-score lead in a game where points were hard to come by.
Paraclete upset the Highlanders Saturday in the seventh-annual Honor Bowl at Cathedral Catholic High.
The Spirits recorded a shutout of the section's unanimous No. 1 team, 19-0. Helix could be supplanted by Mission Hills when the poll is released on Tuesday.
"It's disappointing we didn't rise to the occasion and Paraclete did," Helix coach ROBBIE OWENS said. "We definitely have a lot of football left this season. We are a really good football team and we will have to prove that each week."
Both teams played elite defense in the first half.
In fact, compared to Helix's 13-0 Honor Bowl win last year over Clayton Valley, which was punctuated by mistakes and miscues, this one featured well-played precision tactics by both defensive units.
However, in the second half, this one appeared to come down to conditioning, of all things.
Paraclete's two-way performers looked as if they could go another round, while the Highlanders were more winded and slower to get up down nearly three scores.
Helix found a consolatory touchdown in the fourth as senior CARSON BAKER threw a delayed pass to junior back CHRIS RIVERA for a touchdown with 1:45 left, but by then the Spirits had secured a 23-6 win.
@HelixFootball gets on board via TD from @Cbakess9 to Rivera making it 23-6 with 1:45 left to play #HonorBowl #sdfnl17 pic.twitter.com/WU64cwuZJM

— SDFNL Magazine 💫 (@SDFNLMagazine) September 2, 2017
"We had plenty of opportunities," Owens said. "Offensively, we had great field position to start the possession majority of the first half. We just weren't clicking and seemed a little off all night."
Baker hit ISAIAH WOODEN with a deep pass all the way down to the 15 for a Highlander scoring opportunity, but Baker bobbled a high snap and the Spirits recovered a fumble.
Wooden had five catches through 1 1/2 quarters.
Helix stumbled more than Paraclete clamped on the Scotties' skill players, however.
RASHAD SCOTT busted the opening kickoff down to the Paraclete 22 for a 68-yard return. However, the Scots were unable to come away with any points after failing on a fourth-down try.
Defense ruled the scoreless first quarter.
ISAAC TAYLOR-STUART had an interception with 2:45 to go in the first quarter for Helix, then recorded a sack just 1:30 later.
MICHAEL SHAWCROFT had a sack in the first quarter and in the second quarter for Helix.
"Our defense played tremendously in the first half," Owens said. "But didn't come out with the same intensity in the second Half."
Helix forced a turnover on downs with :11 to go before halftime to ensure a likely scoreless half, however, Helix skillfully tried several laterals to run to midfield, but was ultimately stopped.
Paraclete had a drive early in the second half that moved the Spirits near the red zone, but a botched snap sent them back to recover their own fumble.
However, a completion took them down near the ten, then on the next play, Pareclete scored on a touchdown pass in the back of the end zone on the Spirits' first drive of the second half when receiver Melquan Stovall came down with the TD catch from Brevin White.
Here is @ParacleteFB 1st TD 7-0 #sdfnl17 #HonorBowl pic.twitter.com/QiJDpNVzJi

— SDFNL Magazine 💫 (@SDFNLMagazine) September 2, 2017
Baker was 6-of-14 for 94 yards in the first half.
When Taylor-Stuart left the game with severe cramping with 7:30 left in the third quarter, that opened things up for White for find Andre Hunt with a deep touchdown pass with 5:06 left in the period. A conversion try failed, leaving it at 13-0.
Baker was intercepted as the Highlanders started to move with urgency early in the fourth quarter, stopping a drive and securing the momentum, as well.
"We definitely felt really good about ourselves after last week's game but now have to regroup during bye week," Owens said. "We have to play with a chip on our shoulder the rest of the year. I felt we had opportunities but didn't step up to the challenge."