Norse have formula to bottle Matadors
Updated: September 9, 2017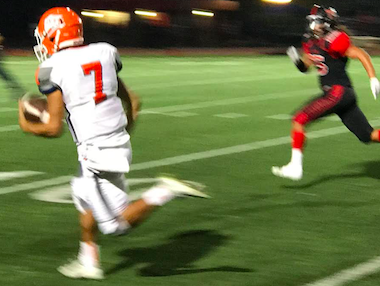 Valhalla's Bryan Madriz races past Mount Miguel Friday night.
2017 EAST COUNTY PREP FOOTBALL
VALHALLA 24, MOUNT MIGUEL 14
By Gene Yale
Special to EastCountySports.com
SPRING VALLEY – For the past several seasons, Valhalla has had a reputation for playing outstanding defense.  In 2015, they earned the nickname "the LawFirm Defense."  Last season, it was "the Orange Crush."
After the 34-18 loss to Granite Hills last week, that reputation took a little hit, but on Friday evening (September 8), it was time for redemption, as the Norsemen defense limited Mt. Miguel's vaunted running game to 45 yards in 34 carries, or, 1.3 yards per carry—on the Matadors' home turf—in a 24-14 Valhalla victory.
On the opening kickoff, Mt. Miguel senior SANTINO PACHECO got the crowd roaring when he took the opening kickoff just outside the end zone and sprinted 55 yards to the Valhalla 45 yard line, but a holding penalty negated that fine effort, and forcing the home team to start its first offensive series instead at their own 16 yard line.
On first down, it looked like senior running back SHEMAR GREENE was looking for another 110 + yard rushing night when he broke free for a 7 yard gain, but Valhalla defensive end JOSH McNISH-HEIDER recovered quickly to corral the runner.
On the next play, middle linebacker TRISTAN ABBOD stuffed the ball carrier for no gain, and on 3rd down, junior defensive end JACE MANNING flattened the runner after a 1 yard burst, forcing the first of many punts.
Valhalla started its first possession at its 45 yard line.  Senior quarterback DENNIS DAHLIN methodically moved his team into scoring position with a nice mix of runs and passes.
On 2nd and 7 at the Matadors' 19 yard line. Dahlin found senior BRYAN MADRIZ open in the flats at the 5 yard line, but an apparent touchdown was thwarted when senior defensive back JAHEIM ALLEN timed his move perfectly, darting in front of the receiver at the last second, breaking up the past and nearly intercepting for a pick-six touchdown with a clear field in front of him, but the ball squirted free, dropping harmlessly to the ground.
On 3rd down, Madriz was able to get open in the end zone, but Dahlin's pass was just out of reach, forcing a 37 yard field goal attempt by multi-talented Madriz; it was perfect, and Valhalla led 3-0 with 5:09 remaining in the first quarter.
Madriz' ensuing kickoff sailed into the end zone, so Mt. Miguel started at its 20 yard line.
A 9 yard scamper by senior quarterback MUGABE MILLER and a 10 yard gallop by Greene advanced the home team quickly to its 45 yard line, but the drive stalled when, on 2nd down, Valhalla sophomore ETHAN FERKICH stuffed the runner for no gain, and on 3rd down, Abbod and junior COLE HOWARD sacked the quarterback for a 4 yard loss.
After the Mt. Miguel punt, Valhalla's offense had time for one play before the first quarter ended.  That's all it took for Madriz to take a handoff, sweep left and motor 64 yards for the game's first touchdown.  After Madriz supplied the PAT (3-3), the Norsemen led 10-0 at the end of the initial period.
Unable to get its ground-game established, Miller took to the air.  On first down, he connected with Pacheco for a 17 yard pick-up to the Valhalla 37 yard line.  Two plays later, he threw a bomb to Pacheco for a 61 yard TD.  The PAT attempt missed, leaving Valhalla with a 10-6 advantage, only 59 seconds into the second quarter.
Valhalla closed out the first half scoring late in the period when it put together a 10 play drive, highlighted by a 41 yard pass from Madriz to junior wide receiver KIARE WORTHY, to the Matadors' 8 yard line.  On the following play, senior running back TY SCHIMKE juked and squirmed his way to the goal line, the last 3 yards in the air as he dove into end zone, increasing the visitors' lead to 17-6 at the intermission.
In the second half, neither team was able to generate much offense, but there were some exciting plays, mixed in with some unanticipated rain.  Early in the 3rd quarter, Mt. Miguel senior linebacker ALEX LEMON used all of his 6'5" 255 lb. frame—and a full-head of steam—to simply flatten the unsuspecting quarterback for a highlight-reel 7 yard sack.  That set the stage for a scoreless 3rd period.
Four minutes into the last quarter, after relentless pressure from Valhalla's Manning, McNish-Heider and senior linebacker DYLAN MARSH, Mt. Miguel had to punt from its 1 yard line.  Schimke fielded the punt at the Matadors' 32 yard line and promptly ran it back for a TD, upping the Norsemen lead to 24-6, with 8:07 left in the game, putting it out of reach.
Mt. Miguel scored late on a 2 yard Greene run.  Miller hooked up with junior wide receiver ERIC GRAHAM for the 2 point conversion, but it was too little, too late.
Valhalla head coach CHARLES BUSSEY was a tad happier with his team's effort this week, especially since the Matadors were held to -2 negative rushing yards in the second half:  "Hats off to our defense. We typically are pretty stout against the run and after last week's debacle we knew Mt. Miguel would try and get their talented running back going. We were able to contain the run game and make a few big plays on offense and special teams. We will rest up over the bye and get ready for a tough Eastlake team in two weeks."
After the game, Mt. Miguel coach SEAN McDADE was shaking his head much the same as Valhalla coach Bussey was doing last week:  "Just got outplayed in every aspect—Just couldn't get anything going offensively."  While Coach McDade was pleased that "Santino Pacheco had around 150 yards receiving and a 64 yard TD," he summed it up much like Coach Bussey did the week before after Valhalla was flat against Granite Hills:  "[Valhalla] all around kicked our butts."
Miller threw for 268 yards for the Matadors, 168 of those yards were in hook ups with Pacheco, who caught six passes.
JARVIS HEARD continues to be a big-play threat for Mount Miguel as he had 67 yards on two receptions.