Red Hawks cool Cards; FCHS rolls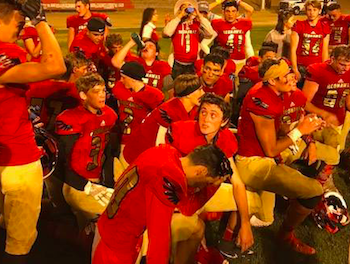 Mountain Empire players following the win on Friday night.
2017 EAST COUNTY PREP FOOTBALL
MOUNTAIN EMPIRE 21, HOOVER 7
EastCountySports.com staff report
PINE VALLEY – The Mountain Empire Red Hawks got 200 of total offense from quarterback GABRIEL HYDORN to erase an early 7-0 deficit to the Hoover Cardinals and take a 21-7 win at Red Hawk Stadium Friday night.
Hydorn threw for two of the Red Hawks scores and ran for the other.
CAMERON WILL led the Red Hawks defense with 21 tackles.
Hoover scored the game's first TD in the first quarter after recovering a fumble at the Mountain Empire 30.
Four plays later, the Cardinals, who snapped a 19-game losing streak last week, were once again winning, 7-0.
DALLAS PRINCE had two interceptions for the Red Hawks.
SAWYER ERNSBARGER and WYATT MANN had the receiving touchdowns from Hydorn.
Hoover ran 66 plays, 62 of them runs.
Red Hawk defensive star BLAKE JARRELL left the game midway through the first quarter with an injured ankle.
Lutheran transfer COLTON ALLEN, a defensive end, had 19 tackles in his Mountain Empire debut.
Hydorn has 40 yards rushing in the game and has thrown for eight TDs so far this season, as the Red Hawks improved to 2-1.
Mountain Empire blocked a field goal and returned it 50 yards.
---
2017 EAST COUNTY PREP FOOTBALL
FOOTHILLS CHRISTIAN 44, ST. JOSEPH'S ACADEMY 0
EastCountySports.com staff report
EL CAJON – After getting shutout in their first two 8-man ball games of the season, the Foothills Christian Knights racked up a 44-0 victory against St. Joseph's Academy Friday night at Seau Field.
DANIEL LYYJOKI rushed for 75 yards on 11 carries, a touchdown and a pair of conversion, while STEVEN LEONCINI had a 22-yard touchdown run and a 2-point conversion.
JADON BANKHEAD had five sacks in the game for the Knights.
Bankhead also scored a touchdown and added a conversion for FCHS (1-2). TONY MORZ also had a TD and an interception.
HUNTER NICKEL and Lyyjoki both had 1 1/2 sacks, as well.