2017 EAST COUNTY FEARLESS FORECASTER Week 3
Updated: September 7, 2017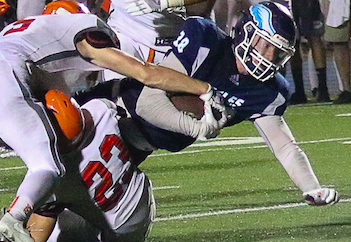 Granite Hills' TYLER GONZALEZ / Don De Mars Photography
2017 EAST COUNTY PREP FOOTBALL FEARLESS FORECASTER
EastCountySports.com
EL CAJON – The Granite Hills Eagles and Steele Canyon Cougars will likley be closely-matched league rivals next season when the Eagles shift from the Grossmont Valley League to the Grossmont Hills League.
Friday night, Eagles and Cougars match up in a tightly-rated Grossmont Conference cross-over contest at 7 p.m. Friday on East Madison Ave., with the winner getting a jump start on a possible top four seed in the San Diego CIF Division 2 postseason.
Granite Hills (1-1) made a complete 180-degree turn last week in suffocating Valhalla last week after falling flat in its season opener at San Pasqual, while Steele Canyon (1-1) is coming off a most-tough assignment, never getting on track in a home loss to county third-ranked Madison, the defending CIF state division 2-AA bowl champs.
Seniors THOMAS FISHBURNE, of the Cougars, and JAKE SIEGFRIED, of the Eagles, will meet for the third time as opposing quarterbacks.
The young, but very impressive offensive line of the Cougars, including juniors JADEN MCGOWAN and JOSH CONSTANCIO will need to contain the Granite Hills defensive ends coming off the edge, WILLIAM BURTON and TYLER GONZALEZ.
Madison recorded 10 tackles for loss against the Cougars last Friday. SC probably won't see its stock decline much for that defeat despite the lopsided result.
Fishburne upright with good protection can be very elusive with his legs and his passing.
Last week, "Fish" rushed for 61 yards against the great defense from Madison and threw a 10-yard touchdown pass to senior RANDY JORDAN. He also booted a 26-yard field goal.
Steele Canyon star MIKEL OLIVER leads a defense which allowed the Eagles just 198 yards of total offense in last year's meeting.
The Cougars will need to tighten up the run defense as Granite Hills coach KELLAN COBBS may look to eat up the clock and use Siegfried's legs and key on tight end Burton and some runs from Gonzalez and GIDEON ALABA.
SIegfried accounted for 250 yards of total offense last week, rushing for three scores, and throwing one, as well. GARRETT CURRAN leads the Granite protectors.
Eagles junior receiver CHRIS OSTRENG could also be a factor with his team-leading six receptions so far.
Granite was embarrassed last year 37-7 behind three interceptions from Steele Canyon, including one from senior returning starter, DEJAY HALL, but this one will be close, but the home team has won each of the previous two matchups behind the now veteran duel-threat QBs… GRANITE HILLS, 23-21.
VALHALLA (1-1) at MOUNT MIGUEL (1-1), 7 – With the Valhalla offense still trying to get on track, the Mount Miguel Matadors – off a strong defensive effort over Chula Vista last Friday led by SANTINO PACHECO – entertain hopes for an upset Friday in another conference cross-over.
Valhalla won last year's matchup, 34-7, but the Matadors rushed for 282 yards in that one behing 100-plus yard efforts from Pacheco and senior star SHEMAR GREENE. The Norsemen have won three straight in the series.
The Norsemen certainly have something to prove following their outlier loss last week against Granite Hills.
After receiving a lesson in "not coming out flat or you will be bullied," as Valhalla coach CHARLES BUSSEY told his team, now it is a matter of how they respond to the surprising defeat.
The question will be how to use multi-faceted athlete, BRYAN MADRIZ, who rushed for 103 yards last week, while also hauling in three passes.
Quarterback DENNIS DAHLIN looks to get the most work going forward, as the Norsemen are more in need of getting the ball to Madriz downfield or in open space where his speed can be utilized.
Greene has rushed for 260 yards in the first two games for the Matadors, while senior quarterback MUGABE MILLER has thrown for 333 yards so far. Senior JARVIS HEARD is the other top Matador two-way threat.
Valhalla defenders TY SCHIMKE (team-leading 21 tackles) and JACE MANNING (7 QB hurries) have done a nice job so far.
On paper, Valhalla still appears to be a decided favorite, however, which ever wins the turnover battle is likely to take this one, the nod goes to… MOUNT MIGUEL, 23-22.
CHRISTIAN (2-0) at SANTANA (1-1), 7  – If Christian High quarterback BRAD JEREMIAH Brad Jeremiah keeps up this kind of play, he will definitely be on pace to be the East's Offensive Player of the Year, if not the county's best performer, as well.
If you thought 500-plus yards passing in week 1 was just one of those spectacular days, Jeremiah put on quite an encore in week two.
Last Friday in the extreme heat, The Honor Bowl MVP was 30-of-38 for 383 yards and 7 touchdowns, giving him 14 scoring tosses in just two games.
Targets ALONZO RICHARDSON, JORDAN MATTHEWS, NASHOM CARTER, ALEX GONZALEZ and MATT ARMIJO led the taming of the overmatched Boron Bobcats, 62-6.
The only weakness exposed thus far was 383 yards rushing against the Patriots defense two weeks ago in Utah to a Hurricane team that is more comparable ability-wise to this week's oppponent, Santana.
The Sultans will be at home but must play flawless on both sides of the ball to have a shot. The Sultan secondary needs to come up big and the pass rush has got to be heavy.
That's where Sultans veteran defenders DALE GENSCHAW, LANDON WOOD, BRAYDEN NIETO and JOSE CHAIREZ can make their mark against the top team in all passing categories in San Diego County.
The Patriots (2-0) are already the East's last remaining unbeated team.
Last week against West Hills, the Sultans looked nothing like the purple and gold of last season and the Wolf Pack retained hold of the Jack Dale Cup for the sixth year in a row.
Santana senior quarterback JOSH OEDEWALDT couldn't get together last week with his new targets seniors CAMERON KANE and DAVON CHESTNUT.
While it may be tempting to try and trade touchdowns with the Pats, the Sultans would likely prefer to keep the ball away from the visitors, which might keep it close… CHRISTIAN, 35-21.
HILLTOP (1-1) at GROSSMONT (1-1), 7 – The Grossmont Foothillers will clearly have more than enough talent to take care of business in this non league contest, although to the Lancers credit, they gave poll-climbing Eastlake a run in a 21-7 loss last week.
Grossmont sophomore QB JAMIE ODOM is completing 55 percent of his passes this season and threw for 318 yards and 3 TDs last week, including a rushing touchdown.
Hilltop will be matching up agains a stellar defense led by DAISEAN CRAWFORD, who finished last week's game against Olympian with 15 tackles (11 solo), a forced fumble, and a sack.
ANDREW LIRA, a senior, had an interception and 9 tackles for the Hillers, while JULIAN SANDERLIN had two sacks, giving him 4 in the first two games.
The Hilltop Lancers come into this bout off a decent win over the Vikings of La Jolla, followed by a stinger last week in a hard-fought 21-7 loss to Eastlake.
The Hilltop defense gave up just 88 passing yards and 159 on the ground to Eastlake and also recorded an interception last week.
Senior QB Daniel McPherren pilots the Lancer offense, while senior RB Jeremiah Rivera is carrying the team on the ground.
The Foothillers are off the win over Olympian, 37-21.
Senior SHEVELL STERLING had over 300 yards of total offense so far for Grossmont, which defeated Hilltop on the road in the team's last meeting back in 2015, 34-14.
Grossmont has too much depth versus the Lancers, GROSSMONT, 42-14. PATRICK HENRY (0-2) at MONTE VISTA (1-1), 7 – Monte Vista's defense was terrific during the bulk of last week's key non-league loss at University City.
After the Centurions scored on their first three possessions, the Monarchs ended three-straight UC drives with picks.
In the second half, the Monarchs forced three-straight punts on UC possessions, until the Centurions struck with a big play for the decisive score, spoiling Monte Vista's comeback attempt.
Junior RB JAHMON MCCLENDON carried 31 times for Monte Vista, rushing for 176 yards and the Monarchs' two touchdowns.
The Monarchs even threw seven passes in the game, completing five, by junior quarterback EMMIL HENDERSON, a transfer from Helix.
Monte Vista senior AMIR CONLEY had all five receptions, good for 89 yards.
Patrick Henry has had a rough start out of the gate and are 0-2 and come off a beating at the hand of Bishop's, 77-0.
Henry has scored 14 points to their two opponents, while allowing 124. In two games, they have thrown two interceptions and had 6 fumbles lost.
This game was originally scheduled to be played in San Carlos, but ongoing work at the Patrick Henry campus has forced the Patriots to take the road this season. Look for MV to rebound easily… MONTE VISTA, 22-8.
CLAIREMONT (2-0) at EL CAJON VALLEY (0-2), 7 – The Braves have played a pair of strong first two quarters in both their starts so far, only to fizzle out after halftime.
Braves' backs MAQUEL GARNER and DARREL DAVIS both rushed for over 100 yards last week as ECV rolled up over 300 rushing yards in a loss at Kearny. DESHAWN HENDERSON also broke out with 78 yards and a score.
Senior MIKE MALONE led the Braves with 10 tackles last week, while BRANDON ROBINSON grabbed an interception.
For the Braves to win, they will need pressure off the edges and close the running lanes so Clairemont will have to throw.
Senior MLB Brian Martinhawk leads the Clairemont defense 26 tackles and a pick.
The Chieftain offense is led by senior QB Griffin Catarius (6-foot-170), who is 14-of-23 with a TD and an interception, for 128 yards through two games.
This Clairemont team likes to manage the clock run through the trenches, with 75 carries in two games, along with 4 rushing TDs led by leading rusher junior Donavan Fitzgerald, who has 49 yards and two TDs on the ground.
The Braves look to get off to another great start and hold on to the lead this time… CLAIREMONT, 20-18.
VALLEY CENTER (2-0) at EL CAPITAN (0-2), 7 – These two teams had quite the battle in week three last year up in Valley center as El Cap lost a heartbreaking 31-28 game in OT.
The top two players returning from that steaming loss are senior RB CONNOR ROOSA, who always makes something happen, and ANTONIO OLIVIERI, who could see an even more expanded role this week.
Valley Center kicked a field goal for the win in OT, but El Capitan had many chances to wrap this one up in regulation and overtime. The Vaqueros still feel they should've won that one.
The Yokely brothers and Roosa would love to win this one at home and turn the season around in a second.
El Cap should have won last week, as well, as they had the opportunities to put Mater Dei Catholic away, but fell short.
The Crusaders caught a break on a touchdown reception in the back of the end zone that replays show hit the ground.
El Cap coach RON BURNER stated at the beginning of the '17 practice camp this year that they will try clock management, something coach Burner is not accustomed to.
But that might be a likely solution here as the Vaqueros may be forced to throw a wrinkle into the revenge plans against the Jags.
You would think that El Capitan would have the talent to turn the tables with stars such as COLE ROELOFSZ, CHRIS MCDONOUGH and STAR IULI, who returned a kickoff for a touchdown in last year's matchup.
Junior YAPHET YOKLEY has 12 receptions for 196 yards so far in two starts for El Capitan.
Valley Center has junior QB Rikki Mazzetti, who was 15-of-34 for 180 yards and a pick against El Cap last year.
Also returning is his favorite target WR Keith Vasquez, who had 7 catches for 80 yards last year against El Cap .
The Jaguars have several other starters back from last year's 10-2 season that found them ending their season 35-19 in the 2016 CIF SDS Division 3 semifinal.
This one goes to… VALLEY CENTER, 27-21.
WEST HILLS (1-1) at MISSION BAY (0-1), 7 – The Wolf Pack handed cross-town rival Santana a severe beating last Friday to once again capture the Jack Dale Mayor's Cup for the 6th straight year and 21st time in the 29-year history of the matchup.
If QB JORDIN YOUNG has a game like last week for the Pack, the Mission Bay team could be in for a similar fate that Santana was exposed to last week.
"We worry about how well prepared the Wolf Pack are and not so much as to focus on the other team and what they are prepared for," West Hills coach CASEY ASH said.
Young also used his legs last week, keeping 13 times for 66 yards and KR/WR RYAN JEWELL, a senior, had two long returns setting up great field position,
West Hills' defense held Santana's usually explosive offense to 127 total yards 'til midway through the 4th quarter.
Young has also developed a rapport with other receivers CADE WEAVER and REESE WILTGEN, but West Hills has to still develop a more consistent running attack.
Mission Bay did have one of their returning starters go elsewhere but they always have great athletes.
The Buccaneers did have a bye last week and lost their opener two weeks ago to Escondido 27-0, only amassing 87 yards of total offense and turned the ball over 5 times, including 4 fumbles.
Long day for Mission Bay… WEST HILLS, 26-14.
HOOVER at MOUNTAIN EMPIRE, 7 – Hoover snapped a 19-game losing streak last week with a win at Orange Glen, while the Red Hawks wilted after a long bus drive to San Ysidro saw them jump out to a big first-half lead before the Cougars came roaring back for a 28-21 win.
Computers rank this matchup a near toss-up, but the Cards are a one-dimensional offense, while Mountain Empire features a pretty potent passing attack with QB GABRIEL HYDORN and a bevy of receviers and backs.
Senior BLAKE JARRELL leads the team in rushing and is second on defense with 25 tackles. Junior CAMERON WILL has a team-high 26 tackles.
Senior WYATT MANN has 10 catches for nearly 17 yards a pop and four scores this season.
The Cardinals lost their opener to Crawford, 31-0, and held on to win on the road last week against against the Patriots, 17-14.
Hoover finished 2016 0-10 not scoring a single point last year until game 9, until at Patrick Henry where they found the end zone twice putting up 14 points.
Against Crawford, Hoover was sacked 10 times, and gave up 180 yds on the ground to get pounded 31-0.
After destroying Temecula Prep in the opener, 48-0, the Red Hawks should be the beneficiaries of the Cards' long bus ride.
Look for… MOUNTAIN EMPIRE, 34-12.