Griffins can't match Warriors' firepower
Updated: September 17, 2017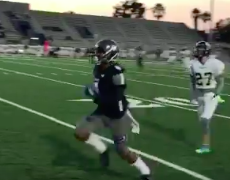 El Camino makes a long gain on Saturday night.
2017 GROSSMONT GRIFFINS FOOTBALL
 EL CAMINO 58, GROSSMONT 23
By Ramon Scott
EastCountySports.com
TORRENCE – The El Camino Warriors proved every bit worthy of their rapid-rising ranking, as they drubbed Grossmont College, 58-23 Saturday night.
The Warriors were multi-dimensional offensively and the Grossmont defense cooperated.
The Warriors had 508 total yards through three-plus quarters, including 177 yards on the ground. They finished with 561 total yards.
The score was 28-17 Warriors at halftime, as Grossmont put up a brief fight, including taking a 7-0 lead on the opening drive, but the Griffins couldn't match ECC drive-for-drive.
MYLIK STEEN, out of Castle Park, scored on a 75-yard touchdown pass down the left side from BRAD CAGLE not even one minute into the contest, as the coverage broke down and a defender took a gamble to defend the pass.
Then later, Grossmont freshman quarterback JOSH HARRIS threw a 53-yard bomb of a touchdown pass to LUC BARCOO in the second quarter to get Grossmont quickly back in the game, 21-17.
El Camino College improved to 3-0, while the Griffins fell to 1-3.
Steen and Barcoo combined for 11 catches for 242 yards for the Griffs, but the Grossmont defense was left chasing the Warriors down all night long.
"We actually tried and succeeded an controlling the ball," said Grossmont coach MIKE JORDAN, whose team had the ball for 46 minutes compared to the Warriors 24 minutes. "We just had a few major errors with a pick-6 and a fumble in our own territory.
"Other than that, we were closer than the score looked like. I'm proud of my guys playing hard for four quarters. We also got a lot of guys playing time. Just trying to get guys some experience."
Valhalla grad JEROME JOHNSON had another good rushing effort with 92 yards and 16 carries, including a score.
Barcoo made a deep reception in the third quarter when it appeared that the pass could be intercepted. Grossmont had it at the ECC 38.
After a scramble by Cagle, Johnson made a hard run for his second TD of the season, making it 48-23 with 17 minutes left in the game.
El Camino quarterback Cole Klayman threw five touchdown passes en route to a 276-yard passing night.
Stephon Robinson had four catches for ECC for 159 yards and two scores, while Trevon Clark had two touchdown receptions, as well.
Clark scored his second touchdown of the day when Grossmont comitted to a blitz. Clark ended up catching an easy screen and getting the score.
The Warriors led 35-17 at that point with 11:48 left in the third.
On the ensuing possession, Cagle lost the handle and Taylor Flowers recovered for the Warriors. Justus Tavai forced the turnover.
That put El Camino right back on Grossmont's door step.
A couple of plays later, Torrence Broomfield made a wonderful touchdown on a pitch-and-catch style play.
Steen had a long kick off return in the fourth quarter, but the Griffins were down 58-23.
El Camino's James Randolph picked off JOSH HARRIS on his first series. The freshman entered the game with just over nine minutes left in the second quarter. Both quarterbacks continued in the game, with Cagle getting most of the snaps.
Klayman hit Robinson for a deep pass in the second quarter, then Robinson scored a touchdown on a big 45-yarder, making a big play on a reception. The score put the Warriors back ahead, 28-17.
Sophomore Barcoo made a long reception to get into the red zone in the second quarter, as he came down with a pass from Cagle at the 17.
That set up a field goal opportunity and NELS HALTOM made his third field goal in two weeks with 4:14 left in the first half to make it 14-10.
Steen picked up a first down on a reception in a second quarter drive. Then, Cagle hit SAYD AL GHANI for another first down to the 12-yard line.
Bet D'Edward Cormier made an drive-ending interception in the red zone.
Grossmont sacked Clayman in the first quarter, as CHRIS JAMES got to him on the Warriors' first drive.
El Camino's Clark caught a TD pass at 11:28 of the first quarter.
Johnnelle Jackson picked up his first rushing touchdown of the season for the Warriors on an 8-yard run, giving ECC a 14-7.
Tyree Range, a former Texas Tech commit, remains out for Grossmont, though he could return after the bye week. He would be a sure addition to the Grossmont lineup.