Griffins hit road again at Chaffey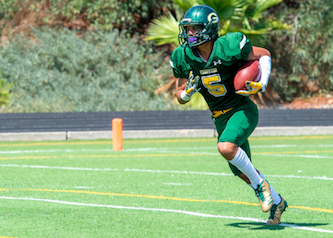 Grossmont freshman Alex Dockery, from La Jolla High
2017 GROSSMONT COLLEGE FOOTBALL
By Ramon Scott
EastCountySports.com
EL CAJON – The Grossmont Griffins were riding high last year at this time, taking a 3-0 start into a home game against underdog Chaffey College.
The Panthers manufactured an upset, however, turning a 10-0 halftime deficit into a 17-10 win over the Griffs.
The teams will have their meeting this year in Rancho Cucamonga at Grigsby Field, where Grossmont (1-2) will try to reverse its fortunes preferably by turning around the defense, which ranks 32nd in Southern California in yards allowed per game (447).
Sophomore ERNIE GARCIA, out of West Hills High, is one of So Cal's leading tacklers at nearly 10 a game, but the Griffins have allowed 124 points over three games, including 58 last week in a loss at El Camino.
Sophomore LOGAN BAKER, from Valhalla High, is second on the Griffins with 19 stops.
But playing the Panthers gives GC a chance to see if their defense really stacks up after facing a good-looking Warriors offensive unit last week.
Chaffey (1-2) ranks 29th in Southern California on offense.
The Panthers, meanwhile, have counted on their defense, which ranks 11th in So Cal.
Freshman wide receiver Malik Sheppard and sophomore running back Justin King scored second-half touchdowns in the Panthers' come-from-behind season-opening win.
Chaffey will be facing Grossmont's SoCal 18th-ranked offense.
The Griffins have a big back in freshman JEROME JOHNSON, out of Valhalla, who is averaging 78 yards per game (10th in Southern California) and six yards per carry.
But Grossmont slightly favors the pass with a trio of top targets – MYLIK STEEN, LUQ BARCCO and JOHN SUMMERS.