Griffins' Sepulveda rings Chaffey's bell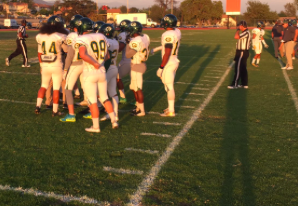 2017 GROSSMONT COLLEGE FOOTBALL
GRIFFINS 17, CHAFFEY 10
By Ramon Scott
EastCountySports.com
RANCHO CUCAMONGA – Every college defense worth their salt these days has some kind of sideline honor for a player causing a turnover or making a game-changing play.
Defensive coordinators throughout the country are coming up with some way to reward the unsung side of the ball, from slam dunking footballs in trash cans to sporting giant gold chains on the bench, it's added incentive from your peers to be bestowed the prize.
The Grossmont Griffins weren't in need of such incentive on the defensive side of the ball through the first three games of the 2017 season. They just needed to get better after allowing 124 points over their first three games.
On Saturday at Chaffey College's Grigsby Field, Griffins freshman TYLER SEPULVEDA became the first to ring Grossmont defensive coordinator C.J. ARNOLD's turnover bell after stopping a red zone drive with a game-swaying interception and 72-yard return, setting up a 28-yard field goal by red-hot kicker NELS HALTOM's with 2:10 left in the game, securing a 17-10 victory over the Panthers.
Grossmont made a pair of first-quarter touchdowns stand, but only after Sepulveda's pick bailed out the offense after a turnover at their own 34-yard line with five minutes left in the game.
The Panthers kept it within striking distance when their big chance arose, driving down to the 14-yard line where the former West Hills High impact player came through with one of his signature big plays.
17-10!!!! Congrats to @Tyrantula97 for being the first to ringing the turnover bell Big time play #Darkside☠️

— C.J. Arnold (@CoachCJ41) September 24, 2017
Chaffey got it back one last time with two minutes left, getting down to the Griffs' 39, but a grounding penalty set the two-minute drill back, and the Grossmont defense did the job again, as they had most of the day.
Grossmont scored a touchdown with 11:56 left in the first quarter to take a 7-0 lead.
Grossmont added a rushing touchdown from JEROME JOHNSON with 5:59 left in the first quarter to take a 14-0 lead.
Chaffey added a field goal with 4:11 left in the first half to get on the scoreboard. The defense held on that drive, forcing a pair of incompletions after the Panthers had driven down to the 12.
The Griffins blocked a 44-yard field goal attempt on the Panthers' next possession with under a minute before halftime, which would certainly ring bell-worthy, as well.
Chaffey scored the first touchdown of the second half, pulling to within 14-10, capitalizing on an interception just past midfield.
Grossmont's defense also held a relatively short field following a punt block four minutes into the fourth quarter, making a fourth down stop at the 37.
Sepulveda likely gave the bell a ring in honor of all of his mates, whom he anointed his co-MVPs in a post-game tweet.
And as for Arnold's new Darkside Defense bell, there's nothing flashy about it. Just like telling the host you got good service.
It's nothing new, it's just become more extravagant. They used to just hand the guy a perpetual lunch bucket. The Griffins can play to ring that bell.
Grossmont improved to 2-2 and host Canyons (3-1) next Saturday at home at 3 p.m.