Bishop's Mooney eclipses record in win over Monarchs
Updated: September 23, 2017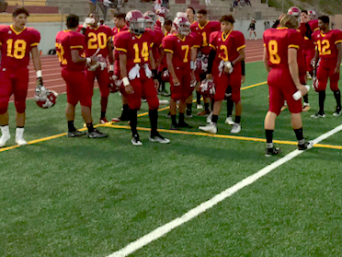 Monte Vista players on the sideline Friday night. / SDFNL MAGAZINE
2017 EAST COUNTY PREP FOOTBALL
BISHOP'S 58, MONTE VISTA 21
EastCountySports.com staff report
SPRING VALLEY – Bishop's senior star Mozes Mooney scored six touchdowns and set the all-time San Diego Section record for career receptions in a 56-21 win over the host Monte Vista Monarchs Friday night.
The Monarchs' TERELL KYLE, a junior, scored on a 22-yard touchdown run to make it 7-0 and it looked like a surprise could be in the offing against the sixth-ranked visitors.
However, the Knights' Mozes Mooney set a tone for things to come when returned the ensuing kickoff 96 yards for a touchdown to make it 7-6.
Monte Vista went on a scoring drive capped by JAHMON MCCLENDON's 4-yard touchdown to give the Monarchs a 14-6 lead.
The Monarchs were considerable underdogs coming in with very few giving them a chance for a big upset, but the confidence was bubbling on the home side following the methodical march.
Knights quarterback Jeffrey Jackson threw a 32-yard touchdown pass to Mooney.
Bishop's (4-0) recovered the ensuing kickoff and Jackson threw to Mooney for a 36-yard score. That reception tied him for the top on the section's reception chart.
Following a Monte Vista punt, the Knights got a 73-yard connection from Jackson to Jacob Jackson down to the Monarchs' 11.
Jackson connected with Mooney again for a touchdown to make it 26-14, then Mooney hauled in another touchdown pass from Jackson near the end of the first half, giving the star the record.
After Monte Vista (2-3) punted again late in the second quarter, Jackson threw a 3-yard touchdown pass to Mooney, sending the team's into the locker room with the Knights up 34-14.
The Jackson Bros. hooked up again on another score in the second half, this time from 12-yards out.
Mooney scored two more touchdowns, including a 45-yard score.
McClendon added another 4-yard touchdown run.