Red Hawks put scare in Colts' wagon train
Updated: September 23, 2017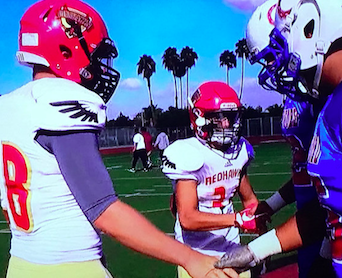 Red Hawks and Colts during the coin toss on Friday.
2017 EAST COUNTY PREP FOOTBALL
CRAWFORD 38, MOUNTAIN EMPIRE 21
EastCountySports.com staff report
SAN DIEGO – The Mountain Empire Red Hawks put cause for concern into the Crawford Colts' wagon train in the first half Friday afternoon at Crawford High.
GABRIEL HYDORN completed a 25-yard touchdown pass to RYAN SAWYER to put the Red Hawks up 7-3 in the first quarter.
Sawyer out-jumped his smaller defender to haul in the over-the-shoulder catch inside the 10, before cutting back against the help to get into the end zone.
Then, Hydorn hit Sawyer again, this time for an 18-yard score in the second quarter as Mountain Empire went up 14-3.
Hydorn threw into double coverage, but Sawyer made the read for the ball, leaving the defenders to collide as he sauntered into the end zone.
Crawford (5-0) then scored 35 straight points.
Colts Quarterback Shawn Balala threw three touchdown passes and added a rushing score.
Balala threw a deep pass to Matthew Clark for a 35-yard score to bring the Colts to within 14-10.
Moments later, Colts' star Ali Musa turned in an 80-yard punt return in spectacular fashion for a score and the lead.
The Red Hawks played a clean game with just two penalties.
Crawford out-first-downed the Red Hawks, 12-10, while the time of possession was basically even.
The Colts just turned in some big plays during their scoring run.
Mountain Empire next faces Hamilton Oct. 7.